'Blade runner' hires American forensic experts for murder defense
October 2, 2013 -- Updated 1605 GMT (0005 HKT)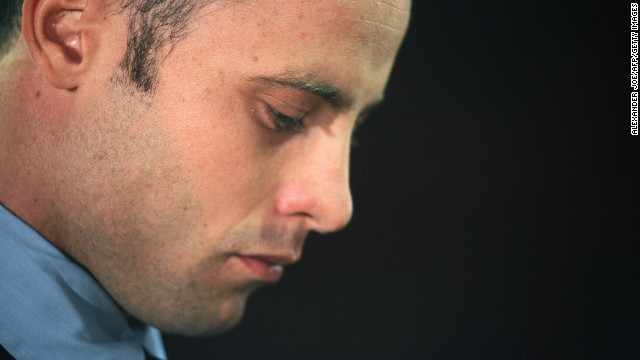 A magistrate who granted bail Friday to Oscar Pistorius cited "several errors and concessions" in a police investigator's testimony. Here's a look at four key assertions prosecutors made during the bail hearing -- and how defense attorneys responded.
Setbacks for Pistorius prosecution
Setbacks for Pistorius prosecution
Setbacks for Pistorius prosecution
Setbacks for Pistorius prosecution
Setbacks for Pistorius prosecution
STORY HIGHLIGHTS
Olympic runner Oscar Pistorius wants the specialists to challenge evidence against him
He is accused of murdering his girlfriend, model Reeva Steenkamp, on Valentine's Day
He has received the nicknamed "Blade runner" for the prosthetic legs he sprints on
Johannesburg (CNN) -- With his murder trial approaching this March, South African Olympic runner Oscar Pistorius has hired some help from the United States to challenge the case against him.
An American forensic team will give expert testimony to cast doubt on evidence entered against the athlete nicknamed the "Blade Runner" for the special prosthesis legs he sprints with, his spokeswoman Anneliese Burgess said Wednesday.
The track star, whose legs are amputated below the knees, admitted to shooting dead model Reeva Steenkamp, in his home on Valetine's Day. But he has said it was an accident.
Pistorius charged with premeditated murder in Steenkamp death
She was 29 when she died.
The state has indicted him for pre-meditated murder, and he faces a mandatory sentence of life in prison, if convicted.
Pistorius denies the charge and has said he mistook his girlfriend for a home invader when he fired shots from a pistol through a bathroom door that she was behind. Pistorius also was indicted for allegedly violating South Africa's firearms control act. Some 107 witnesses are to testify against him.
The American forensics team, who Burgess would not identify, is already in South Africa and has met with Pistorius' legal team.
In previous court appearances, Pistorius has often broken down crying and fought to maintain his composure. Before the start of proceedings he could be seen at times holding hands with relatives and praying.
The first phase of the trial will take place in March, but the entire trial could take place at various times across a year or more because of potential motions and postponements along the way.
Michael Steenkamp, the victim's uncle, said the model's family isn't focusing on Pistorius' guilt or innocence, and they will not attend any of the related court proceedings.
The uncle said his faith has helped him forgive Pistorius.
"If I can't forgive him, and I have been forgiven, then that is our sin. And I very much asked the Lord to guide me before I got to Port Elizabeth when the tragedy happened ... that took a lot of pressure off my shoulders," he said.
CNN's Joseph Netto contributed to this report

Today's five most popular stories
Part of complete coverage on
Oscar Pistorius
October 21, 2014 -- Updated 2117 GMT (0517 HKT)

A stuffy, overcrowded cell. Perhaps two or three men to a single bunk. Lockdown for most of the day.
October 21, 2014 -- Updated 0939 GMT (1739 HKT)

He was the so-called "Fastest Man on No Legs," and his inspiring story captured the imagination of the world at the London Olympics.
September 13, 2014 -- Updated 0423 GMT (1223 HKT)

The striking, platinum-haired model was gearing up for her reality television debut.
October 13, 2014 -- Updated 1251 GMT (2051 HKT)

Her name is Thokozile Matilda Masipa, and she is the woman who decided the fate of athlete Oscar Pistorius.
June 3, 2013 -- Updated 1745 GMT (0145 HKT)

Previously unseen photographs of Reeva Steenkamp show the South African beauty just months before her tragic death.
February 16, 2014 -- Updated 1708 GMT (0108 HKT)

The photos of Oscar Pistorius and girlfriend Reeva Steenkamp appear to show a young couple in love.
October 20, 2014 -- Updated 1507 GMT (2307 HKT)

A week before her death, South African model Reeva Steenkamp talked about her secure, blissful environment.
March 3, 2014 -- Updated 0913 GMT (1713 HKT)

He was the first amputee to compete at an able-bodied Olympics. Now, he's being accused of murdering his girlfriend.
September 12, 2014 -- Updated 0831 GMT (1631 HKT)

Judge Masipa has Oscar Pistorius stand up as she reads her verdicts.
September 11, 2014 -- Updated 1518 GMT (2318 HKT)

CNN's Robyn Curnow looks back at some of the key moments in the trial.
October 21, 2014 -- Updated 0907 GMT (1707 HKT)

CNN's Robyn Curnow reflects on her visit to athlete Oscar Pistorius' home, before he was on trial for murder.
June 30, 2014 -- Updated 0744 GMT (1544 HKT)

Take a virtual tour of the athlete's apartment to see what happened.
April 14, 2014 -- Updated 0926 GMT (1726 HKT)

Prosecutor Gerrie Nel is known as the "bull dog" in South Africa's legal circles, and it's easy to see why.
April 10, 2014 -- Updated 1156 GMT (1956 HKT)

As the athlete is grilled in court, Becky Anderson asks psychologist Dr. James Thompson about his state of mind.