Greece: Golden Dawn party leader Nikos Michaloliakos in custody
October 3, 2013 -- Updated 1125 GMT (1925 HKT)
STORY HIGHLIGHTS
NEW: Police hold Nikos Michaloliakos after court appearance
Michaloliakos, the Golden Dawn party leader, is accused of forming a criminal gang
Three other Golden Dawn lawmakers are free pending trial; one remains in custody
They were arrested in a police crackdown after the killing of an anti-fascist musician
Athens (CNN) -- The leader of Greece's extreme-right Golden Dawn party, Nikos Michaloliakos, is being held in custody after appearing in court Wednesday, the state-run Athens News Agency reported.
Michaloliakos is being held at Athens Police headquarters until it's decided which jail will house him, the agency reported.
He gave a deposition to a Greek court on Wednesday that lasted until the early hours of Thursday morning in Athens, it said. He faces charges of running a criminal organization following the slaying of an anti-fascist musician last month.
There was a heavy police presence outside the court in Athens ahead of Michaloliakos' appearance.
Three other Golden Dawn lawmakers who have already appeared in court -- Elias Kassidiaris, Elias Panagiotaros and Nikos Mihos -- were released Wednesday pending trial. A fourth, Ioannis Lagos, remains in custody.
The arrests of the lawmakers, along with those of a number of party supporters, were part of a weekend police crackdown that followed a controversial stabbing death.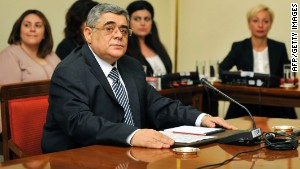 Far-right Greek politicians arrested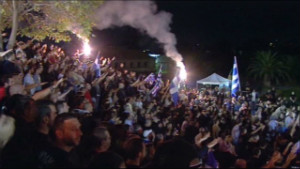 Blaming immigrants for Greece's woes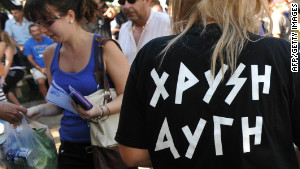 Rise of the Greek far-right
It is the first time since the restoration of democracy in 1974, after a seven-year junta, that a party leader and members of Parliament have been arrested.
Pavlos Fyssas, a popular anti-fascist figure and well-known hip-hop artist with the stage name Killah P, was the victim of a knife attack that was allegedly committed by a Golden Dawn supporter.
Kassidiaris denied his party's involvement in Fyssas' death, calling it a "heinous crime."
The singer's death has nevertheless led to renewed calls to ban Golden Dawn, which holds 18 of Parliament's 300 seats.
The Greek constitution does not allow for political parties to be banned, however, and the arrested lawmakers will retain their parliamentary seats unless they are convicted of a crime.
In 2012, Golden Dawn rode a wave of dissatisfaction among some Greeks -- spurred by internationally imposed austerity measures amid the country's deep financial crisis -- to win 7% of the vote and gain seats in Parliament for the first time.
The ultranationalist, anti-immigration party has been linked by critics to street violence and neo-Nazism.
CNN's Christine Theodorou contributed to this report.

Part of complete coverage on
December 8, 2013 -- Updated 1654 GMT (0054 HKT)

Scottish singing sensation Susan Boyle tells a British newspaper she was diagnosed with Asperger's syndrome last year.
December 7, 2013 -- Updated 2244 GMT (0644 HKT)

Merrill Newman -- the 85-year-old American detained by North Korean authorities earlier this fall -- returned Saturday to the United States.
December 8, 2013 -- Updated 0004 GMT (0804 HKT)

Nick Wilkins was diagnosed with leukemia when he was 4 years old, and now is cancer free after an experimental treatment.
December 6, 2013 -- Updated 1745 GMT (0145 HKT)

Mandela spent almost three decades in jail. But he had two Indian goddesses and a 17th century playwright for company.

He was imprisoned for life but that did not quiet him. Nelson Mandela became South Africa's first black president, and an icon and inspiration.
December 6, 2013 -- Updated 0319 GMT (1119 HKT)

His was a great sense of humor, with a dry wit and remarkable ability to render someone speechless with a well-placed one-liner.
December 8, 2013 -- Updated 1840 GMT (0240 HKT)

Mohammed Jamjoon interviews the American performer who stunned the Arab world by singing in Arabic.
December 6, 2013 -- Updated 1252 GMT (2052 HKT)

He was loved and admired the world over, profiled in books and movies. Here are 10 surprising facts you probably didn't know about Mandela.
December 5, 2013 -- Updated 1532 GMT (2332 HKT)

"Sometimes it just takes one incident to galvanize a society," says CNN's Sumnima Udas.
December 5, 2013 -- Updated 1426 GMT (2226 HKT)

Drones hover like a bee, flap like a bird and bounce like a ball. These awesome flying robots are taking unmanned flight in new directions.
December 5, 2013 -- Updated 1225 GMT (2025 HKT)

The mysterious "catacomb saints" were venerated by the Catholic Church and encrusted with gold and jewels -- before disappearing for centuries.
December 5, 2013 -- Updated 1315 GMT (2115 HKT)

The KAZA conservation area is working to make it easier to cross borders.

Today's five most popular stories