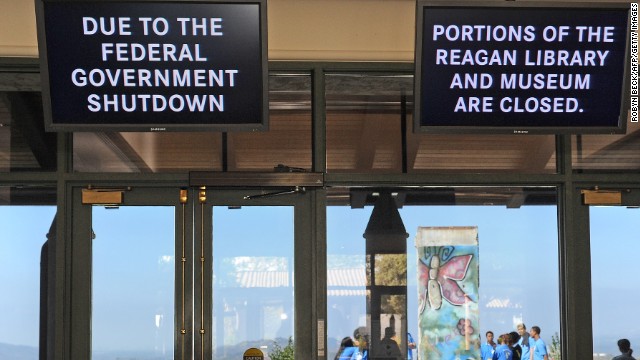 The government shutdown is not sitting well with the American public, but since some are now faced with extra free time during the furlough, we thought we'd offer some possible movie picks to help pass the hours ...
Panda-cam has gone dark during the shutdown
, but there are still tons of other loveable animals you can enjoy, including the cast of the 2005 hit film "Madagascar."
Yes, sadly the
Think this whole situation is really sticking it to the little man? Check out the 1978 film "Blue Collar," starring the late Richard Pryor and Harvey Keitel.
With all this attention on the White House, a must-see would be Robert Redford and Dustin Hoffman as journalists Bob Woodward and Carl Bernstein in the 1976 film, "All the President's Men."
Worried about NASA? Check out 1995's "Apollo 13" starring Bill Paxton, Tom Hanks and Kevin Bacon.
Some have expressed concern about the health of the nation, but at least our situation isn't as concerning as what Marion Cotillard's Dr. Leonora Orantes faced in 2011's "Contagion."
Worried about a lack of funds at the Centers of Disease Control and Prevention? Maybe the 1995 film "Outbreak" starring Dustin Hoffman will be a nice escape -- probably not though.
The American Battle Monuments Commission is closed, but those desiring a bit of war history can watch the 1989 film "Glory," about the United States Civil War.
No Smithsonian? Talk about a bummer. But your hankering for artifacts can be appeased with the 2004 film "National Treasure" starring Nicolas Cage, Diane Kruger and Jon Voight.
And if your tastes run toward conspiracy theories, there's always the 1962 thriller "The Manchurian Candidate." Here, star Frank Sinatra drags a soaking wet Laurence Harvey from the lake during location filming in Central Park in February 1962.
Movies to watch during the shutdown
Movies to watch during the shutdown
Movies to watch during the shutdown
Movies to watch during the shutdown
Movies to watch during the shutdown
Movies to watch during the shutdown
Movies to watch during the shutdown
Movies to watch during the shutdown
Movies to watch during the shutdown
Movies to watch during the shutdown