Singapore PM criticizes U.S. `game of chicken'
October 8, 2013 -- Updated 0359 GMT (1159 HKT)
STORY HIGHLIGHTS
Singapore prime minister criticizes U.S. shutdown as a "game of chicken"
Prime Minister Lee fears the squabble could have long-term impact for world's largest economy
The economic fate of the city-state is closely linked with the health of the U.S. economy
U.S. President Obama canceled his visit to the 21-nation APEC summit over the shutdown
(CNN) -- Singapore's prime minister openly criticized the United States over the government shutdown and ongoing deadlock over the debt ceiling, calling them "problems you have created for yourself in a game of chicken."
In an interview with CNN's Patricia Wu on the sidelines of the Asia Pacific Economic Cooperation (APEC) summit, Prime Minister Lee Hsien Loong said Americans "are unable to get their act together," and that Washington's behavior sends a "negative signal which will last much longer that the shutdown."
The government shutdown led U.S. President Barack Obama to cancel his attendance at the APEC Leaders' summit just days before he was meant to arrive. The summit finishes today in Bali, Indonesia. Aside from Taiwan, Obama is the only leader missing among the 21 economies of the APEC group, which together account for half the world's output, 45% of its trade and 3 billion of its inhabitants.
READ MORE: Obama APEC absence boon for Xi, Putin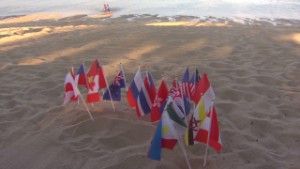 U.S. shutdown and APEC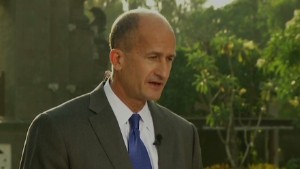 General Electric talks long-term growth
The U.S. government is also facing an October 17 deadline to raise its debt ceiling or risk a possible default.
Prime Minister Lee said he was more worried about the long-term message the U.S. was sending than the prospect of a direct hit to U.S. growth.
FORTUNE: Debt ceiling scenarios freaking out traders
Asked if the U.S. would benefit from a system like Singapore's -- where government ministers are paid hundreds of thousands of dollars in salaries -- Lee said he believes his country runs a clean system in which officials are paid "what their job is worth."
He criticized the conflicts of interest that result from the "revolving door" between the United States government and the private sector. Lee is paid more than $1 million to serve as Singapore's prime minister.
Singapore is heavily dependent on exports and trade, so the fate of the city-state is closely linked with the health of the U.S. economy. Both Singapore's property and stock markets have boomed over the last few years as investors flooded in seeking higher returns thanks to loose liquidity from the U.S. Federal Reserve and China.
The prime minister said he is comfortable with Singapore's footing as the United Stated considers turning off the flow of easy money.
"The emerging economies, many of them are concerned. They didn't want the money to slosh in. They are afraid when the money sloshes out, but the tapering has to take place and we have to be able to manage it," Lee said.
CNNMoney: Fed taper won't cause another financial crisis in Asia
He also expressed concern over the stiffening tone in territorial disputes between Asia's power players, including Japan and China.
"It is very hard for any government to give up what it has claimed, because it will lose face and standing and domestic support, so you can only manage these issues, you cannot solve them," Lee said.

Part of complete coverage on
April 18, 2014 -- Updated 1439 GMT (2239 HKT)

Tethered to an IV drip, 71-year-old Shin Young Ja lies under a thin fleece blanket, nursing a broken back and wracked with survivor's guilt.
April 18, 2014 -- Updated 1123 GMT (1923 HKT)

Family members of the missing passengers are pinning slim hopes on floundering air pockets.
April 17, 2014 -- Updated 1614 GMT (0014 HKT)

An Iranian mother slaps and then forgives her 17-year old son's murderer in dramatic scenes at the gallows.
April 16, 2014 -- Updated 1135 GMT (1935 HKT)

An "extraordinary" video shows what looks like the largest and most dangerous gathering of al Qaeda in years.
April 14, 2014 -- Updated 1230 GMT (2030 HKT)

Explore each side's case, reconstructed from Pistorius' court affidavit and the prosecution's case during last year's bail hearing.
April 16, 2014 -- Updated 1237 GMT (2037 HKT)

Mentions of the 1989 Tiananmen Square student protests or political reform are still censored in China.
April 18, 2014 -- Updated 0934 GMT (1734 HKT)

The Hadza are one of the last communities of hunter-gatherers in the world -- but losing their land.
April 19, 2014 -- Updated 0122 GMT (0922 HKT)

In choosing to change a traditional practice, Francis is being as radical as Jesus was in his own time.
April 18, 2014 -- Updated 1113 GMT (1913 HKT)

Too weak. Can't handle pressure. Unattractive to sponsors. Susie Wolff has heard it all.
April 19, 2014 -- Updated 0356 GMT (1156 HKT)

Browse through images you don't always see on news reports from CNN teams around the world.
April 18, 2014 -- Updated 1230 GMT (2030 HKT)

It's like finding a needle in a universe-wide haystack. Researchers have located a planet roughly the size of Earth that could be habitable.
April 18, 2014 -- Updated 0940 GMT (1740 HKT)

Dubai, long champion of all things biggest, longest and most expensive, will soon have some competition from a neighboring country.

Today's five most popular stories