Singapore PM criticizes U.S. `game of chicken'
October 8, 2013 -- Updated 0359 GMT (1159 HKT)
STORY HIGHLIGHTS
Singapore prime minister criticizes U.S. shutdown as a "game of chicken"
Prime Minister Lee fears the squabble could have long-term impact for world's largest economy
The economic fate of the city-state is closely linked with the health of the U.S. economy
U.S. President Obama canceled his visit to the 21-nation APEC summit over the shutdown
(CNN) -- Singapore's prime minister openly criticized the United States over the government shutdown and ongoing deadlock over the debt ceiling, calling them "problems you have created for yourself in a game of chicken."
In an interview with CNN's Patricia Wu on the sidelines of the Asia Pacific Economic Cooperation (APEC) summit, Prime Minister Lee Hsien Loong said Americans "are unable to get their act together," and that Washington's behavior sends a "negative signal which will last much longer that the shutdown."
The government shutdown led U.S. President Barack Obama to cancel his attendance at the APEC Leaders' summit just days before he was meant to arrive. The summit finishes today in Bali, Indonesia. Aside from Taiwan, Obama is the only leader missing among the 21 economies of the APEC group, which together account for half the world's output, 45% of its trade and 3 billion of its inhabitants.
READ MORE: Obama APEC absence boon for Xi, Putin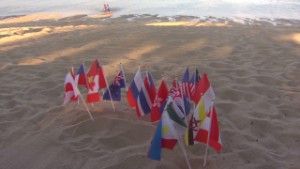 U.S. shutdown and APEC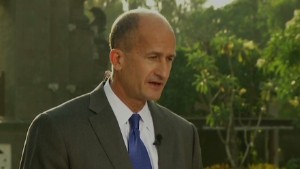 General Electric talks long-term growth
The U.S. government is also facing an October 17 deadline to raise its debt ceiling or risk a possible default.
Prime Minister Lee said he was more worried about the long-term message the U.S. was sending than the prospect of a direct hit to U.S. growth.
FORTUNE: Debt ceiling scenarios freaking out traders
Asked if the U.S. would benefit from a system like Singapore's -- where government ministers are paid hundreds of thousands of dollars in salaries -- Lee said he believes his country runs a clean system in which officials are paid "what their job is worth."
He criticized the conflicts of interest that result from the "revolving door" between the United States government and the private sector. Lee is paid more than $1 million to serve as Singapore's prime minister.
Singapore is heavily dependent on exports and trade, so the fate of the city-state is closely linked with the health of the U.S. economy. Both Singapore's property and stock markets have boomed over the last few years as investors flooded in seeking higher returns thanks to loose liquidity from the U.S. Federal Reserve and China.
The prime minister said he is comfortable with Singapore's footing as the United Stated considers turning off the flow of easy money.
"The emerging economies, many of them are concerned. They didn't want the money to slosh in. They are afraid when the money sloshes out, but the tapering has to take place and we have to be able to manage it," Lee said.
CNNMoney: Fed taper won't cause another financial crisis in Asia
He also expressed concern over the stiffening tone in territorial disputes between Asia's power players, including Japan and China.
"It is very hard for any government to give up what it has claimed, because it will lose face and standing and domestic support, so you can only manage these issues, you cannot solve them," Lee said.

Part of complete coverage on
December 19, 2013 -- Updated 1704 GMT (0104 HKT)

Google's acquisition of a military robot maker prompts Douglas Rushkoff to ask how the deal fits the company's value of "don't be evil."

After their leader Kim Jong Un had his own uncle executed, how do ordinary North Koreans feel?
December 20, 2013 -- Updated 1226 GMT (2026 HKT)

Despite wanting to be a great power, India often fails to behave like one, writes Jeremy Carl.
December 21, 2013 -- Updated 0035 GMT (0835 HKT)

What scope do western governments have to influence change for the better?
December 19, 2013 -- Updated 1319 GMT (2119 HKT)

Extremist attacks of the kind that claimed the life of UK soldier Lee Rigby do not come out of thin air, analysts say.
December 20, 2013 -- Updated 1814 GMT (0214 HKT)

From tycoon bankruptcies to billion-dollar takeovers, 2013 has been a roller coaster year.
December 19, 2013 -- Updated 1026 GMT (1826 HKT)

Which has been the craziest year in travel history? It just could be 2013.
December 19, 2013 -- Updated 1216 GMT (2016 HKT)

Kickstarter is one of the world's largest crowdfunding websites -- over 53,000 projects have been born.
December 20, 2013 -- Updated 1642 GMT (0042 HKT)

Browse through images you don't always see in news reports, taken by CNN teams all around the world.
December 20, 2013 -- Updated 1525 GMT (2325 HKT)

Each day, CNN brings you an image capturing a moment to remember. Look back at the photographs that chronicled 2013.
December 21, 2013 -- Updated 0910 GMT (1710 HKT)

Never mind the baubles -- one of these Christmas trees is made of macaroons.
December 19, 2013 -- Updated 1203 GMT (2003 HKT)

What do you need to map a billion stars? A billion-pixel camera certainly helps.

Today's five most popular stories