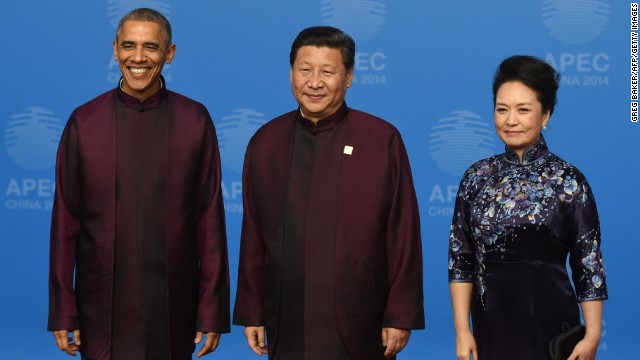 U.S. President Barack Obama poses with Chinese President Xi Jinping and his wife Peng Liyuan as they arrive for the APEC summit banquet November 10, 2014. Each year, APEC leaders dress up in the the host country's traditional garb for a "family photo" -- it's also been called the "silly shirts photo."
For their get-together in Bali in 2013 APEC leaders and their partners were given clothing made from traditional Balinese woven endek, stitched together by a Chinese tailor in Jakarta.
From 2013, we go back in time also to Indonesia, but Bogor instead of Bali, for the second APEC meeting in 1994. Looking not at all stiff in his Javanese batik top, U.S. President Bill Clinton -- who started the funky photo tradition by passing out bomber jackets to participants at the inaugural APEC held near Seattle in 1993 -- stood front and center to celebrate the historic declaration.
Happy Days
" went off the air in 1984, but that didn't stop Team APEC from going with a Fonz motif for their big date in Vancouver in 1997.
"
New Zealand can be a chilly place. Ever the gracious host, Kiwi Prime Minister Jenny Shipley and Sir Tipene O'Regan bagged the only warm weather gear available at APEC 1999, held in Auckland.
Russian president Vladimir Putin effortlessly pulled off this updated version of the Chinese silk embroidered jacket worn by APEC attendees in Shanghai. George W. Bush seemed a little flummoxed by it all. (He would later gain sartorial revenge -- click on.)
While the fellas played it straight with pens in the pocket, only New Zealand's Helen Clark (standing admirably to attention here) got a splash of color at APEC 2002 in Los Cabos, Mexico.
Thai silk spun with pure gold yarn
would instantly make you a dashing figure. Yet only Japanese Prime Minister Junichiro Koizumi (center) seemed to truly live up to the fabric at APEC 2003 in Bangkok.
You'd think wearing a shirt of
With a jaunty nonchalance in Santiago (2004), George Bush showed a boxed-in Vladimir Putin how to properly fill out a poncho.
agreed to confront pandemic health threats
, such as bird flu, and to appear not at all uncomfortable with the high-waisted flair of traditional Korean hanbok.
In Busan (2005), South Korea, APEC members
ao dai silk tunics
. But only the ladies (seen here, New Zealand Prime Minister Helen Clark) got to top off their look with traditional headwear.
In Hanoi (2006), the gents rolled in
In Sydney (2007), APEC member economies issued their first Declaration on Climate Change, Energy Security and Clean Development. They did not, however, issue ultimatums on gratuitous kangaroo, Crocodile Dundee and Bloomin' Onion jokes.
Say what you want, the man knew his way around a poncho. The Andean body drapes at APEC 2008 in Lima, Peru, were made from
baby alpaca shearings
.
Gallery: APEC fashion hits and misses
Gallery: APEC fashion hits and misses
Indonesia, 1994: Batik statement
Canada, 1997: Cool crew
New Zealand, 1999: Cold shoulders
China, 2001: Chinese style
Mexico, 2002: Fiestawear
Thailand, 2003: Spun gold
APEC 2004, Santiago, Chile
South Korea, 2005: High drama
Vietnam, 2006: Robe ready
Australia, 2007: Dryzabone does it
Peru, 2008: Classic browns