Flawless white diamond sells for record $30 million at Hong Kong auction
November 26, 2013 -- Updated 1305 GMT (2105 HKT)
STORY HIGHLIGHTS
Oval diamond sells for record $30.6 million in Hong Kong
It was the largest diamond ever sold at auction
Diamond sold to unidentified Asian private collector
Hong Kong (CNN) -- A white diamond the size of a small egg has sold for $30.6 million at an auction in Hong Kong, smashing the world record for a jewel of its kind.
The flawless, 118-carat oval diamond was sold to an unidentified Asian collector, whose winning bid came at the lower end of the $28 million to $35 million estimate set by auction giant Sotheby's. It was the largest diamond ever sold at auction.
David Bennett, chairman of Sotheby's Jewelry Division for Europe and the Middle East, told CNN that diamonds could be bought as an investment or simply for the love of a beautiful and rare object.
"Asia has rapidly in the past 20 years become our most important sector of the buying public. They account for more than a third (of buyers)."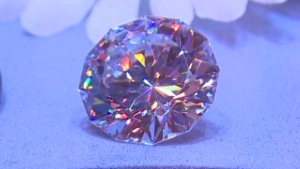 Are diamonds a good investment?
However, a rare blue diamond that was expected to fetch at least $19 million during the same sale failed to reach its reserve price.
The previous record for a white diamond was set in May at Christie's in Geneva when a pear-shaped jewel sold for $26.7 million.
The auction was part of a series of fall sales of art, jewelry and other collectibles held in the city by Sotheby's and its rivals.
READ: China's 'Last Supper' sets art world record

Today's five most popular stories
Part of complete coverage on
CNN Style
October 22, 2014 -- Updated 1422 GMT (2222 HKT)

Contemporary Chinese art can be a thorny jungle for the uninitiated. Here are the movements and artists you need to know.
October 22, 2014 -- Updated 1334 GMT (2134 HKT)

Today, mourning a loved one means donning the most formal black outfit in one's closet. But 150 years ago, it meant buying a whole new wardrobe.
October 20, 2014 -- Updated 1427 GMT (2227 HKT)

Some artists are obsessed with making things tiny. Others are into vastness. Here are incredible works from both ends of the size spectrum.
October 17, 2014 -- Updated 1221 GMT (2021 HKT)

Close one eye, and it could almost -- almost -- pass for a regular underground train. Close the other, and it looks like a space shuttle from Star Trek.
October 16, 2014 -- Updated 1431 GMT (2231 HKT)

Soup that is rumored to be radioactive; 10 people sharing a single silk hat. It could only be Frieze London, one of the world's leading art fairs.
October 17, 2014 -- Updated 0939 GMT (1739 HKT)

In spite of all the sexier pictures around us, the titillating pin-ups of the early 20th century are still in demand.
October 9, 2014 -- Updated 1150 GMT (1950 HKT)

Iris has autism and cannot speak, but her stunning paintings sell for thousands of dollars.
October 8, 2014 -- Updated 1055 GMT (1855 HKT)

Here's a look at the world's finest feats of facial hair, from sculpted sideburns to manicured mustaches.
October 6, 2014 -- Updated 1502 GMT (2302 HKT)

The finest buildings in the world have been named at the World Architecture Festival in Singapore.
October 1, 2014 -- Updated 2332 GMT (0732 HKT)

For some, these beautiful train stations are part of the everyday commute. For others, they're must-see travel destinations.
October 1, 2014 -- Updated 1343 GMT (2143 HKT)

As the Turner Prize turns 30 years old, we look at the formula for controversy and what the work we hate says about our society.
September 29, 2014 -- Updated 1249 GMT (2049 HKT)

From the most controversial to the most iconic, these are the book covers that have defined our times