Flawless white diamond sells for record $30 million at Hong Kong auction
November 26, 2013 -- Updated 1305 GMT (2105 HKT)
STORY HIGHLIGHTS
Oval diamond sells for record $30.6 million in Hong Kong
It was the largest diamond ever sold at auction
Diamond sold to unidentified Asian private collector
Hong Kong (CNN) -- A white diamond the size of a small egg has sold for $30.6 million at an auction in Hong Kong, smashing the world record for a jewel of its kind.
The flawless, 118-carat oval diamond was sold to an unidentified Asian collector, whose winning bid came at the lower end of the $28 million to $35 million estimate set by auction giant Sotheby's. It was the largest diamond ever sold at auction.
David Bennett, chairman of Sotheby's Jewelry Division for Europe and the Middle East, told CNN that diamonds could be bought as an investment or simply for the love of a beautiful and rare object.
"Asia has rapidly in the past 20 years become our most important sector of the buying public. They account for more than a third (of buyers)."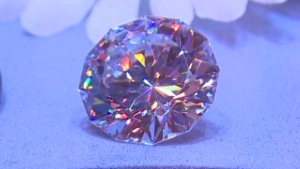 Are diamonds a good investment?
However, a rare blue diamond that was expected to fetch at least $19 million during the same sale failed to reach its reserve price.
The previous record for a white diamond was set in May at Christie's in Geneva when a pear-shaped jewel sold for $26.7 million.
The auction was part of a series of fall sales of art, jewelry and other collectibles held in the city by Sotheby's and its rivals.
READ: China's 'Last Supper' sets art world record

Part of complete coverage on
CNN Style
September 17, 2014 -- Updated 0951 GMT (1751 HKT)

Ornate attire and ancient rituals - striking photos record the extraordinary world of Bolivian spirituality.
September 15, 2014 -- Updated 1300 GMT (2100 HKT)

What kind of font are you? Which do you find most attractive? And how can this help with your love life?
September 16, 2014 -- Updated 1609 GMT (0009 HKT)

World-renowned typographer Alan Kitching commemorates the pioneers of poster design.
September 11, 2014 -- Updated 1451 GMT (2251 HKT)

Rare whisky is becoming a popular investment, with limited editions selling for six-figure sums across the world.
September 10, 2014 -- Updated 1321 GMT (2121 HKT)

The first living creature sent to space was a dog. With stamps and toys, 'Soviet Space Dogs' provides insight into the bizarre world of the gravity defying canines.
September 9, 2014 -- Updated 1111 GMT (1911 HKT)

As his retrospective gets underway at the V&A, we look at the legacy and unique style of photographer Horst P. Horst.
September 8, 2014 -- Updated 1111 GMT (1911 HKT)

Photographer Christoph Morlinghaus takes us on a grand tour of the very best Modernist religious architecture in Form/Faith.
September 5, 2014 -- Updated 1208 GMT (2008 HKT)

Wait, what? These bizarre household items need a double-take. Artist Katerina Kamprani makes familiar objects "deliberately inconvenient".
September 5, 2014 -- Updated 1337 GMT (2137 HKT)

Artist Daniel Agdag creates mind-bendingly complex sculptures using a surgical scalpel, some cardboard and lots of glue.
September 4, 2014 -- Updated 1152 GMT (1952 HKT)

Katharina Roters' new book, Hungarian Cubes, reveals houses painted in defiance of the Soviet regime.
September 5, 2014 -- Updated 1050 GMT (1850 HKT)

The Venice Biennale spawns a wealth of mind-blowing art and experimental architecture across the city.
September 3, 2014 -- Updated 1105 GMT (1905 HKT)

Photographer Richard Silver captures the world's most beautiful architecture from dusk till dawn.
Today's five most popular stories