Tough to spot: Chelyabinsk meteor tinted by ancient crashes
October 10, 2013 -- Updated 1318 GMT (2118 HKT)
STORY HIGHLIGHTS
The space rock that blew up over Russia had been darkened by ancient crashes
"Dark asteroids are harder to detect because they reflect less light," scientist says
The meteor injured about 1,500 people when it crashed to Earth in February
Scientists have found about 100 pieces, the biggest of which is about 11 pounds
(CNN) -- The meteor that blew up over southwestern Russia in February had survived long-ago collisions that blackened its surface, making it harder to spot, a scientist who studied its pieces said Wednesday.
The roughly 60-foot space rock plunged into Earth's atmosphere and exploded over the Russian city of Chelyabinsk with the force of about 30 early nuclear bombs. Of the roughly 100 fragments found so far, the biggest weighs about 11 pounds (5 kilograms), said Maria Gritsevich, a researcher at the University of Helsinki.
Read more: Saving Earth from asteroids
Gritsevich and others who have studied those fragments have found the small asteroid was mostly made of ordinary rock.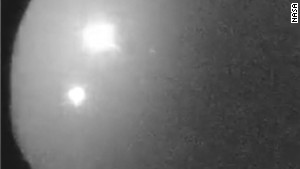 Watch this streaking asteroid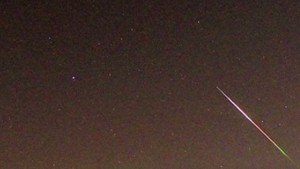 Perseid meteor shower lights up the sky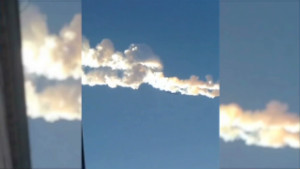 Russian meteor was like 'a rocket bomb'
But it was marbled with metallic elements such as iron -- and when the asteroid collided with other bodies floating around the solar system, the heat and force of that impact melted the metal, which seeped into fissures in the surface of the stone and blackened its surface.
"Dark asteroids are harder to detect because they reflect less light," Gritsevich, who presented her findings at an American Astronomical Society conference this week, told CNN.
Planet of sound: Meteor blast resonated around Earth
While most ordinary rocky asteroids reflect up to 20% of the sunlight that strikes them, and Earth reflects about 40%, dark asteroids reflect 5% of the light or less, she said.
The meteorites collected from the Chelyabinsk incident show varying signs of darkening, with some completely blackened, others made up entirely of light-colored stone and some with a mixture of coloration, Gritsevich said.
"All Chelyabinsk meteorites look different," she said. "You can clearly distinguish three different groups."
She said scientists are still working to determine the age of the Chelyabinsk meteor, the largest to hit Earth since the 1908 Tunguska incident in Siberia.
NASA estimates 4,700 'potentially hazardous' asteroids
The blast left more than 1,500 injured, mostly by glass from shattered windows, and raised concerns about humanity's vulnerability to stray asteroids.
Two months later, NASA announced a goal of sending a spacecraft out to seize and asteroid and tow it into orbit around the moon, where it could be studied by astronauts -- a project billed in part as a planetary defense mission. But it ran into opposition in Congress, where a House committee voted to block any funding for the mission in July.

Part of complete coverage on
December 19, 2013 -- Updated 1704 GMT (0104 HKT)

Google's acquisition of a military robot maker prompts Douglas Rushkoff to ask how the deal fits the company's value of "don't be evil."

After their leader Kim Jong Un had his own uncle executed, how do ordinary North Koreans feel?
December 21, 2013 -- Updated 1708 GMT (0108 HKT)

Despite wanting to be a great power, India often fails to behave like one, writes Jeremy Carl.
December 21, 2013 -- Updated 0035 GMT (0835 HKT)

What scope do western governments have to influence change for the better?
December 19, 2013 -- Updated 1319 GMT (2119 HKT)

Extremist attacks of the kind that claimed the life of UK soldier Lee Rigby do not come out of thin air, analysts say.
December 20, 2013 -- Updated 1814 GMT (0214 HKT)

From tycoon bankruptcies to billion-dollar takeovers, 2013 has been a roller coaster year.
December 19, 2013 -- Updated 1026 GMT (1826 HKT)

Which has been the craziest year in travel history? It just could be 2013.
December 19, 2013 -- Updated 1216 GMT (2016 HKT)

Kickstarter is one of the world's largest crowdfunding websites -- over 53,000 projects have been born.
December 22, 2013 -- Updated 0334 GMT (1134 HKT)

Browse through images you don't always see in news reports, taken by CNN teams all around the world.
December 20, 2013 -- Updated 1525 GMT (2325 HKT)

Each day, CNN brings you an image capturing a moment to remember. Look back at the photographs that chronicled 2013.
December 21, 2013 -- Updated 0910 GMT (1710 HKT)

Never mind the baubles -- one of these Christmas trees is made of macaroons.
December 19, 2013 -- Updated 1203 GMT (2003 HKT)

What do you need to map a billion stars? A billion-pixel camera certainly helps.

Today's five most popular stories