U.S. shutdown disrupts Washington D.C. -- but what about rest of world?
October 10, 2013 -- Updated 1207 GMT (2007 HKT)
STORY HIGHLIGHTS
The world is watching the U.S. and is worried about its debt crisis and possible default
A panel chaired by CNN's Richard Quest Thursday will discuss the issues
Countries including Spain, India and China could all be hit by the debt crisis
U.S. is in partial government shutdown and is also facing a default on its debts
Editor's note: Watch Quest Means Business on CNN International, at its new time of 20:00 GMT. Quest Means Business is presented by CNN's foremost international business correspondent Richard Quest. Follow him on Twitter.
Washington D.C. (CNN) -- The world is worried about the U.S. debt crisis. The president of the World Bank, Jim Yong Kim, told me on Wednesday the bank was "ready to go" with help for poor countries caught up in the backwash of the world's crises.
Interest rates will start to rise, capital will flow from emerging markets into safe haven currencies like the U.S. dollar and Swiss franc. In short, the rest of the world has a very real interest in what's happening in Washington D.C.
READ MORE: Shutdown is playing with fire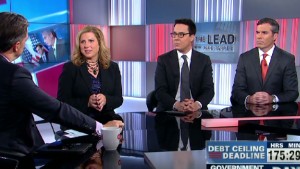 Roundtable: Obamacare still GOP's enemy?
In the global debate at the International Monetary Fund Thursday I have no doubt the panel, which includes India's new central banker governor Raghuram Rajan, will be concerned.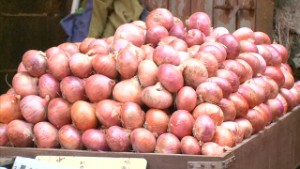 India's onion economics
Rajan has just raised interest rates because of the summer assault on India's currency by investors fleeing to safety. The prospect of a debt default by the U.S. will turn this into a flood.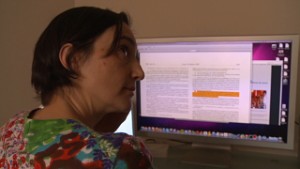 Spain's brain drain problem
READ MORE: Spain's small businesses give economic hope
Spain's economy minister Luis de Guindos, also on the panel, must be worried about any U.S. slowdown that could stifle Spain's prospects of recovery.
And China's deputy central bank governor Yi Gang will surely have an eye on his country's $2 trillion in U.S. government securities. The bond market is likely to become more volatile as the uncertainty rises.
READ MORE: China's economic stumble has Asia worried
So, the world's finance ministers and central bank governors are like spectators watching a domestic dispute. They know, however, they will have to help pick up the broken pieces of china strewn about after the fighting ends.
I will let you know what they say, on Quest Means Business tonight.

Part of complete coverage on
March 15, 2014 -- Updated 0128 GMT (0928 HKT)

Here are answers to some of the most frequently asked questions about this baffling disappearance.
March 14, 2014 -- Updated 1146 GMT (1946 HKT)

The two pilots who were flying Malaysia Airlines Flight 370 may lead to a few clues in the investigation.
March 13, 2014 -- Updated 1534 GMT (2334 HKT)

As investigators search for Malaysia Airlines Flight 370, analysts try to figure out why the high-tech plane's transponders were disabled.

Track star Oscar Pistorius is accused of killing his girlfriend, Reeva Steenkamp. Follow live updates of South Africa's trial of the century.
March 14, 2014 -- Updated 0958 GMT (1758 HKT)

A CNN team joins international observers trying to get into Crimea from Ukraine -- here's what they saw.
March 13, 2014 -- Updated 1224 GMT (2024 HKT)

Watch how Pope Francis is redefining the papacy and breathing new life into the Catholic Church.
March 14, 2014 -- Updated 1629 GMT (0029 HKT)

Browse through images you don't always see on news reports from CNN teams around the world.
March 13, 2014 -- Updated 1545 GMT (2345 HKT)

Michael Oren: He says the question is whether a truce can prevent conflict from becoming conflagration.

The Fukushima nuclear disaster changed global attitudes towards nuclear power. Explore our interactive to find out how.
March 12, 2014 -- Updated 2029 GMT (0429 HKT)

You -- the person now reading this story -- can help experts solve the mystery of what happened to Malaysia Airlines Flight 370.
March 13, 2014 -- Updated 1051 GMT (1851 HKT)

Scientists around the world are investigating whether living cells can be used to print replacement organs and tissues.
March 13, 2014 -- Updated 1153 GMT (1953 HKT)

There are two Web clips featuring Beyonce that have been getting a lot of attention.

Today's five most popular stories