U.S. shutdown disrupts Washington D.C. -- but what about rest of world?
October 10, 2013 -- Updated 1207 GMT (2007 HKT)
STORY HIGHLIGHTS
The world is watching the U.S. and is worried about its debt crisis and possible default
A panel chaired by CNN's Richard Quest Thursday will discuss the issues
Countries including Spain, India and China could all be hit by the debt crisis
U.S. is in partial government shutdown and is also facing a default on its debts
Editor's note: Watch Quest Means Business on CNN International, at its new time of 20:00 GMT. Quest Means Business is presented by CNN's foremost international business correspondent Richard Quest. Follow him on Twitter.
Washington D.C. (CNN) -- The world is worried about the U.S. debt crisis. The president of the World Bank, Jim Yong Kim, told me on Wednesday the bank was "ready to go" with help for poor countries caught up in the backwash of the world's crises.
Interest rates will start to rise, capital will flow from emerging markets into safe haven currencies like the U.S. dollar and Swiss franc. In short, the rest of the world has a very real interest in what's happening in Washington D.C.
READ MORE: Shutdown is playing with fire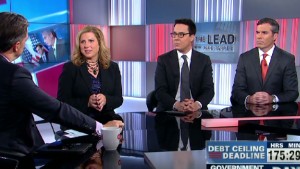 Roundtable: Obamacare still GOP's enemy?
In the global debate at the International Monetary Fund Thursday I have no doubt the panel, which includes India's new central banker governor Raghuram Rajan, will be concerned.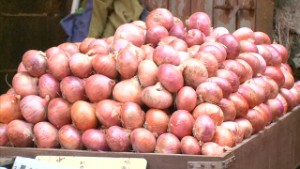 India's onion economics
Rajan has just raised interest rates because of the summer assault on India's currency by investors fleeing to safety. The prospect of a debt default by the U.S. will turn this into a flood.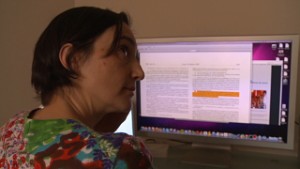 Spain's brain drain problem
READ MORE: Spain's small businesses give economic hope
Spain's economy minister Luis de Guindos, also on the panel, must be worried about any U.S. slowdown that could stifle Spain's prospects of recovery.
And China's deputy central bank governor Yi Gang will surely have an eye on his country's $2 trillion in U.S. government securities. The bond market is likely to become more volatile as the uncertainty rises.
READ MORE: China's economic stumble has Asia worried
So, the world's finance ministers and central bank governors are like spectators watching a domestic dispute. They know, however, they will have to help pick up the broken pieces of china strewn about after the fighting ends.
I will let you know what they say, on Quest Means Business tonight.

Part of complete coverage on
December 19, 2013 -- Updated 1704 GMT (0104 HKT)

Google's acquisition of a military robot maker prompts Douglas Rushkoff to ask how the deal fits the company's value of "don't be evil."

After their leader Kim Jong Un had his own uncle executed, how do ordinary North Koreans feel?
December 20, 2013 -- Updated 1226 GMT (2026 HKT)

Despite wanting to be a great power, India often fails to behave like one, writes Jeremy Carl.
December 21, 2013 -- Updated 0035 GMT (0835 HKT)

What scope do western governments have to influence change for the better?
December 19, 2013 -- Updated 1319 GMT (2119 HKT)

Extremist attacks of the kind that claimed the life of UK soldier Lee Rigby do not come out of thin air, analysts say.
December 20, 2013 -- Updated 1814 GMT (0214 HKT)

From tycoon bankruptcies to billion-dollar takeovers, 2013 has been a roller coaster year.
December 19, 2013 -- Updated 1026 GMT (1826 HKT)

Which has been the craziest year in travel history? It just could be 2013.
December 19, 2013 -- Updated 1216 GMT (2016 HKT)

Kickstarter is one of the world's largest crowdfunding websites -- over 53,000 projects have been born.
December 20, 2013 -- Updated 1642 GMT (0042 HKT)

Browse through images you don't always see in news reports, taken by CNN teams all around the world.
December 20, 2013 -- Updated 1525 GMT (2325 HKT)

Each day, CNN brings you an image capturing a moment to remember. Look back at the photographs that chronicled 2013.
December 21, 2013 -- Updated 0910 GMT (1710 HKT)

Never mind the baubles -- one of these Christmas trees is made of macaroons.
December 19, 2013 -- Updated 1203 GMT (2003 HKT)

What do you need to map a billion stars? A billion-pixel camera certainly helps.

Today's five most popular stories