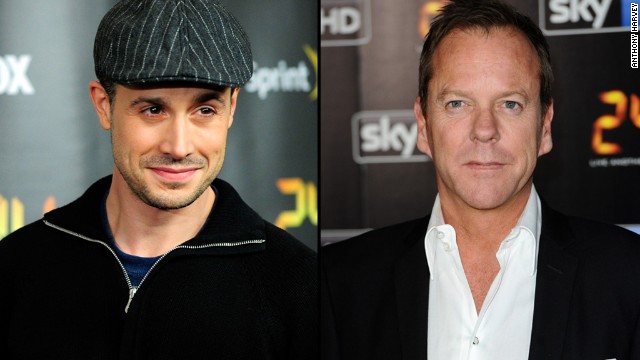 Freddie Prinze Jr. worked with Kiefer Sutherland on the Fox series "24" in 2010 and says his experience with the actor was so horrible he wanted to quit acting. Yet while Prinze called Sutherland "the most unprofessional dude in the world," Sutherland responded via his rep saying that he enjoyed working with his former co-star.
at the BET Awards
about writing her own rhymes. Some took that as a not-so-subtle jab at Azalea, but both rappers have tried to squash rumors of a feud.
Rappers Nicki Minaj and Iggy Azalea were thought to have beef after Minaj made a pointed statement
with an Australian media outlet
. "We became the biggest-selling girl group of all time with our clothes on." Rihanna's response?
A series of pointed subtweets and a new Twitter header
that shows a topless TLC.
Rihanna's bare-it-all style is catching flak from the ladies of TLC. "Every time that I see you, you don't have to be naked," T-Boz said during a recent interview
a bit of a Twitter rant
saying, "it was a pleasure NOT meeting you." We think Rihanna might have responded
when she tweeted
, "If that old queen don't get ha diapers out of a bunch..."
Charlie Sheen is also unhappy with Rihanna. Sheen tweeted that the singer declined to meet him and his gal pal when they all landed at the same restaurant in May. The actor went on
dissed the younger singer's hygiene
on an Australian morning show March 4. The two have appeared to reconcile -- on Twitter, of course.
Katy Perry got a tongue-lashing from Miley Cyrus after she
Perez alleges in a new memoir
, Lopez "went off (like) some ghetto biatch, screaming and pounding her chest" while they were working together on the show. Perez claims Lopez made "disparaging comments" about her even after leaving the show.
An argument on the set of "In Living Color" has apparently put Rosie Perez and Jennifer Lopez at odds for the past 20 years. As
of a glowing profile in a February issue of Rolling Stone
, but one quote had the Canadian rapper seeing red. The magazine claimed Drake was critical of Kanye West's album "Yeezus," which Drake said never happened. To add insult to injury, Rolling Stone took the cover from Drake at "the last minute," the rapper tweeted. "I'm disgusted with that. RIP to Phillip Seymour Hoffman. All respect due. But the press is evil," he said on February 12. In the end, Drake wound up deleting his comments and apologizing.
Drake was the subject
told CNN
on October 10 that there is "a deep rift within the band. There was a big a disagreement over their music direction."
The Jonas Brothers may still be family, but the trio could no longer take being bandmates. A rep for the group
an open letter Gaga wrote
,
accusing Kelly of being a bully
. When Kelly O. saw that Gaga had offered her a birthday cake on October 27,
she tweeted
, "Not to be ungrateful but why would you send me a birthday cake via my MOTHER in a country half the (world) away? ... #EatMyS***."
The beef between Lady Gaga and Kelly Osbourne dates back to
Kimmel poked fun at West's interview
with the BBC -- in which the entertainer called himself the No. 1 rock star on the planet --
West went to Twitter to air his profane grievances
(in all caps, of course). The two later made amends with a televised sitdown.
Kanye West has given Jimmy Kimmel the rap feud he's always wanted. After
heart attack
in 2012, Rosie O'Donnell
received support
from an unlikely source: Donald Trump. The two engaged in a pretty high-profile feud in the past, with her
calling him a "snake-oil salesman"
and Trump retorting that she was a "loser."
After her
Onetime friends Denise Richards and Heather Locklear hit a major impasse after the former started dating the latter's ex, Bon Jovi's Richie Sambora. In interviews, Richards denied that she and Locklear were still friends at the time she began seeing Sambora.
As a teen star, Hilary Duff reportedly dated heartthrob Aaron Carter before he broke up with her to get with Lindsay Lohan -- and then he tossed Lohan aside to win back Duff. The actress told People magazine in 2007 that she and Lohan had made peace.
Yeah, we couldn't believe it either. MC Hammer reportedly took offense to Jay-Z guest-rapping in a Kanye West song ("So Appalled") that "Hammer went broke so you know I'm more focused/I lost 30 mill so I spent another 30/Cuz unlike Hammer 30 mill can't hurt me." Hammer took it to where all celebs take their beefs now -- Twitter -- and released a diss track, "Better Run Run."
Kanye West and Taylor Swift had one of the greatest celeb feuds of all time. The rapper famously grabbed the singer's mic at the 2009 MTV Video Music Awards. He later apologized, and she seemed to accept his apology via her song "Innocent."
It appears that rapper Lil' Kim has not taken too kindly to what she views as Nicki Minaj's lack of respect and similar style with the colored wigs and sexually explicit lyrics. The pair have traded insults all over the media.
It's a case of he said/she said/he said. Eminem set it off after he claimed to have had a torrid dating relationship with singer Mariah Carey, who denied it. Her husband, Nick Cannon, even offered to defend her honor by meeting the rapper in the ring.
Nicole Richie and Paris Hilton helped to coin the term "frenemies" after their very public bust-up in 2004. The former "Simple Life" co-stars went on to make up two years later.
Oprah Winfrey was reportedly annoyed by David Letterman's constant joking references to her name when he hosted the Academy Awards in 1995. The late-night talk-show host told "The Daily Show's" Jon Stewart he had also once played a practical joke on Winfrey, convincing a waiter that she had agreed to pick up his tab. They have since made peace.
Gossip blogger Perez Hilton claimed Will.i.am and his security guards attacked him at an awards show over some unkind words he had written about the musician's Black Eyed Peas bandmate Fergie. Will.i.am denied he had anything to do with it.
Tom Cruise got on Brooke Shields' bad side by decrying her use of medication to treat postpartum depression. Shields responded with an op-ed in The New York Times, and Cruise later apologized for his remarks.
Biggest celebrity feuds
Biggest celebrity feuds
Biggest celebrity feuds
Biggest celebrity feuds
Biggest celebrity feuds
Biggest celebrity feuds
Biggest celebrity feuds
Biggest celebrity feuds
Biggest celebrity feuds
Biggest celebrity feuds
Biggest celebrity feuds
Biggest celebrity feuds
Biggest celebrity feuds
Biggest celebrity feuds
Biggest celebrity feuds
Biggest celebrity feuds
Biggest celebrity feuds
Biggest celebrity feuds
Biggest celebrity feuds
Biggest celebrity feuds
Biggest celebrity feuds
Biggest celebrity feuds
Biggest celebrity feuds
STORY HIGHLIGHTS
Kanye West appeared on "Jimmy Kimmel Live" on Wednesday
The artist talked about his recent feud with Kimmel
Both men shared their perspective and had a meeting of the minds
(CNN) -- Love him or hate him, Kanye West will always be himself -- especially when he's burying the hatchet with Jimmy Kimmel.
The 36-year-old Grammy winner appeared on "Jimmy Kimmel Live" on Wednesday to discuss the feud the two got into a few weeks ago.
Kanye West and Twitter: A brief history
It all started with Kimmel's parody of West's recent interview with BBC Radio 1, during which he spoke at length about feeling artistically boxed in and the status of hip-hop as the new rock n' roll. (That's where West's now legendary quote, "I'm the No. 1 rock star on the planet," came from.)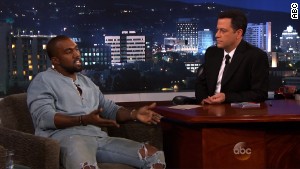 Kanye West, Kimmel make up after feud
Kimmel, who admitted Wednesday that he'd only seen a few portions of West's viral interview, latched on to the rapper's reference to leather jogging pants, which he says he invented before they became fashionable. For his late-night program on ABC, Kimmel re-enacted that portion of the interview with little kids.
"I wanted to clear this up. I really felt bad about all of this stuff, I did," Kimmel told West. "The main reason I did (the sketch) is because I like to see kids curse ... Most people maybe even think that this is some publicity stunt that we cooked up."
But of course, West doesn't do publicity stunts, "period," he said.
"Everyone out there ... needs to know that I've never done a publicity stunt in my life. Anytime I've went up and spoke my mind, whether it put my career in jeopardy ... it was always what I thought was the truth. I don't follow rules of normal celebrity."
In the end, West explained, Kimmel became a sort of scapegoat for all the other members of the media who've published "bogus" information.
Kanye West: I'm the No. 1 rock star on the planet
"A combination of me knowing you, but also, me not knowing the person who put a bad headline on the cover of In Touch, I was like, well this is the one person I know," West said. "So I can go and let out everything that I feel about every single bogus weekly cover, every single bogus skit, every single rumor -- everything that people think is OK to treat celebrities like zoo animals, or act like what they're saying is not serious."
West said his frustration admittedly escalated after his initial phone call with Kimmel about the sketch.
"It elevates sometimes," West said. "At a certain point, egos flare up, and we just kind of took it back to high school for a little bit."
For Kimmel, it was odd to be in a feud with West, someone he's gotten to know well enough where he has found himself defending the artist's reputation.
"A lot of times, I think you bring it on yourself, this misunderstanding about you. I don't know if you know this, but a lot of people think you're a jerk," Kimmel told West. "I often, in my own personal conversations, say, 'No, I know this guy, he is not a jerk.'"
Yet to West, likability is apparently immaterial.
"I'm not running for office, I'm just here to make good music," West said. "When I did that interview, I was really vocal about a lot of the things that I've been dealing with over the past 10 years when I was put in the classification of 'just a celebrity.' For me, I'm a creative genius, and there's no other way to word it. I know you're not supposed to say that about yourself, and I say things the wrong way a lot of times, but my intention is always positive. ... I want to help the world."
Kimmel pointed out those sorts of statements are what critics use against West, but to him, "to say that I wasn't a genius, I would be lying to you and to myself."
"I could care less about any of these cameras, in all honesty. All I care about is my family, I care about protecting my girl, protecting my baby, and protecting my ideas and my dreams. That's the reason why I went so crazy," West said. " I'm totally weird, and I'm totally honest, and I'm totally inappropriate sometimes ... I'm just going to give y'all the truth, and y'all going to learn to love it. You're going to love me, you're going to hate me, but I'm going to be me."
And since he was sharing his truth, West told Kimmel that he did find a bit of joy in his profane Twitter spree.
"As I was writing it, there was a frustration I was getting out, but also they were really funny to me. I just thought it was so amazing that I was saying this in real time with my position, because as soon as you're a celebrity you're not allowed to say anything anymore," West said, adding with a laugh, "You should've seen the second set of tweets."
Kimmel responded with a laugh, "Let's save them for next time."