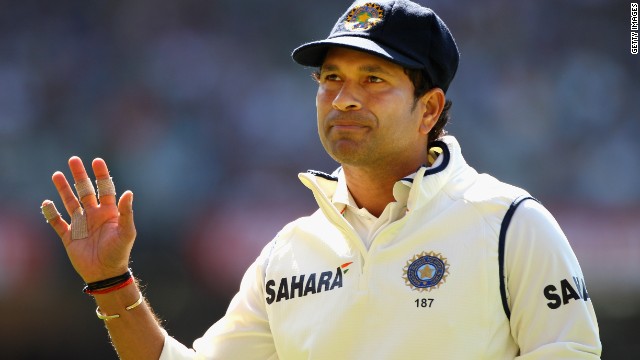 Sachin Tendulkar will end his record-breaking cricket career following his 200th Test match, against the West Indies in his home city of Mumbai.
A face-painter with a queue of spectators outside Mumbai's Wankhede Stadium. The match is not being covered by the world's leading photo agencies due to a dispute with Indian cricket's ruling body, which dates back to 2012.
Security was tight around the ground, which could have been sold out 10 times according to local reports.
Tendulkar helped his Indian Premier League side Mumbai Indians to win the Twenty20 limited-overs tournament earlier this year.
Indian painter Jagjot Singh Rubal touches up his painting commemorating Tendulkar's famous cricketing milestone.
Tendulkar became the first man in cricket history to score 100 international hundreds when he made 114 in a limited-overs match against Bangladesh on March 16, 2012.
Tendulkar visited the residence of Bangladesh's Prime Minister Sheikh Hasina Wazed, right, to mark his achievement.
He had been stuck on 99 since the 2011 World Cup, when he closed to within one of the milestone with a ton against South Africa. Tendulkar helped India win the final against co-hosts Sri Lanka in his home city of Mumbai on April 2. He scored only 18 in that match, but was India's top runscorer as his country won the 50-over tournament for the first time.
Cricket fans had been waiting for the milestone, which came 33 innings after the South Africa game. Tendulkar went close during India's disappointing tour of Australia -- against whom he has scored 20 tons, more than any other nation.
Tendulkar is the first and only player in cricket history to score 15,000 Test match runs, achieving the feat in November 2011.
Having scored a triple century as a schoolboy, and then passing 100 on his first-class debut in 1988, Tendulkar made his international debut the following year at the age of 16 against Pakistan.
Tendulkar scored his first international century in the five-day format the following year on India's tour of England, hitting 119 not out in the second Test at Old Trafford.
Debate still rages as to whether Tendulkar can be considered greater than Australian legend Donald Bradman, whose Test career ended in 1948 with an incredible average of 99.94, scoring 6,996 runs in 52 matches.
England's players applaud after Tendulkar scores 193 in Leeds in 2002, passing Bradman's record of 29 Test centuries. He has now played 188 Tests, notching 51 hundreds.
Tendulkar, left, became Test cricket's highst runscorer in October 2008 when he passed Brian Lara's previous record of 11,953 during a home series against Australia.
Tendulkar became the first batsman to score 17,000 runs in one-day internationals with a knock of 175 against Australia in Hyderabad on November 5, 2009.
Tendulkar's next foray into three figures saw him become the first batsman to score 200 in a 50-over international -- against South Africa on February 25, 2010. Indian schoolchildren in Amritsar celebrated their national hero's landmark feat.
The end of an era
Waving goodbye
Big attraction
Master batsman
The Little Master
100 hundreds
Prime player
India's first World Cup title
An agonizing wait
Test best
Teen prodigy
First of many to come
The greatest?
Passing a legend
Lara's landmark falls
Run machine
Tendulkar's 200
STORY HIGHLIGHTS
Sachin Tendulkar announces retirement from cricket
40-year-old Indian legend holds record for most runs scored in internationals
Tendulkar will quit after playing his 200th Test match next month
He has scored 100 centuries in Tests and one-day internationals
(CNN) -- India's most famous sportsman Sachin Tendulkar will retire from cricket after playing his 200th Test match, he announced Thursday.
It will bring down the curtain on a glittering career which has seen him score a record 100 centuries in Tests and one day internationals since making his debut for India in 1989.
"It's been a huge honor to have represented my country and played all over the world. I look forward to playing my 200th Test Match on home soil, as I call it a day," the 40-year-old said in a statement.
Tendulkar, who has played in a record 198 Test matches, can reach the 200 mark in a two-match series against the West Indies next month.
"All my life, I have had a dream of playing cricket for India. I have been living this dream every day for the last 24 years.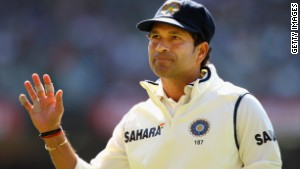 India's 'God of cricket' popularity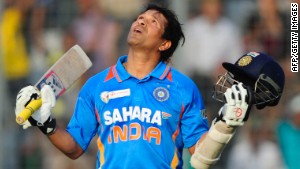 Sachin Tendulkar makes cricket history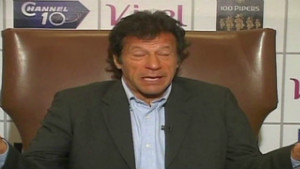 Imran Khan says Tendulkar should retire
Read: "Little Master" reaches 100 tons
"It's hard for me to imagine a life without playing cricket because it's all I have ever done since I was 11 years old," he added.
The President of the Indian Cricket Board of Control, N Srinivasan, paid tribute to Tendulkar's record breaking feats.
"He is without doubt the greatest cricketer India has produced," he said.
"He has been an inspiration for generations of sportsmen not just cricketers. We respect his decision to retire although many of us can't imagine an Indian team without Sachin."
Tendulkar, a right handed batsman, will go down in history for his incredible run scoring feats, including a record 15,837 runs to date in Test matches, over 2,000 more than his closest rival, former Australian captain Ricky Ponting.
Read: Tendulkar reaches 15,000 Test runs
In one-day internationals, Tendulkar amassed 18,426 runs, nearly 5,000 runs clear of Ponting's second best tally.
Tendulkar retired from one day internationals in December 2012 and an earlier announcement that this season would be his last in the lucrative Indian Premier League (IPL), a Twenty20 competition, paved the way for his decision Thursday to retire from all forms of the game.
Fittingly, Tendulkar helped the Mumbai Indians franchise win this year's IPL title and also played a key role as India won cricket's World Cup on home soil in 2011.
He captained his country 98 times in Tests and one day internationals and aside from his batting feats also claimed 45 Test wickets and 154 victims in one day internationals as a bowler.
Tributes to him quickly flowed on social media, with England batsman Kevin Pietersen tweeting: Sachin #10dulkar - Undisputed Champion of Cricket! #SachinTheGreat.
Former Australian star Dean Jones made the following prediction: What odds for Sachin to score a Test ton in his last Test? #goodchance.
If Tendulkar achieved that feat it would be his 52nd in Tests and all of India will be hoping he can reach the magic three figures just one final time in his farewell matches.