Italy: All Lampedusa bodies recovered
October 10, 2013 -- Updated 1617 GMT (0017 HKT)
Rome (CNN) -- All of the bodies from the ship of African migrants that sank off the coast of Lampedusa, Italy, last week have now been recovered, the Italian Coast Guard announced Thursday.
Lampedusa sinking: Survivors recall ordeal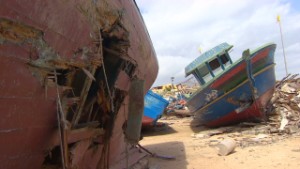 Lampedusa: Refugees' gateway to Europe
A total of 309 bodies were found. There were 155 survivors.
The tragedy amounted to Italy's deadliest migrant shipwreck and, according to Lampedusa Mayor Giusi Nicolini, "the biggest sea tragedy in the Mediterranean Sea since World War II."
CNN's Hada Messia and Journalist Livia Borghese in Rome