Lost 'Doctor Who' episodes recovered in Nigeria
October 11, 2013 -- Updated 1605 GMT (0005 HKT)
STORY HIGHLIGHTS
Nine lost "Doctor Who" episodes from the 1960s have been found in Africa
The rediscovered episodes feature Patrick Troughton as the second doctor
The long-running science-fiction show celebrates 50th anniversary in November
London, England (CNN) -- Whovians across the world can rejoice as the BBC confirms the discovery of nine lost "Doctor Who" episodes from the 1960s in Africa.
The treasure-trove of missing episodes were traced to a relay station in Jos, Nigeria via Hong Kong using overseas shipment records by Philip Morris, director of Television International Enterprises Archive.
"I remember wiping the dust off the masking tape on the canisters and my heart missed a beat as I saw the words 'Doctor Who,'" said Morris.
"When I read the story code I realized I'd found something pretty special."
Read: Peter Capaldi steps into the Tardis
Ending weeks of speculation, the announcement was made at a press screening in London Thursday attended by former companion actors Frazer Hines, Deborah Watling -- who appeared in the recovered episodes -- and Mark Gatiss, who has both written and acted in the show in recent years.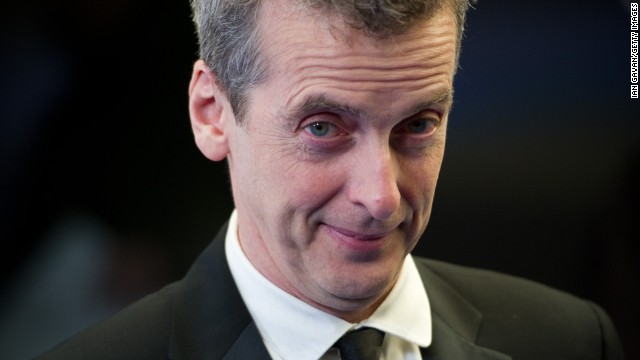 The BBC draws back the curtains to reveal who will be the next British actor to play the famed Doctor. He is Peter Capaldi, seen here attending the British Comedy Awards at the O2 Arena on January 22, 2011.
Clara (Jenna Coleman) and the current Doctor (Matt Smith) in season 33 of the popular show.
David Tennant, who played the Doctor from 2005-2009, arrives for the gala screening of the Doctor Who Christmas episode at the Science Museum on December 18, 2007 in London.
Christopher Eccleston, who played the ninth Doctor in 2005, arrives at the premiere of his film "Gone in 60 Seconds" in Los Angeles on June 5, 2000.
Paul McGann, who starred as the eighth Doctor in the 1996 movie "Doctor Who," arrives at the Institute of Contemporary Arts on August 15, 2002 in London.
Actor Sylvester McCoy, who played the seventh Doctor from 1989-1996, arrives for the world premiere of 'The Hobbit' movie in Courtenay Place in Wellington, New Zealand, on November 28, 2012.
Colin Baker, who played the sixth Doctor from 1984-1986, poses with Daleks on July 12, 2013 in York, northern England.
Peter Davison, the fifth Doctor from 1981-1984, poses in the TARDIS at BBC Television Centre, London, on April 15, 1981.
The fourth Doctor, played by Tom Baker from 1974-1981, standing alongside a Zygon, meets Sergeant Frank Ziegler, a guard at the American Embassy in Grosvenor Square, London in 1978.
The third Doctor, played by Jon Pertwee from 1970-1974, sits in the car park of BBC Television Centre, London, guarded by two Daleks in 1972.
Patrick Troughton, who played the second Doctor from 1966-1969, holds one of his own paintings outside his home in Teddington, London, on May 5, 1981.
William Hartnell (center) stars as the first Doctor (1963-1966) and is pictured alongside Dracula and Frankenstein's monster in "The Chase" on May 2, 1965.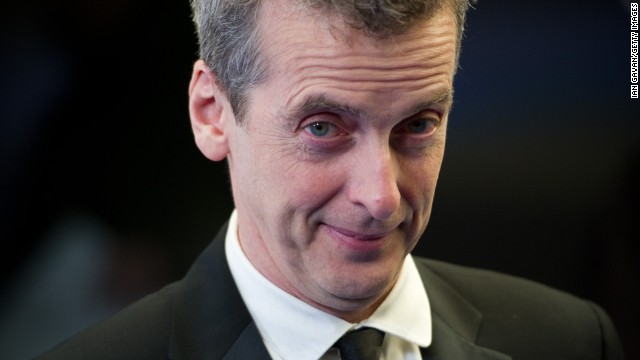 Travel through time with Doctor Who
The lost black and white stories are episodes from "The Enemy of the World" and "The Web of Fear" featuring Patrick Troughton as the second iteration of the time-traveling Doctor.
The "Web of Fear" -- first broadcast in 1968 -- sees the eccentric chrononaut battling robot yetis on the London Underground and was also the first appearance of Nicholas Courtney as Colonel Lethbridge-Stewart.
While introducing the episode in front of around 70 excited reporters Gatiss said: "It's the quintessential 'Doctor Who' story ... the most British thing you could ever imagine."
Read: Matt Smith to leave 'Doctor Who'
During the 1960s it was common practice by television companies to erase videotapes of original episodes much to the dismay of fans today. Yet some classic installments were distributed internationally for foreign broadcasters to purchase.
In 2011, two episodes were rediscovered by former TV engineer Terry Burnett after he bought them at a school fair.
Morris described the newly materialized episodes as "the largest haul of missing episodes recovered in the last 25, maybe 30 years" and now brings down the number of remaining lost episodes to 97.
The find is a fitting gift for fans of the long-running show as the British cult science-fiction series celebrates its 50th anniversary on November 23.
Inez Torre contributed to this report.

Part of complete coverage on
April 18, 2014 -- Updated 1439 GMT (2239 HKT)

Tethered to an IV drip, 71-year-old Shin Young Ja lies under a thin fleece blanket, nursing a broken back and wracked with survivor's guilt.
April 18, 2014 -- Updated 1123 GMT (1923 HKT)

Family members of the missing passengers are pinning slim hopes on floundering air pockets.
April 17, 2014 -- Updated 1614 GMT (0014 HKT)

An Iranian mother slaps and then forgives her 17-year old son's murderer in dramatic scenes at the gallows.
April 16, 2014 -- Updated 1135 GMT (1935 HKT)

An "extraordinary" video shows what looks like the largest and most dangerous gathering of al Qaeda in years.
April 14, 2014 -- Updated 1230 GMT (2030 HKT)

Explore each side's case, reconstructed from Pistorius' court affidavit and the prosecution's case during last year's bail hearing.
April 16, 2014 -- Updated 1237 GMT (2037 HKT)

Mentions of the 1989 Tiananmen Square student protests or political reform are still censored in China.
April 18, 2014 -- Updated 0934 GMT (1734 HKT)

The Hadza are one of the last communities of hunter-gatherers in the world -- but losing their land.
April 19, 2014 -- Updated 0122 GMT (0922 HKT)

In choosing to change a traditional practice, Francis is being as radical as Jesus was in his own time.
April 18, 2014 -- Updated 1113 GMT (1913 HKT)

Too weak. Can't handle pressure. Unattractive to sponsors. Susie Wolff has heard it all.
April 21, 2014 -- Updated 0014 GMT (0814 HKT)

Browse through images you don't always see on news reports from CNN teams around the world.
April 18, 2014 -- Updated 1230 GMT (2030 HKT)

It's like finding a needle in a universe-wide haystack. Researchers have located a planet roughly the size of Earth that could be habitable.
April 18, 2014 -- Updated 0940 GMT (1740 HKT)

Dubai, long champion of all things biggest, longest and most expensive, will soon have some competition from a neighboring country.

Today's five most popular stories