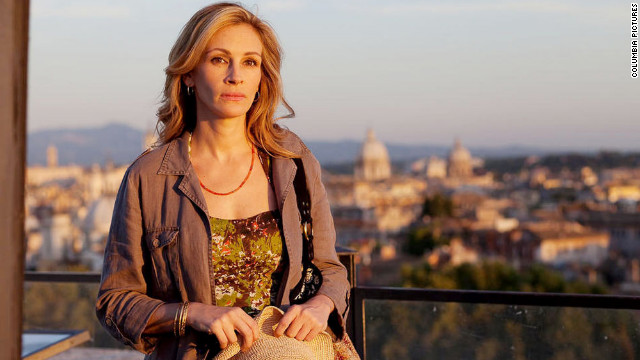 When her best-selling memoir "Eat, Pray, Love" went from page to screen, Elizabeth Gilbert's profile skyrocketed. She was played by Julia Roberts, seen here, in the film adaptation. Click through the gallery for more examples of authors portrayed by big-name actors.
John Cusack as Edgar Allan Poe in "The Raven"
Nicole Kidman as Virginia Woolf In "The Hours"
Denzel Washington, right, as Malcolm X in "Malcolm X"
Ben Whishaw as John Keats in "Bright Star"
Gwyneth Paltrow as Sylvia Plath in "Sylvia"
Jeremy Irons as Franz Kafka in "Kafka"
Jennifer Jason Leigh as Dorothy Parker in "Mrs. Parker and the Vicious Circle"
Anthony Hopkins as C.S. Lewis in "Shadowlands"
Philip Seymour Hoffman as Truman Capote in "Capote"
Johnny Depp, right, as Hunter S. Thompson in "Fear and Loathing in Las Vegas"
Daniel Radcliffe, right, as Allen Ginsberg in "Kill Your Darlings"
Ruby Dee as Zora Neale Hurston in "Zora is my Name!"
Joseph Fiennes as "Will" Shakespeare in "Shakespeare in Love"
Paul Giamatti as Harvey Pekar in "American Splendor"
Meryl Streep as Susan Orlean in "Adaptation"
Stephen Fry as Oscar Wilde in "Wilde"
Daniel Day-Lewis as Christy Brown in "My Left Foot"
Anne Hathaway as Jane Austen in "Becoming Jane"
Chris O'Donnell as Ernest "Ernie" Hemingway in "In Love and War"
Johnny Depp as J.M. Barrie in "Finding Neverland"
Authors on the big screen
Authors on the big screen
Authors on the big screen
Authors on the big screen
Authors on the big screen
Authors on the big screen
Authors on the big screen
Authors on the big screen
Authors on the big screen
Authors on the big screen
Authors on the big screen
Authors on the big screen
Authors on the big screen
Authors on the big screen
Authors on the big screen
Authors on the big screen
Authors on the big screen
Authors on the big screen
Authors on the big screen
Authors on the big screen
Authors on the big screen