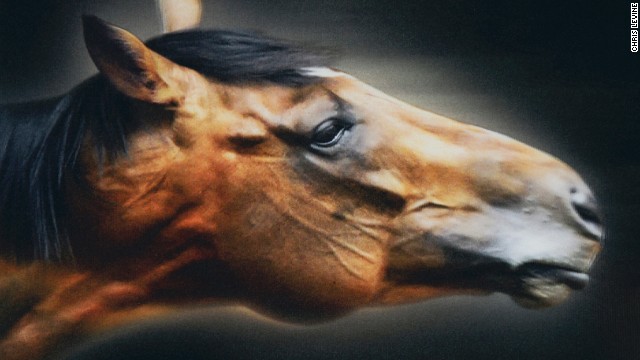 Chris Levine's "Frankel the Great," is a portrait of arguably the world's finest racehorse which will be officially unveiled at Ascot Racecourse this weekend. The stallion finished its career undefeated, winning all 14 of its races.
Levine produced this 3D image of Queen Elizabeth II in 2004. The portrait was commissioned to celebrate 800 years of the island of Jersey's association with the British monarchy.
Her majesty isn't the only iconic woman Levine has trained his lens on. He shot supermodel Kate Moss for this portrait called "She's Light (Pure)."
Model turned pop diva Grace Jones has also posed for Levine, with this piece called "Stillness at the Speed of Light."
Jones and Levine first met in 2008 and have enjoyed a successful collaboration. Levine created original laser displays for Jones' tour, while also publishing a number of photographs, including "Superstar" which is displayed here.
Frankel's energy and effervescence made him a difficult subject, with Levine eventually having to shoot the horse inside the stables. He used multiple cameras to capture a complete image of the super stallion.
Levine wanted to shoot Frankel in direct sunlight to show off the gleam of his coat. But predictable cloudy British weather meant he had to wait six days in order to shoot the horse.
Levine isn't the first artist to draw inspiration from Frankel. Michael Kirkbride's painting, "Armchair Ride," was inspired by a poem about Frankel demolishing the field in last year's 2000 Guineas race.
Champion thoroughbred Black Caviar appeared on the December issue of Vogue Australia. It was the first time in the 53-year history of the magazine that a horse had featured on the front.
'Frankel the Great'
By royal appointment
Model chic
Keeping up with the Joneses
Creative collaboration
Frankel and Queen Elizabeth II: Capturing greatness
Frankel and Queen Elizabeth II: Capturing greatness
'Armchair Ride'
Cover star
STORY HIGHLIGHTS
"Frankel the Great" portrait to be unveiled at Ascot Racecourse
The 3D image was created by artist Chris Levine
Levine photographer British monarch Queen Elizabeth in 2004
Kate Moss and Grace Jones have also posed for Levine
Editor's note: Winning Post is CNN's monthly horse racing show. Click here for program times and latest features.
(CNN) -- Never work with children or animals they say.
But for artist Chris Levine, who has previously photographed Britain's Queen Elizabeth II, the opportunity to digitally capture super horse Frankel in portrait was just too good an opportunity to turn down.
After all, it's not often you are given the chance to capture greatness.
For an artist who has worked with supermodel Kate Moss and diva Grace Jones this was an assignment harder that it might seem.
He spent two days with Frankel -- the first horse he has shot -- to produce his otherworldly 3D image of the stallion.
"On the light box he literally is luminescent," said Levine of his work, set to be unveiled on Champions Day at Ascot Racecourse this weekend. "It somehow goes beyond the physical and into the spiritual.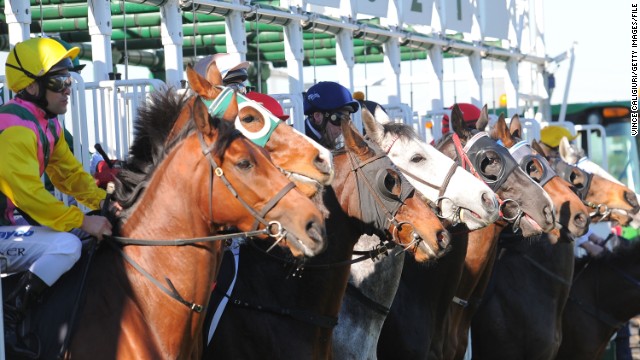 Horse racing is one of the few sports in the world where men and women compete against each other. But it's not just the jockeys facing off. When it comes to thoroughbreds, which is the fairer sex?
Queen Elizabeth was delighted when her horse, Estimate, won at Royal Ascot recently. The champion filly was one of the few female horses to win at the five-day competition. In Britain, 67% of winning thoroughbreds are male.
Unless of course, you're competing against Australian wonder mare Black Caviar. The female thoroughbred (immortalized in a statue, pictured) retired last year after 25 consecutive wins.
"At the top level it does take a special filly to beat the boys," said British Horse Racing Authority spokesman, Paul Rogers. "Having said that, there's been some fantastic female horses recently, such as Black Caviar and Danedream," he added, referring to the German horse which won the Prix de L'Arc Triomphe in 2011 (pictured).
The high number of male race horses may also be down to their profitability as breeding studs. Undefeated colt Frankel (pictured), who retired last year after a 14-win career, is expected to earn $150,000 per offspring.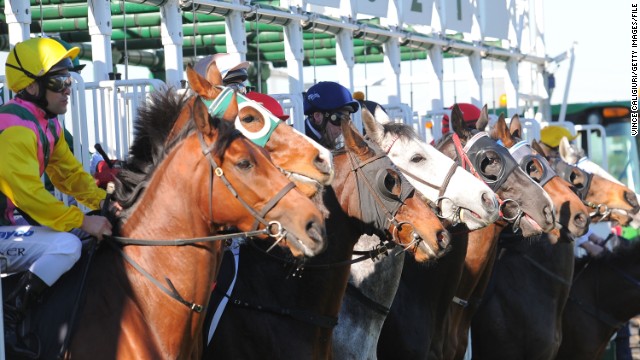 Battle of the sexes -- on four legs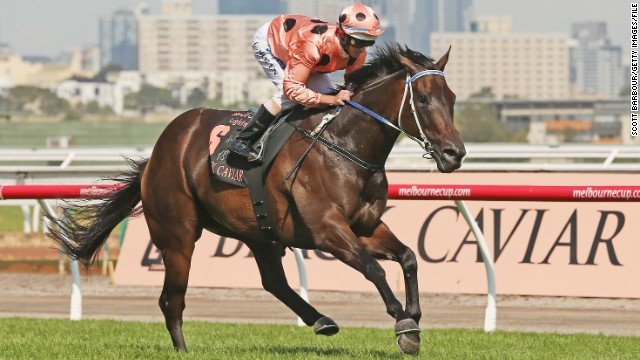 As Britain laid its Iron Lady Margaret Thatcher to rest, on the other side of the world, Australians were mourning the departure of a different leading lady -- champion race horse Black Caviar.
The six-year-old thoroughbred retired after an undefeated 25-win career. "She really gave her all and we thought what else can we achieve? She's been a great shining light for racing," said trainer Peter Moody (pictured).
The world's top-rated race horse, worth almost $8 million in prize money, bowed out after claiming her 25th victory at Sydney's TJ Stakes Day on Saturday.
After her nailbiting win at Royal Ascot last year, Black Caviar took an eight-month break from racing. But the unbeatable horse didn't disappoint when she made a triumphant return to Melbourne's Flemington Race Course in February, securing her 23rd consecutive win.
Black Caviar's only overseas trip during her four-year career was to Britain's Royal Ascot, where it was later revealed she had been suffering from a leg injury. "She was courageous the way she won at Ascot," co-owner Colin Madden said. "It was at the end of a very long run of competitions -- she'd had five races that year and a trip to the UK."
The Queen congratulates jockey Luke Nolen on his Ascot triumph. Nolen rode Black Caviar to victory 22 times in her stellar career.
Thousands of fans turned out to Ascot's Diamond Jubilee Stakes to cheer on the "Wonder from Down Under."
Black Caviar appears on the December issue of Vogue Australia. It was the first time in the 53-year history of the magazine that a horse has featured on the front.
Beyond the track, Black Caviar may also have a profitable career as a breeding mare, with co-owner Madden hinting that champion British thoroughbred Frankel (pictured) could make a good match.
Comparisons have been drawn between Black Caviar and champion Australian race horse Phar Lap, who rose to fame during the Great Depression. Phar Lap's body is now housed in the Melbourne Museum.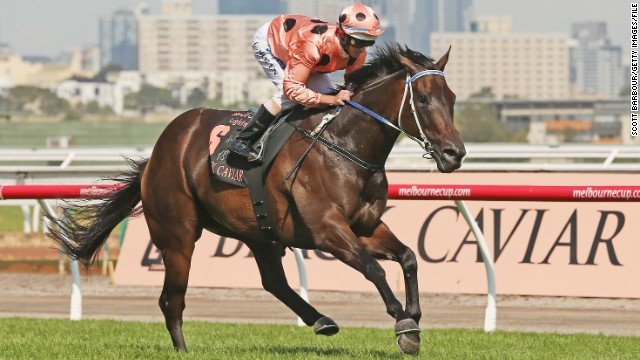 Australian super horse Black Caviar retires
"This beautiful creature is a divine creation ... Life is a pretty miraculous phenomenon that we're all part of, it's an unfolding miracle. An animal like Frankel, if you contemplate it, is a divine creation."
Read: Racing but not as you know it
Levine's striking portrait of the Queen -- entitled "Lightness of Being" -- was unveiled in 2004 and the photographer suggests sport's foremost thoroughbred shares a magisterial quality with the world's most famous monarch.
The artist depicted the Queen in full white regalia with her eyes closed almost as if she was inhaling the essence of power.
"They're supreme beings with iconic status," Levine told CNN. "We were really interested in shooting icons, they don't necessarily have to be human icons.
"I saw it when I looked at (Frankel's) head shot, you could see that this really was a great being.
"For some reason it made me think of emperors on a coin, you get a profile shot of a head of state, somehow it was aligning with that contextually."
While Queen Elizabeth's reign is very much ongoing, Frankel ended his two-year racing career with a perfect 14-0 winning record.
He is now enjoying a lucrative retirement with trainers paying £125,000 ($199,000) to breed their mares with ahorse
"Frankel is a superstar," explained Levine. "He's got a huge following. It was a real challenge, to take it somewhere different in the land of equine images, portraiture and art.
"I wanted to do something that portrayed Frankel as extraordinary. He really is an octave about greatness. I wanted to convey the extremity of what he is."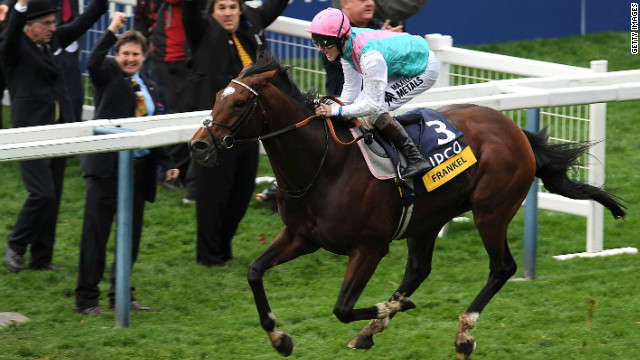 British colt Frankel powers home to take the Champion Stakes at Ascot -- his 14th consecutive win.
Queen Elizabeth II presents Frankel's jockey Tom Queally with the Champion Stakes trophy at Ascot.
Australian mare Black Caviar, pictured with trainer Peter Moody, remains unbeaten in 22 races.
Frankel has even been immortalised in a surrealist painting. Artist Michael Kirkbride's "Armchair Ride" was inspired by a poem about Frankel demolishing the field in last year's 2000 Guineas race.
Under the stewardship of jockey Queally, the four-year-old Frankel has brought home winnings of just over $4 million for his owners.
Trainer Henry Cecil has put his all into schooling Frankel and even installed a closed circuit TV system in the horse's stable to ensure he is safe at night.
Both Black Caviar and Frankel have spawned a micro marketing industry. Frankel flags were the order of the day at Glorious Goodwood this year. There is also an impressive line in Frankel fleeces, mugs and hats available online.
The Australian High Commission in the UK had to hold a ballot for Ascot tickets, such was the demand from the expat community to see Black Caviar on British soil. She also has an online store with cufflinks selling for $42.
Frankel and Black Caviar even have their own Twitter handles. "Goodbye UK, and thank you for your hospitality Your Majesty," tweeted @blackcaviar2006 after coming to Britain. "I enjoyed my time in Newmarket and racing at Royal Ascot xx."
In Frankel's new life as a stud, the in-demand colt is expected to command a fee of $160,000 each time he sires a foal.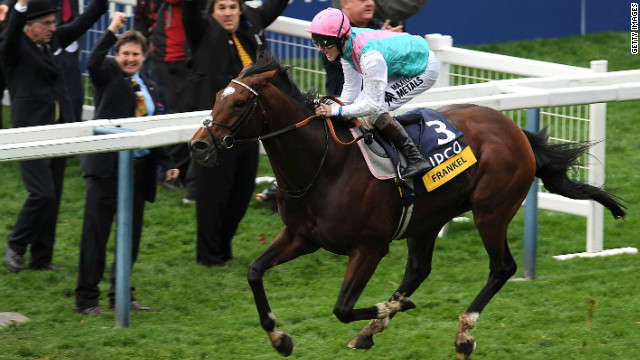 The 'Brangelina' of horse racing?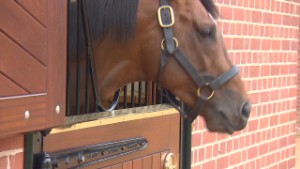 Frankel: Super freak to super stud?
Read: Why horse racing is big in Japan
The finished product, which is 1.2 meters wide and 90 centimeters high, is the culmination of months of work which began when Levine asked to photograph Frankel.
"We got an enthusiastic response and they were terrific and made Frankel available to me," said Levine.
"We wanted to shoot the horse in direct sunlight because that would really show his coat.
"We had about six days on standby waiting on the weather, we shot it in two days. In terms of post-production and editing it's been about two months."
Frankel might not be racing any longer but it didn't take long for Levine to understand why this horse transcended its sport.
"You take the bridle off and this is a horse that is so pumped up that it will just go," he said. "At that level it is just supercharged. That was my first challenge.
"In the end I shot it in the stable. We did a lot of shots of the horse outside, but he was always being held back. He had so much vitality and energy.
"He's used to having photos taken of him, he's a superstar. He actually likes the attention and you can kind of tell."
Levine is not the first artist to draw inspiration from Frankel. British surrealist painter Mick Kirkbride depicted the horse leaping out of a television set following its demolition of the field in 2011's 2000 Guineas race.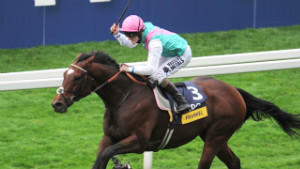 Frankel ends career in dramatic style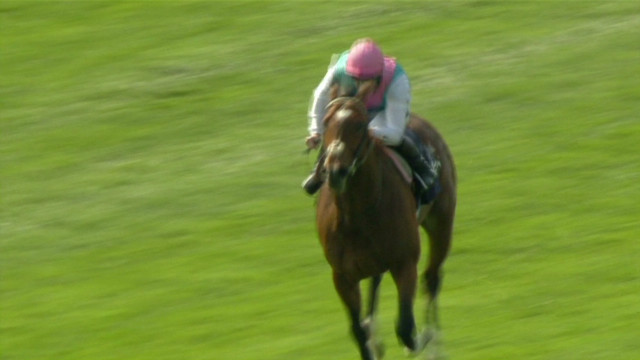 The global spotlight isn't Frankel's alone.
Equestrian's "Super Mare" Black Caviar retired in April this year with a record which puts her male rival's in the shade, winning all 25 of her races.
Horse racing's first lady earned legions of fans in her homeland of Australia, even gracing the cover of the country's edition of prestigious fashion magazine Vogue.
With the media glare focused almost constantly on these two champion horses, they have grown accustomed to the flash of cameras, and it's just as well.
To capture his final image of Frankel, Levine first shot the horse with multiple cameras before conducting a complete 3D body scan to produce a virtual wireframe of its body.
The scan allowed Levine to build a virtual model of Frankel, laying bare its physical prowess.
"I really felt that in itself was really interesting, just to see the horse in wireframe, to see that construction, the power and the physique, broken down into geometry," said the artist.
"It was quite an unusual thing to look at ... The beauty of the animal is in the entirety of his body. I wanted to shoot the horse naked in all his glory, but couldn't because of practical problems."
After making his first foray into equine photographer, Levine would prefer to revert back to human subjects for his next portraits.
And after picturing three of the world's most recognizable women, he's looking to shoot two of the planet's most famous men: David Bowie and Nelson Mandela.
"Bowie has been a huge influence on me artistically and he really strikes a chord with me," said Levine. "Nelson Mandela for being of greatness, both are icons."