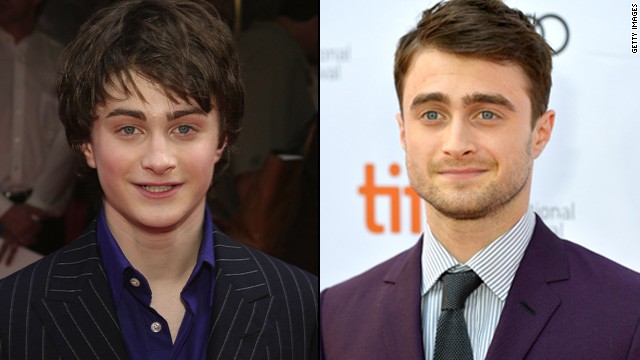 Daniel Radcliffe proved on the October 28 edition of "The Tonight Show" that his talents go far beyond acting; Radcliffe's also a pretty great rapper, too. The 25-year-old will next appear in the Judd Apatow comedy "Trainwreck" in 2015. What's the rest of the cast up to these days?
Since portraying sharp witch Hermione in the "Harry Potter" series, Emma Watson has broken away from the supernatural with roles grounded in the (mostly) real world. After "My Week With Marilyn," "The Perks of Being A Wallflower" and "The Bling Ring," the 24-year-old actress also showed her sense of humor in Seth Rogen's outlandish summer comedy, "This Is the End." She'll next appear in the 2015 thriller, "Regression."
Bonnie Wright began playing Ginny Weasley at age 10, and since leaving the franchise has been on a steady diet of dramas. Wright appeared in "The Philosophers," followed by "Before I Sleep" with Tom Sizemore.
Just enough time has passed for us to stop cringing at the sight of Tom Felton, who came to be known as the weakling bully Draco Malfoy. Even while working on the "Potter" franchise, Felton dabbled in other films, like "The Disappeared" and "Get Him to the Greek." Felton has been busy since "Potter" wrapped, and appeared in the World War II movie "Ghosts of the Pacific" and the TNT cop drama "Murder in the First."
quite the charming young man
. Now 25, Lewis initially migrated over to TV for a spell with "The Syndicate" and "Bluestone 42."
By the time the "Potter" movies wrapped, Matthew Lewis -- and his character, Neville Longbottom -- had morphed into
don't have the trademark ginger hair anymore
, but they're still recognizable as the prankster pair. James (left) and Oliver Phelps are still happy to talk all things "Potter," even as they move on to other endeavors. James has been active on stage, and Oliver has been traveling in support of his website,
JopWorld.com.
The brothers who played the elder Weasleys -- George and Fred --
she tweeted
. "Even if I'm too old to play Luna, can I go through 10 hours prosthetics to play a crumple-horned-snorkack. Please??"
Evanna Lynch's Luna Lovegood showed up halfway through the "Potter" saga, but her character was so wonderfully strange she's easily among the most memorable. And if there's anyone who's eager for the "Harry Potter" spinoff films, it's Lynch: "Maybe 'Fantastic Beasts' will turn into a long ting like HP did & I can play Luna as an old lady?"
he was sentenced to two years in jail
for his participation in the 2011 London riots.
Jamie Waylett's Vincent Crabbe appeared in the first half of the franchise, and life post-"Potter" hasn't been so easy for the actor. In May 2012,
assured a supporter
from his unverified Twitter account in late September 2013 that he's "been offered a lead role in a new movie so could be seeing my mug soon :)"
Devon Murray's Seamus Finnigan was an easy character to love, and fans have missed seeing Murray (and hearing his accent) on the big screen. The 26-year-old actor
'Harry Potter': Hogwarts class of '11
'Harry Potter': Hogwarts class of '11
'Harry Potter': Hogwarts class of '11
'Harry Potter': Hogwarts class of '11
'Harry Potter': Hogwarts class of '11
'Harry Potter': Hogwarts class of '11
'Harry Potter': Hogwarts class of '11
'Harry Potter': Hogwarts class of '11
'Harry Potter': Hogwarts class of '11
'Harry Potter': Hogwarts class of '11
STORY HIGHLIGHTS
Daniel Radcliffe stars as beat poet Allen Ginsberg in "Kill Your Darlings"
Radcliffe has appeared nude for a role before and has a gay sex scene in the new film
The actor says there are pros and cons to "Harry Potter" fame
(CNN) -- Daniel Radcliffe and Dane DeHaan attempted to shoot a street scene in Brooklyn for the indie film "Kill Your Darlings" when they realized that the area they were using was right across from an elementary school.
It was recess time. Tons of little kids eager for a boy-wizard sighting started lining up across the fence and yelling at Radcliffe.
The actor formerly known as Harry Potter obliged.
"He said something like, 'Hey, it's really good to meet you guys, but we're making a movie over here and we're playing pretend, so I need you all to be quiet for a second so we can do this,' " DeHaan told CNN. "And they all hushed down, and we got to do the take. It was just kind of a magical moment with all these kids, 'OK, we'll be quiet during our recess so you can do this.' "
It's moments like this where Radcliffe weighs the pluses and minuses of his Harry Potter fame.
"Not enough people recognize that there are really good ways which it hangs over you," the actor said. "People want to see Potter as a bad thing, and actually, it's not.
"If you manage it in the wrong way, I'm sure it could turn into a hindrance. But if you take the right attitude, then it could be the most amazing platform for a career that anybody could ever wish for, so I'm just going to try to capitalize on that if I can."
The eighth and final film of the series, "Harry Potter and the Deathly Hallows Part 2," came out over two years ago, but even before then, Radcliffe started taking roles that he called "slightly off the beaten path."
He played the lead in "Equus" in the West End and on Broadway -- with full-frontal nudity.
He returned to Broadway in "How to Succeed in Business Without Really Trying" -- singing and dancing. He did a horror film, "The Woman in Black," where he portrayed an older man.
And at the Toronto Film Festival, he was hard at work promoting three new films, including "Kill Your Darlings," about the early days of the Beat poets and a murder case that united them. In all three of those films, Radcliffe had nude scenes, which served notice of his maturity, sparking stories about how he's all grown up now.
A brief history of young adult literature
This, he noted, is something that keeps recurring whenever he, Emma Watson or Rupert Grint do anything adult.
"I see photos in 'The Daily Mail,' photos of Emma in a photo shoot, and it says, 'She's a far cry from Hermione as she shows she's all grown up now!' She's a 24-year-old woman! You wonder how long people can legitimately write that. Basically, we all just have to look old and haggard, but then they'll just write, 'Oh, what happened to Harry? Where did he go?' You can't win."
As for his own "growing up" stories, "I'm aware that it's something people talk about a lot," Radcliffe said. "I was having this conversation with Juno Temple (his co-star in the forthcoming "Horns"), because you do a couple of these nude scenes, and you get labeled an exhibitionist, which isn't really fair, because you're just doing what's in the script. I've done it three times now (on film), so it's not like it's really a big deal anymore."
Just to curb the enthusiasm over his nude scenes, Radcliffe nixed one for the second season of his TV show, "A Young Doctor's Notebook," in which he plays the younger version of Jon Hamm's character.
"I'd already done nude scenes in the first season, in the bath and a couple of other moments," Radcliffe said, "but there was this one scene in the second season where somebody breaks into my bedroom at night and starts intimidating me. At one point, they were trying to make the young doctor more vulnerable, and they said, 'Would you do it naked?' "
Initially, Radcliffe said yes, because he likes to give writers and directors what they want, but then he had second thoughts, since the nudity wasn't in the script.
"I said, 'Guys, if it's not key to the scene, I don't think I should,'" he said. "It was one of those moments where I felt I could say that. 'Is it absolutely key for the young doctor in this scene?' "
In that case, no. But for a later gay sex scene with another partner in "Kill Your Darlings," yes.
A little more innocent is his kissing scene with DeHaan in that film, which they hope wins Best Kiss at the MTV Movie Awards.
"It's a pretty great kiss," DeHaan said. "It's about a person who's really in love with another person, and they aren't allowed to. They don't feel comfortable expressing how they feel about each other. This is the one moment where they let their guards down and finally get to embrace their love for the other person."
At the crux of the film, Allen Ginsberg (played by Radcliffe) falls for Lucien Carr (played by DeHaan), who is attempting to discard past lover -- or stalker, depending on your interpretation -- David Kammerer (played by Dexter's Michael C. Hall).
When Carr eventually kills Kammerer ("I got to kill Dexter!" DeHaan laughed), his defense is that he wasn't gay.
"Homosexuality was criminalized at the time," DeHaan said, "and it was almost like, if you felt you were being pursued in a way you didn't want to be pursued, and if you killed him in self-defense, then you could pretty much get away with murder."
Before the killing, Carr had enlisted Ginsberg to create a sort of manifesto, and it's out of this relationship that the writer in him is born.
"I think most creative people like Allen basically veer between ambition and anxiety, between self-doubt and confidence," Radcliffe said. "I definitely can relate to that, even if I don't have the extremes of confidence he has. He was calling himself a genius in his diary, at the age 14! I would never have said that about myself, even to myself. But we all go through that, 'Am I doing the right thing? Is this what I meant to be doing?' Hopefully in less extreme ways and not under the magnifying glass of a murder investigation."
Radcliffe's own crisis of conscience came when he wondered if he'd be able to continue to grow as an actor.
"I felt like I had been learning a lot through 'Harry Potter,' and then it sort of plateaued at the end," he said. But now he feels he's proving to himself and everyone else that he's right where he belongs, making the kinds of "weird, quirky" projects that he enjoys, learns from and perhaps couldn't have been made without his participation. On top of all that, he actually gets to make new friends. (He'd like to set up a competitive Scrabble game between Hamm and DeHaan, "which would be pretty awesome").
"There's no pressure to do a big franchise or a big blockbuster," Radcliffe said. "But if I said to you now that I don't want to do any action movies, tomorrow I'll get the best action script I've ever read. But I'm not going to be jumping into any young adult fantasy series anytime soon, obviously!"
"Kill Your Darlings" opens in New York and Los Angeles on Wednesday.