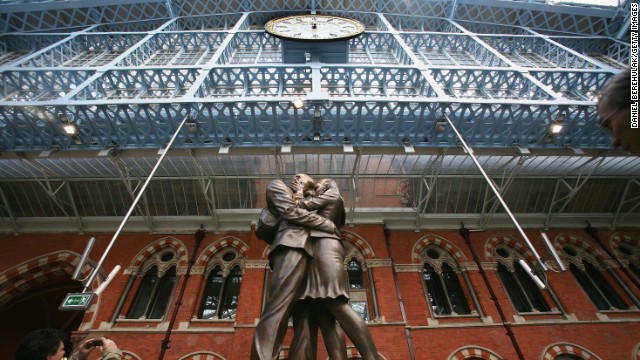 London's St Pancras International last week announced the second installation to appear in its contemporary arts program. Chromolocomotion, by the artist David Batchelor, will see a group of perspex shard sculptures hang from the roof of the terminal building.
The stunning interior of Grand Central Terminal in New York. Built in 1913, the iconic station is decorated with winding marble staircases and gleaming chandeliers. Grand Central has also offered a picturesque backdrop to numerous Hollywood blockbusters over the years, including Carlito's Way and The Godfather.
Atocha is the largest railway station in the Spanish capital, Madrid. The vast terminal services high-speed (AVE) trains, local commuter lines and a phalanx of inter-city routes. It also plays host to a 4,000-square meter garden filled with tropical plants and flowers (pictured).
The interior of the Liège-Guillemin station in Liege, Belgium. The facility's ultra-modern glass and steel facade is featured in promotional posters for upcoming Wikileaks docu-drama, The Fifth Estate, starring Benedict Cumberbatch. Although far from Belgium's biggest or busiest station, Liège-Guillemin is fully equipped for high speed arrivals and departures as well as commuter trains.
Not only is the Chhatrapati Shivaji Terminus in Mumbai the busiest train station in India, it's also a UNESCO World Heritage Site. The immense facility -- featuring a mixture of gothic turrets, stone domes and pointed arches -- serves as a terminal for long distance trains and suburban railway services. It was also featured in the 2008 hit movie, Slumdog Millionaire.
The classy yellow facade and green copper dome of Flinders Street Station in Melbourne, Australia. The century-old structure is the busiest suburban railway station in the southern hemisphere with 110,000 commuters passing through each day, according to the City of Melbourne.
Union Station in Los Angeles may look like little more than a sleepy Spanish colonial church, but it's one of California's busiest transport hubs. More than 60,000 travelers pass through the station every day, taking in the station's ornate waiting rooms and manicured gardens along the way.
The spectacular Milano Centrale is the main railway station of Milan, Italy. Furnished with 11,000 cubic meters of marble flooring and home to an array of stone sculptures, the 82-year-old terminus is as much a cultural destination as it is a transit hub.
Passengers wait at the Dostoyevskaya metro station in Moscow. Much of the Russian capital's vast underground system is decorated with elaborate Soviet artwork. Here, a portrait of iconic author, Fyodor Dostoyevsky, looks down upon travelers.
The giant Gare du Nord in Paris is Europe's busiest railway station, offering a variety local and national services as well as international routes to the likes of Belgium, Holland, Germany and the UK. More than 190 million passengers pass through the station's famous brick facade entrance every year.
Constructed way back in 1910, Kuala Lumpur Railway Station stands out thanks to its spectacular architectural style, which fuses a combination of Indian, Arabic and Western techniques. Although no longer the Malaysian capital's primary rail hub (a role now performed by the more modern Kuala Lumpur Sentral), commuter trains still regularly pass through the century-old station.
OK, so it's not actually built yet, but Riyadh's new metro system is set to be pretty spectacular once it is. Construction will begin next year on the King Abdullah Financial District station (pictured) designed by Zaha Hadid Architects.
World's most spectacular train stations
Grand Central Terminal, New York
Atocha, Madrid
Liège-Guillemin
Chhatrapati Shivaji Terminus, Mumbai
Flinders Street Station, Melbourne
Union Station, Los Angeles
Milano Centrale
Moscow Metro
Gare du Nord, Paris
Kuala Lumpur Railway Station
Riyadh Metro