Zookal will deliver textbooks using drones in Australia next year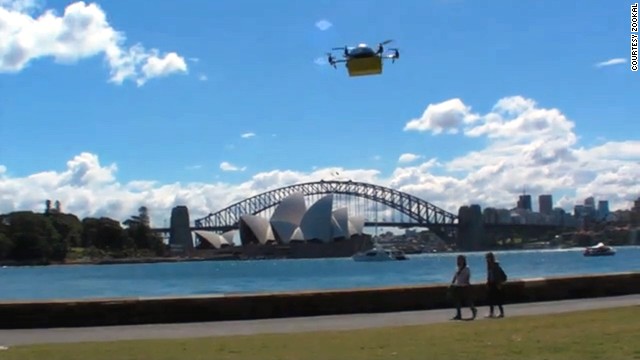 Express delivery:
Australian textbook rental service
Zookal
make good on UAV's (unmanned aerial vehicles) promise to provide lightning-speed personal deliveries. French postal service La Poste claimed to be launching a newspaper delivery drone service in April --
only to reveal it as a hoax
. But Zookal looks to be the real deal, offering Sydney students the chance to have their textbooks dropped at any location.
Airborne aid:
U.S. start-up
Matternet
aims to create a network of drones capable of
transporting potentially lifesaving goods to rural and under-developed areas
. The Bill & Melinda Gates Foundation is backing rural drone transport too -- funding a project that aims to
transport vaccines to hard-to-reach and disaster-struck locations
.
Fast food:
so what if Domino's were only joking when they announced their
Domicopter delivery service
. London's
Yo Sushi restaurant
, California's
Burrito Bomber
, and
an ingenious Shanghai baker
are already capable of putting UAVs to good use, bringing fresh food to hungry mouths.
Drone ranger:
efforts to protect four of the world's last remaining northern white rhinos have been boosted by a $70,000 drone. The Ol Pejeta Conservacy in Kenya is planning to use the UAV to
monitor the location of its wildlife and deter poachers from harming the animals
-- and other conservationists are
following suit
.
Shooting the stars:
one group sure to be seeing more drones in the near future are Hollywood's stars. Whether acting in front of
drone-mounted cameras
or being
chased by UAV paparazzi
, wherever celebrities go, the drones will be watching.
Search and rescue:
need a tireless search party? Why not drones, which could be pre-programmed to scan an area, leaving no stone unturned. Los Angeles County Sheriff's Department began experimenting with the SkySeer Search and Rescue drone
as early as 2006
, and British mountain rescue teams are testing a
crowd-sourcing approach to spotting stranded climbers
.
Lay of the land:
time-draining agricultural tasks such as spraying pesticides could soon be left to UAVs, while surveillance drones are capable of
provide crucial information to help boost harvests
. This French drone is scanning crops to help farmers optimize water levels and fertilizer use. Or you could always use a heat-sensing drone to route out pests,
as one Louisiana hog-hunter has done
.
Capturing the action:
whether you're searching for
the big scoop
, capturing
live sports
, or taking part in the action, drones promise to bring a new angle to the day's events. UAV enthusiasts
brought a unique perspective to this summer's Burning Man festival
with their camera-equipped creations.
Saving the world?
As engineers at the Fukushima nuclear plant
embark on another terrifyingly hazardous mission
to correct damage sustained during the 2011 tsunami, the benefits of disaster response robots are clear. UAV disaster teams, capable of flying into hazardous zones and saving lives, could turn around perceptions of "killer" drones. Oklahoma-based
Fireflight are leading the way
with their wildfire battling bots.
Protect and serve:
after the military, police forces were among the first to declare an interest in drones. In May, Colombian police revealed this surveillance quad-coptor -- designed to protect Latin American heads of state at the VII Pacific Allianz Summit -- and UAVs have been
used in counter-narcotics operations in the country since 2006
.
10 friendly neighborhood drones
10 friendly neighborhood drones
10 friendly neighborhood drones
10 friendly neighborhood drones
10 friendly neighborhood drones
10 friendly neighborhood drones
10 friendly neighborhood drones
10 friendly neighborhood drones
10 friendly neighborhood drones
10 friendly neighborhood drones
STORY HIGHLIGHTS
Textbook supplier Zookal will start to use unmanned drones in Australia next year
Smartphone users in Sydney can order books to be delivered directly to them
Plans to make service available in U.S.
(The Verge) -- Australian textbook rental startup Zookal will begin utilizing drones to make its deliveries in Australia next year, with ambitions of bringing the unique, unmanned delivery method to U.S. customers by 2015.
The company says this marks the first commercial use of fully automated drones worldwide. It will fulfill deliveries in Sydney using six drones to start, dropping off textbook purchases at an outdoor location of the customer's choosing. To wipe away any potential privacy or surveillance fears, the drones aren't equipped with cameras.
Instead, built-in anti-collision technology keeps them clear of trees, buildings, birds, and other potential obstacles.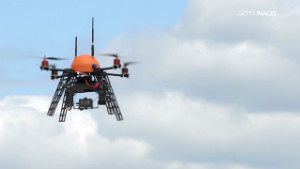 CNN Explains: Drones
Read: Drones fight war on rhino poaching
...Australia is uniquely placed to create a new drone industry and shape the development of regulations in this space
Zookal CEO Ahmed Haider
Both the location of the user and the drone's GPS coordinates are transmitted via a smartphone app, and Zookal claims deliveries can be completed in as little as two to three minutes once a drone takes flight.
You can track the drone's progress from the app (which will only be available on Android at launch) and head outside once it's getting close. The drone never fully lowers itself to ground level, but rather hovers overhead and lowers its textbook delivery with the tap of a button on your smartphone.
"As one of the few countries in the world to allow commercial drone activities, Australia is uniquely placed to create a new drone industry and shape the development of regulations in this space," said Zookal CEO Ahmed Haider.
Flirtey, the company that's providing the drones for Zookal's ambitious plan, is in the process of seeking regulatory approval with Australia's Civil Aviation Safety Authority (CASA).
A test flight is slated for November, and if all goes according to plan, proper commercial deliveries will begin in March. The FAA will need first need to outline a clear policy for commercial drone usage before such a system can make its way to the US, something it hopes to do in 2015.
© 2013 Vox Media Inc. All rights reserved