STORY HIGHLIGHTS
NEW: "I can't think of anything else more iconic" off Titanic, collector says
A violin played the Titanic's bandleader was auctioned in the UK
It fetched 1.1 million British pounds, about $1.7 million, at auction, officials say
The violin is believed to have been played by William Hartley as the ship sank
London (CNN) -- A violin played by the Titanic's bandleader as the ship sank sold at auction Saturday for more than $1.7 million, a UK-based auction house said.
The price -- 1.1 million British pounds, when adding the buyer's premium and tax -- is by far the highest ever fetched for memorabilia tied to the sunken passenger ship, according to veteran collector Craig Sopin.
"This figure is going to be hard to beat," said Sopin, who helped authenticate the fact the violin came from the Titanic. "I can't think of anything else that is more iconic to come off that ship."
According to survivors, Wallace Hartley's band played to calm passengers even as the ship sank beneath them.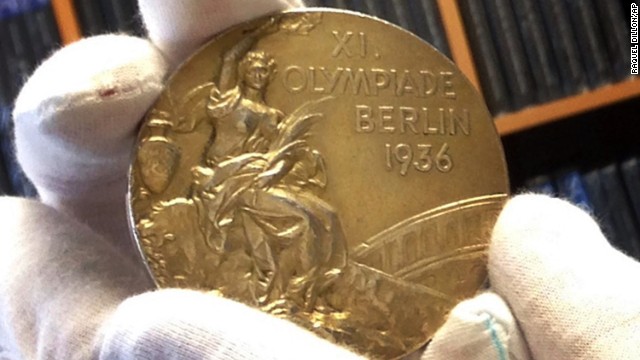 Jesse Owens' 1936 gold medal sold for $1,466,574 at auction on Sunday, December 8, setting a record for the highest price paid for Olympic memorabilia. This medal is considered one of the most important in Olympics history and is one of four Owens won at the 1936 games in Berlin, spoiling Adolf Hitler's planned showcase of Aryan superiority.
Norman Rockwell's painting "Saying Grace" sold for $46 million on Wednesday, December 4, at Sotheby's American Art auction. It was a record for works by the late artist and for a single American painting. The illustration originally appeared on the Thanksgiving issue cover of The Saturday Evening Post in 1951.
For the first time since 1947, and only the second time since the 19th century, a copy of the first book printed in America will be sold at auction. The Whole Book of Psalmes -- universally known as The Bay Psalm Book -- was produced in the virtual wilderness of Massachusetts Bay Colony by the Congregationalist Puritans.
Titanic band leader Wallace Hartley's violin sold for $1.7 million at Henry Aldridge and Son Auctioneers in Devizes, England, on Saturday, October 19. The sale price was far higher than expected.
An engraving from Wallace Hartley's fiance, Maria Robinson, is attached to the Titanic band leader's violin.
This 1954 Mercedes-Benz W196 recently sold at auction for $30 million in England. It was part of a group of race cars that won nine of 12 Forrmula 1 World Championship-qualifying races during 1954 and 1955 and was driven by Juan Manuel Fangio.
The October yearlings sale at Tattersalls auction house in England saw a number of auction records broken in brisk trade.
A 118-carat white diamond is on display at Sotheby's, a New York auction house, on September 4. The oval stone was auctioned off in Hong Kong on October 7 for a record $30.6 million.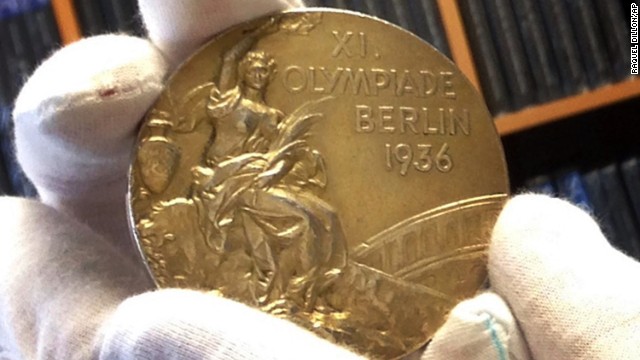 Photos: Going, going, gone wild
The scene was depicted in James Cameron's blockbuster movie "Titanic," which depicted Hartley and his band playing "Nearer, My God, to Thee" as the ship took on water.
Hartley's body was reportedly pulled from the water days after the April 1912 sinking with his violin case still strapped to his back.
In 2006, the damaged violin was found in the attic of a home in Britain. It was authenticated through testing of salt water deposits, according to a statement released by Henry Aldridge and Son, which hosted the auction in Wiltshire, England. The violin was adorned with an engraved silver plate that connected it to Hartley.
Aussie tycoon insists Titanic II good idea
The names of the seller and the buyer have not been released.
The famous wreckage was first discovered in 1985 off the coast of Halifax, Nova Scotia. Since then there have been a number of research and recovery expeditions, during which time the artifacts included in the sale were found.
Interest in the shipwreck peaked again after the release of the movie "Titanic" in 1997. The film grossed $1.8 billion worldwide, making it the second highest grossing film in history, according to Box Office Mojo, a site that tracks ticket sales.
Over the years, exhibitions of Titanic artifacts have made millions, and auctions have drawn high-priced sales.
End of an era for tourist trips to ghostly wreck of Titanic
In 2004, Guernsey's auctioned off memorabilia from the Titanic and a few artifacts that had been passed down through the families of survivors. An original menu sold for about $100,000, the president of the auction house said at the time.
Sopin, a Philadelphia lawyer who has between 300 or 400 Titanic artifacts, said the ocean liner's sinking is "in a class all its own" when it comes to disasters, due to its unique mix of historical, cultural and cinematic elements.
"The ship is a microcosm of society," he said, noting the different classes of people aboard the ship that fateful night.
And it had both villains and heroes -- Hartley and his fellow band members, none of whom survived, chief among the latter group.
"What they were doing was actually causing a sense of calm on that ship," Sopin said. "You could only wonder the mass pandemonium that would have occurred otherwise. It helped save a lot of lives."
What happens to goods lost at sea?
CNN's Per Nyberg reported from London; Chelsea J. Carter from Atlanta. CNN's Greg Botelho contributed to this report.