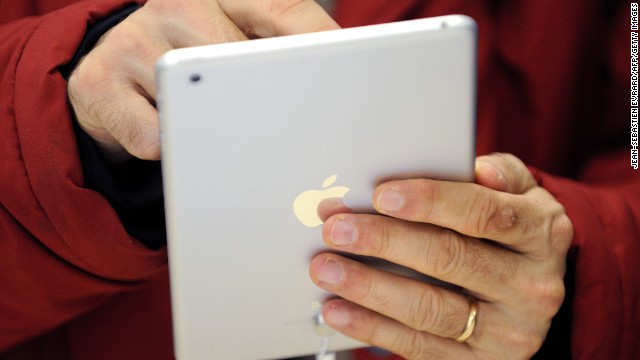 A man uses a iPad Mini, which was released by Apple on November 2, 2012. Here's a look back at the history of the iPad, the tablet computer that Apple first introduced in 2010.
Apple CEO Steve Jobs introduced the first iPad to the world on January 27, 2010, in San Francisco. It created a new market for portable tablet computers, which have changed the way we consume video and other content on the go.
Shoppers line up outside an Apple Store in the SoHo neighborhood of New York to be among the first to buy an iPad on April 3, 2010.
Customers play with iPad 2s at the Apple store in Paris's historic Opera district on March 25, 2011, the day the device went on sale in 25 countries. The second generation of the tablet added two cameras.
The iPad has become a teaching tool in many classrooms. Here it's being used by students in Dubrovnik, Croatia, in 2012.
Apple CEO Tim Cook announced the third generation of the iPad on March 7, 2012 in San Francisco. But instead of labeling it iPad 3, Apple confused some by calling it simply, "the new iPad."
In April 2012 Apple Inc. and five book publishers were accused by the U.S. Justice Department of conspiring to fix prices of digital books to undermine Amazon's dominance of the industry. A judge in July 2013 found Apple guilty of violating antitrust law.
An audience member uses an iPad to photograph a fashion show on May 1, 2012 in Sydney, Australia.
iPads and other tablets have become popular gaming platforms, especially among children. Here a child in London plays with an app from Mattel that allows kids to use Hot Wheels cars and other toys to interact with an iPad.
An Indian trader worships an iPad on Diwali, the Festival of Lights, in New Delhi on November 13, 2012. The worshipping of account books has long been an essential part of Diwali for the business community in India, and in a sign of the times some traders are now worshipping electronic gadgets as well.
Small businesses and other merchants are increasingly using tablets to process mobile payments. This credit and debit card reader, manufactured by SumUp Ltd., is attached to an iPad in Dublin, Ireland.
Technician Grimaldo Romero, left, uses his iPad to help maintain machinery at the World's Finest Chocolate plant in Chicago, Illinois, on March 21, 2013.
A student uses her iPad to take a picture of President Barack Obama as he greets students at a middle school in Mooresville, North Carolina, on June 6, 2013.
Driving instructor Horst Heider uses an iPad during a safety-training class for seniors in Boksee, Germany, on June 20, 2013.
iPads have become helpful tools for people with autism and other disorders. Here speech pathologist Jocelyn Odom in Miami, Florida, helps Carole Shearn, who is 70 and losing the ability to speak due to ALS, on a technology that allows her to record an unlimited number of phrases to use as her voice diminishes. Shearn records the phrases through the MicPro app on her iPad and later will use eye-gaze commands to "speak" them aloud.
At Delta terminals in New York's LaGuardia and JFK Airports, passengers can peruse mounted iPads and even use them to order food or duty-free goods delivered to their seat.
A brief history of the iPad
A brief history of the iPad
A brief history of the iPad
A brief history of the iPad
A brief history of the iPad
A brief history of the iPad
A brief history of the iPad
A brief history of the iPad
A brief history of the iPad
A brief history of the iPad
A brief history of the iPad
A brief history of the iPad
A brief history of the iPad
A brief history of the iPad
A brief history of the iPad
A brief history of the iPad