World's largest Legoland Water Park opens
October 22, 2013 -- Updated 2147 GMT (0547 HKT)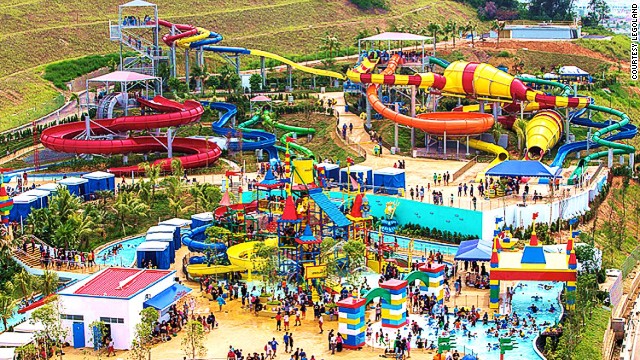 The 300,000-square-meter Legoland Malaysia Water Park is the block brand's largest, beating out its California and Florida counterparts. The new park has more than 20 water-based attractions and 70 Lego models.
On the water park's Build-A-Raft River, guests customize their own rafts with soft Lego bricks and float through the park via a slow-moving current.
said
it's keen to see southern Malaysia and Singapore emulate Orlando, Florida's, theme park success. Legoland Malaysia is just an hour's drive from Singapore, which hosts its own theme park behemoth, Universal Studios.
England-based Merlin Entertainment Group, owner of Legoland Malaysia, has
Though Legoland Malaysia Water Park is geared toward kids under 12, parents will find thrills mixed in with the park's 20 water-based attractions. Among these are a slide with a a 60-foot drop and enclosed tube slides that stretch nearly 130 feet.
On Red Rush, groups can ride together down a 312-foot-long curving track.
"Mother, the hotel pool simply will not suffice after this."
Are Lego blocks considered flotsam or jetsam?
At the park's Imagination Station, kids build bridges, dams and cities out of bricks and test them against the flow of water. Another station lets them control the flow of water by creating patterns out of Lego elements. In one area, a musical water stand allows kids to become conductors as they cover holes to create different musical notes.
The Legoland Malaysia Hotel is due to open in early 2014. The 249-room hotel will become the world's fourth Legoland Hotel.
Asia's first Legoland Water Park
Build-A-Raft River
The Orlando of Southeast Asia?
Adult thrills
Red Rush
Legoland Malaysia Water Park
Build-A-Raft River
Imagination Station
Legoland Malaysia Hotel
STORY HIGHLIGHTS
Asia's first Legoland Water Park opens in Malaysia, about 50 kilometers from Singapore
At 300,000 square meters, it's the world's largest Legoland Water Park
Legoland Malaysia Hotel to open next year
(CNN) -- The inflatable-armbands community is rejoicing -- Asia's first Legoland Water Park opened in Malaysia this week.
With more than 20 water attractions, 70 Lego models and 3 million liters of water, the 300,000-square-meter space is the world's largest Legoland Water Park, say park officials.
Before you get too awestruck over such a grandiose claim to fame, it's worth noting there are only two other Legoland Water Parks in operation.
Both are in the United States -- one in California, the other in Florida.
Still, this place is impressive. Especially for the under-12 set.
Apart from water slides and pools, one of the coolest attractions of the Legoland Malaysia Water Park is Build-A-Raft River, which lets kids put together their own raft made of soft Lego bricks and float through the park via a slow-moving current.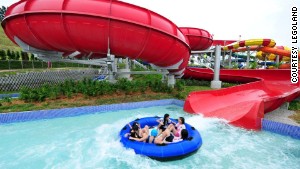 Despite being geared toward kids aged 2-12, Legoland Malaysia Water Park has thrill rides for big "kids."
The Joker Soaker is an interactive platform in a wade pool where kids can shoot water cannons as a jester tells jokes -- family-friendly ones, naturally -- as it unleashes 350 gallons of water upon their gleeful (or horrified?) little heads.
For toddlers, the Duplo-themed play area has smaller slides and characters modeled after those found in Lego sets -- an alligator, polar bear and elephant.
The new Legoland Water Park has two restaurants, private cabanas for rent and a store.
More: Gallery: Asia's first Legoland opens in Malaysia
Legoland Malaysia hotel to open next year
The water park is the latest addition to the Legoland Malaysia Resort, which opened in September of 2012 in Iskandar, in the state of Johor.
A hotel, the final phase of the resort, will open in early 2014, say officials.
About 50 kilometers from central Singapore, the 30-hectare theme park is made up of more than than 50 million bricks and has 40 rides, shows and attractions.
Legoland Malaysia is the sixth theme park for the brand, joining properties in Denmark, England, Germany and two in the United States.
Visitors can access the water park from outside as well as from the theme park, though extra tickets are required.
More: Legoland Hotel Malaysia set for 2014 launch
CNN Travel's series often carries sponsorship originating from the countries and regions we profile. However, CNN retains full editorial control over all of its reports. Read the policy.

Today's five most popular stories
Part of complete coverage on
November 16, 2014 -- Updated 2326 GMT (0726 HKT)

Take a trip to the Chinese town that has more relics than people.
November 13, 2014 -- Updated 1742 GMT (0142 HKT)
You know about reggae and Usain Bolt -- but you probably aren't aware of these other Jamaican superlatives.
November 14, 2014 -- Updated 1152 GMT (1952 HKT)

Artist creates brilliant tribute to Dutch impressionist painter -- a cycle route that glows in the dark
November 14, 2014 -- Updated 0633 GMT (1433 HKT)

European airlines beware: These 320kph trains are upping the travel game with roomy seats and onboard wi-fi.
November 13, 2014 -- Updated 1053 GMT (1853 HKT)
For such a relatively small collection of islands, the UK packs in an phenomenal range of beautiful scenery.
November 12, 2014 -- Updated 2237 GMT (0637 HKT)

Rovos Rail's epic trips out of South Africa pamper passengers with fine dining, vintage comfort and even a bathtub.
November 18, 2014 -- Updated 0137 GMT (0937 HKT)

Self-taught Iranian photographer gains rare access to shoot religious buildings as they've never been seen.
November 11, 2014 -- Updated 0345 GMT (1145 HKT)

The subject of erotica has a way of making people uncomfortable.
November 7, 2014 -- Updated 0037 GMT (0837 HKT)

UK's Heathrow Airport pairs destinations with fragrances to evoke long distance travel. We do too.
November 6, 2014 -- Updated 2100 GMT (0500 HKT)

Bumper cars, a freefall simulator and robot bartenders are just a few of the cool features on Royal Caribbean's new Quantum of the Seas.
November 2, 2014 -- Updated 2258 GMT (0658 HKT)

Up in the mountains and across deep chasms, these bridges are both spectacular and terrifying.