Picture this: 'Much Loved' teddy bears
October 23, 2013 -- Updated 1832 GMT (0232 HKT)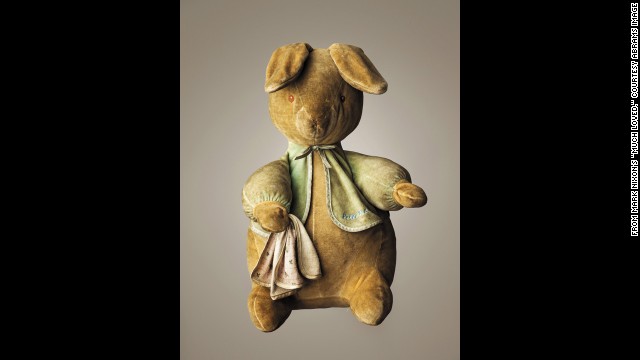 "Much Loved" by Mark Nixon features photographs of some "loved to bits" teddy bears. At left,
Peter Rabbit --
Age: 10. Height: 16 inches. Belongs to Calum Nixon.
Greg's Bear -- Age: Unknown. Height: 4 inches. Belongs to Bono and Ali Hewson.
Teddy Moore -- Age: 43. Height: 14 inches. Belongs to Daragh O'Shea.
One Eyed Ted/Aloysius -- Age: 55-plus. Height: 13 inches. Belongs to Gerry Ryan/Babette Ryan.
Flopsie -- Age: 6. Height: 14 inches. Belongs to Lua Spencer.
Ear Open -- Age: 32. Height: 10 inches. Belongs to Maeve Whelan.
Panda -- Age: 50. Height: 16 inches. Belongs to Mark Nixon.
Edward -- Age: 104. Height: 23 inches. Belongs to Melissa Nolan of the Dolls Hospital & Teddy Bear Clinic.
Teddy Tingley -- Age: 45. Height: 5 inches. Belongs to Nicky Griffin.
Patsy -- Age: 7. Height: 8 inches. Belongs to Tom McLoughlin.
Nixon's "Much Loved" comes out Tuesday, October 29, from publisher Abrams Image.
'Loved to bits' teddies
'Loved to bits' teddies
'Loved to bits' teddies
'Loved to bits' teddies
'Loved to bits' teddies
'Loved to bits' teddies
'Loved to bits' teddies
'Loved to bits' teddies
'Loved to bits' teddies
'Loved to bits' teddies
'Loved to bits' teddies
STORY HIGHLIGHTS
Mark Nixon's photos were inspired by his son's attachment to a stuffed animal
Nixon says the stories of the bears are just as integral as the photos
The book of photos will be released on October 29
(CNN) -- This is the tale of Peter Rabbit, but not the classic version that Beatrix Potter created.
Instead, this particular Peter Rabbit is one of 65 tattered, matted but, most importantly, cherished stuffed toys and teddy bears that photographer Mark Nixon features in "Much Loved" (Abrams Image), a book that comes out October 29.
Nixon said the inspiration for the photo series came from his son, Calum, who was very attached to the plush rabbit since birth.
Don't miss out on the conversation we're having at CNN Living.
Follow us on Twitter
and
Facebook
for the latest stories and tell us what's influencing your life.
When the Dublin, Ireland-based photographer put out the initial inquiry for "loved to bits" teddies, he said he expected most of the submissions to come from children, but adults soon wanted to take part as well.
"It was as though they had been keeping a long-held secret and could finally tell someone what their teddies really meant to them," he writes in the book's foreword.
While many of the bears are eerily dismembered, Nixon said that wornness is the ultimate indication of a teddy "much loved."
What was your beloved childhood toy? Tell us in the comments, or share it with us on Twitter @CNNLiving, with the hashtag #CNNparents!


Get the latest kid-related buzz, confessions from imperfect parents and the download on the digital life of families here at CNN Parents.
November 12, 2013 -- Updated 1959 GMT (0359 HKT)

Erin Hill had a long list of things she'd "never" do as a parent, but being a single mom changed everything.
November 14, 2013 -- Updated 1504 GMT (2304 HKT)

Parents who visit their adult children's workplaces could bridge the very real digital generation gap.
November 5, 2013 -- Updated 1811 GMT (0211 HKT)

The father of the 9-year-old who sneaked onto an airplane broke down over his child's behavior problems and his own efforts to correct them.
October 8, 2013 -- Updated 1823 GMT (0223 HKT)

"Listen, we're all *possibly* Frank Sinatra's son," Ronan Farrow tweeted. But paternity questions can shake any family.
October 29, 2013 -- Updated 1913 GMT (0313 HKT)

The taunts began in second grade when Ally Del Monte started taking medication for a thyroid disorder and gained 60 pounds.
November 1, 2013 -- Updated 2140 GMT (0540 HKT)

Duane Watkins says kindness is too small a word to describe what happened when a blogger agreed to help raise $26,000 they needed to adopt their son.

We want you to tell it like it is: Let's share the mess-ups, the chaos and the truth -- good, bad and ugly -- about all stages of child rearing.

Today's five most popular stories