Black Caviar statue unveiled, super mare in foal
October 24, 2013 -- Updated 1150 GMT (1950 HKT)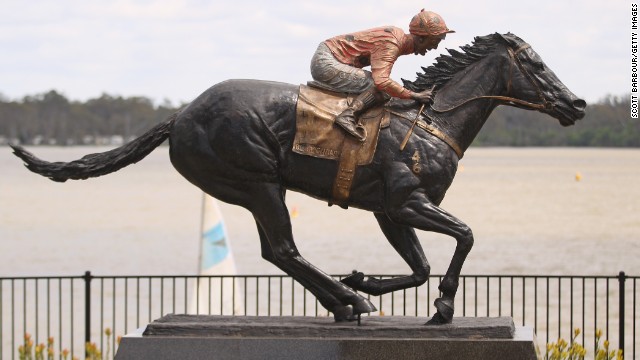 Champion racehorse Black Caviar has been immortalized in bronze in its hometown of Nagambie in the Australian state of Victoria. The mare retired following a stellar racing career in which it won all 25 of its races.
The sculpture, by artist Mitch Mitchell, is lifesize, right down to the horses famous rump.
Black Caviar's exploits on the racetrack earned it a legion of loyal fans in Australia, many of whom turned up for the unveiling.
The crowd, sporting the iconic salmon pink and black polka dots which adorned jockey Luke Nolen's silks, were delighted to learn that Black Caviar is pregnant. The sire is stallion Exceed and Excel.
Nolen stands alongside the sculpture of the horse which he rode to 22 of her 25 victories.
Bronze Caviar
Famous rump
Crowd pleaser
Black Caviar II?
Lucky Luke
STORY HIGHLIGHTS
A bronze sculpture of Black Caviar has been unveiled in its hometown
The Australian racehorse won all 25 of its races
It was also announced on Thursday that the super mare is in foal
The sire is stallion Exceed and Excel
(CNN) -- After an unbeaten career and a Vogue cover, Australia's most celebrated horse now has a bronze statue in her honor.
The statue of Black Caviar, which retired with a perfect 25-0 career record, was unveiled in the animal's birthplace of Nagambie in the state of Victoria as it emerged the horse is set to deliver a living legacy of its own -- the super mare is in foal.
A crowd bedecked in Black Caviar's signature salmon pink and black polka dot silks turned out to catch a glimpse of the life-size tribute, which is the work of sculptor Mitch Mitchell.
And excitement among her throngs of fans grew as word spread that Australia's foremost equine superstar -- after two visits to stallion Exceed and Excel -- is expecting.
Read: Frankel -- capturing greatness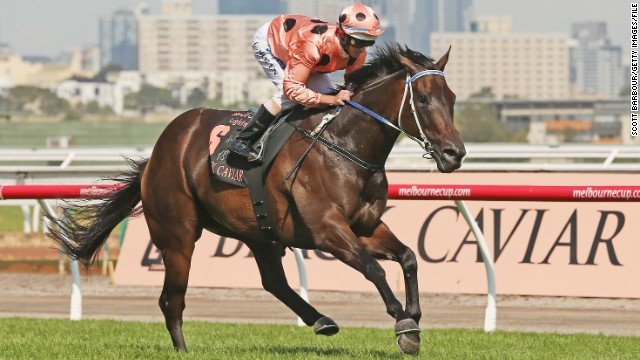 As Britain laid its Iron Lady Margaret Thatcher to rest, on the other side of the world, Australians were mourning the departure of a different leading lady -- champion race horse Black Caviar.
The six-year-old thoroughbred retired after an undefeated 25-win career. "She really gave her all and we thought what else can we achieve? She's been a great shining light for racing," said trainer Peter Moody (pictured).
The world's top-rated race horse, worth almost $8 million in prize money, bowed out after claiming her 25th victory at Sydney's TJ Stakes Day on Saturday.
After her nailbiting win at Royal Ascot last year, Black Caviar took an eight-month break from racing. But the unbeatable horse didn't disappoint when she made a triumphant return to Melbourne's Flemington Race Course in February, securing her 23rd consecutive win.
Black Caviar's only overseas trip during her four-year career was to Britain's Royal Ascot, where it was later revealed she had been suffering from a leg injury. "She was courageous the way she won at Ascot," co-owner Colin Madden said. "It was at the end of a very long run of competitions -- she'd had five races that year and a trip to the UK."
The Queen congratulates jockey Luke Nolen on his Ascot triumph. Nolen rode Black Caviar to victory 22 times in her stellar career.
Thousands of fans turned out to Ascot's Diamond Jubilee Stakes to cheer on the "Wonder from Down Under."
Black Caviar appears on the December issue of Vogue Australia. It was the first time in the 53-year history of the magazine that a horse has featured on the front.
Beyond the track, Black Caviar may also have a profitable career as a breeding mare, with co-owner Madden hinting that champion British thoroughbred Frankel (pictured) could make a good match.
Comparisons have been drawn between Black Caviar and champion Australian race horse Phar Lap, who rose to fame during the Great Depression. Phar Lap's body is now housed in the Melbourne Museum.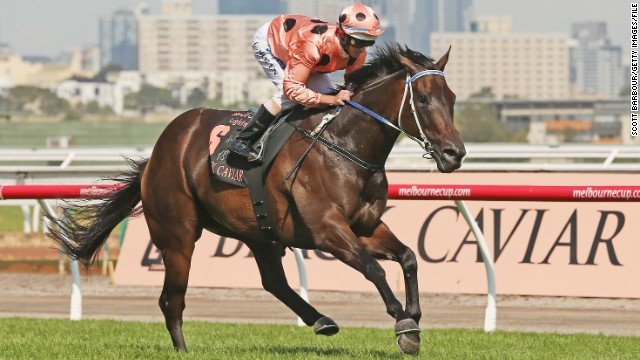 Australian super horse Black Caviar retires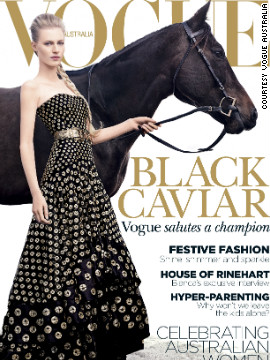 Champion thoroughbred Black Caviar appears on the December issue of Vogue Australia. It is the first time in the 53-year history of the magazine that a horse has featured on the front cover.
The $7 million horse was photographed by Australian Benny Horne in a secret location in the Dandenong Ranges, just outside of Melbourne.
"Her coat is this extraordinary pitch black, almost like velvet, with this handsomely structured face and that awesome rump that propels her so fast," Vogue Australia editor Edwina McCann said.
Since demolishing the field in her first win in the 2009 Danehill Stakes, an air of mystique has followed the sprinter, who now boasts more than 22,000 Twitter followers.
Black Caviar secured her record 22 consecutive win at Royal Ascot in July. Despite a leg injury she took the prestigious Diamond Jubilee Stakes in a nailbiting finish against France's Moonlight Cloud.
Australians have taken the mare to their hearts, with diehard fans even traveling to Britain's Royal Ascot to watch her compete.
Black Caviar's owners have created a distinctive brand around the champion thoroughbred. Everything from her name to the color of her silks has been carefully aligned with "sophistication and style."
One of Vogue Australia's most memorable front covers was the 50th anniversary edition, featuring an illustrated image of Oscar-winning actress Cate Blanchett.
The magazine has tended to stay away from controversial models. One of its more unusual front covers was of pregnant Australian model Miranda Kerr, wife of Hollywood actor Orlando Bloom, in January 2011.
The world-renowned fashion magazine featured Princess Mary of Denmark on its cover in December 2004. The Australian met husband Prince Frederik during the 2000 Sydney Olympics.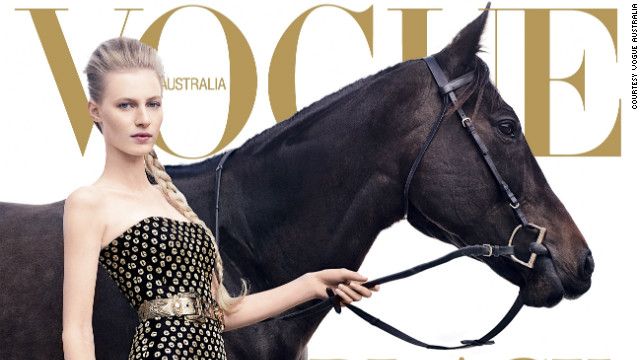 Vogue's most controversial cover model?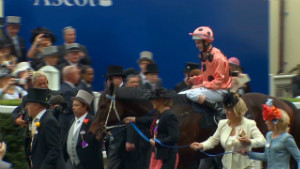 Black Caviar extends winning streak
"We are all proud Australians we are all proud Victorian this is a great day for Australia," breeder Rick Jamieson told The Telegraph.
"As Nagambians we can say we bred the best horse in racing history."
The six-year-old sprinter, worth almost $8 million in prize money, bowed out after claiming her quarter century victory at Sydney's TJ Smith Stakes in April.
Duing a record-breaking career, the "Wonder from Down Under" transcended the sports pages to become one of the country's most beloved sporting celebrities.
Read: Horse racing, but not as you know it...
The super mare wasn't just a powerhouse on the track -- she was a treasured personality who appeared on the cover of Vogue, launched a best-selling biography and was named Sportswoman of the Year by Sydney's Daily Telegraph.
The retirement of the world's top-rated racehorse led news bulletins in Australia, with former Australian p
Prime Minister Gillard tweeting: "We've never seen anything like Black Caviar before and may never again. She has an incredible legacy."
Since demolishing the field in her first major win at the Danehill Stakes in 2009, interest in Black Caviar has grown expotentially.
The wonder mare, who even has her own Twitter handle, has not just won all 25 of her races -- with the exception of Britain's Royal Ascot she has won them by staggering margins -- destroying world-class fields to become one of the world's top-rated race horses.
Her unblemished record is the second highest of all time, trailing behind only Hungarian horse Kincsem, which apparently took 54 races in the late 1800s.

Today's five most popular stories
October 30, 2014 -- Updated 1237 GMT (2037 HKT)

He's won six Olympic medals on two legs, but Bode Miller's future will ride on four -- can he replicate his skiing success in the "Sport of Kings"?
October 23, 2014 -- Updated 1247 GMT (2047 HKT)

As a jockey, Philip Blacker lived for the thrills and spills of horse racing. As a sculptor, his work captures the horror of World War I.
October 14, 2014 -- Updated 1512 GMT (2312 HKT)

Ever thought zebras couldn't be tamed? Think again. Gary Witheford has a remarkable way with wild animals -- which he proved after a pub boast.
October 9, 2014 -- Updated 1435 GMT (2235 HKT)

The internet went wild for so-called "horse yoga" -- but there was something deeper going on that reconnects humans with the animal world.
September 1, 2014 -- Updated 1323 GMT (2123 HKT)

The going is always soft and the only permanent building is a toilet block. It's the antithesis to the pomp of Royal Ascot ... welcome to Irish beach racing.
August 13, 2014 -- Updated 1107 GMT (1907 HKT)

Each August, over a thousand tents and hundreds of horses converge on Little Big Horn River in Montana for the Crow Fair and Rodeo.
August 1, 2014 -- Updated 0957 GMT (1757 HKT)

Show me the money! Hollywood star Tom Cruise was a big hit when he visited the Glorious Goodwood festival.
July 21, 2014 -- Updated 1241 GMT (2041 HKT)

Little-known outside the tribes of the Rocky Mountains in the American northwest, Indian Relay is a "magical" horse-racing relay.
July 8, 2014 -- Updated 1325 GMT (2125 HKT)

Now in his 50s, one of the world's most successful jockeys explains why he gave up acting to return to the sport that nearly crippled him.

Winning Post's Francesca Cumani is impressed by the all-round multitasking skills of Ireland's champion trainer Aidan O'Brien.
June 7, 2014 -- Updated 0853 GMT (1653 HKT)

More people have walked on the moon than have won the fabled Triple Crown of U.S. horse racing. California Chrome is seeking to square that score.
June 5, 2014 -- Updated 1137 GMT (1937 HKT)

A long history of controversy made him the "enfant terrible" of horse racing, but veteran jockey Kieren Fallon is looking for redemption.