STORY HIGHLIGHTS
French football clubs to go on strike next month for the first time since 1972
They are protesting next year's planned introduction of a 75% tax for high earners
Clubs say they are already losing money and tax will make them less competitive
Strike will halt France's top two divisions between November 29 to December 2
(CNN) -- France's controversial 75% tax for high earners drove award-winning actor Gerard Depardieu to take Russian citizenship.
Now, French football clubs are going on strike to protest the legislation's planned implementation next year, claiming it will make them less competitive against European rivals and cause further financial hardship.
The Professional Union of Football Clubs (UCPF) announced Thursday that they will boycott all matches in the top two divisions scheduled between November 29-December 2.
It will be the first such strike in France since 1972, when players protested about their salaries, and will be the first in a major European league since the start of the 2010-11 Italian season was disrupted.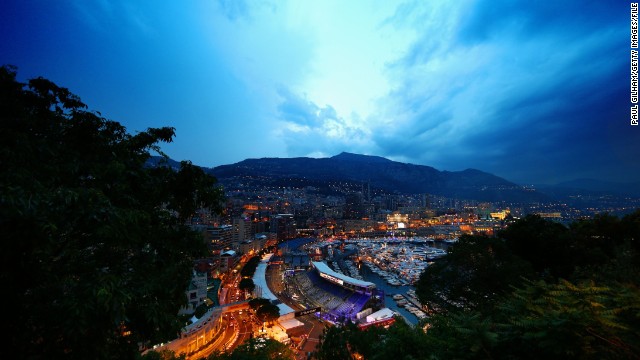 Is this the most glamorous location for a professional footballer?
Monaco's spending spree began with the recent signing of Joao Moutinho (left) and James Rodriguez from Porto for $90 million. Pictured holding the Portuguese league title after Porto's 2013 triumph, former Monaco chief executive Tor-Kristian Karlsen describes the duo as "two of the best midfielders in European football."
But more players were to come, notably Colombian striker Radamel Falcao, who joined from Atletico Madrid. Arguably the best striker in the world, Falcao helped Atletico win the Spanish Cup earlier this month. However by joining the French club, Colombian Falcao will forgo the chance to play in next season's Champions League.
To help provide experience in their defence, Monaco have signed the 35-year-old Ricardo Carvalho on a one-year contract with the option of a further year after his deal with Real Madrid expired. "I am delighted to join Monaco and participate in this new adventure. It is a new challenge for me," said Carvalho, who played in the Porto team that beat Monaco 3-0 in the Champions League final in 2004.
Monaco is the 14th club Italian coach Claudio Ranieri has managed. As well as Italy and France, Ranieri has also coached in Span and England.
Last summer Monaco spent $6.4 million on Delvin N'Dinga, who is pictured here chesting down the ball, in buying the Congolese international from Auxerre. Former Monaco chief executive Tor Kristian Karlsen questioned whether Monaco's tax dispute with the French football authorities might prompt the club to stop buying players from Ligue 1 clubs.
Monaco's owner is Russian billionaire Dimitri Rybolovlev, who is the world's 100th-richest man according to Forbes magazine. His fortune comes from Russia's largest producer of potassium fertilizer Uralkali.
Monaco play at the Stade Louis II. However the club have historically struggled to attract large attendances. Even when Monaco reached the Champions League final in 2004, the club's average domestic gate that season was just 10,394.
However, a decision taken in March by the French football league means Monaco will be subject to the same tax laws as other French clubs from June next year.
Monaco might not attract big crowds, but they do have some regal supporters, notably club patron Prince Albert II of Monaco, who is pictured here with his wife Princess Charlene.
In the summer of 2012 Monaco signed Argentine youngster Lucas Ocampos for a reported $19m from River Plate. Former chief executive Karlsen is pictured greeting Ocampos. Before joining Monaco as technical director in March 2012, Norwegian Karlsen worked as a scout for Russian club Zenit St Petersburg.
It's not only footballers that find Monaco an attractive destination......Here guests in a swimming pool on a large boat watch the 2011 Monaco Grand Prix from the marina.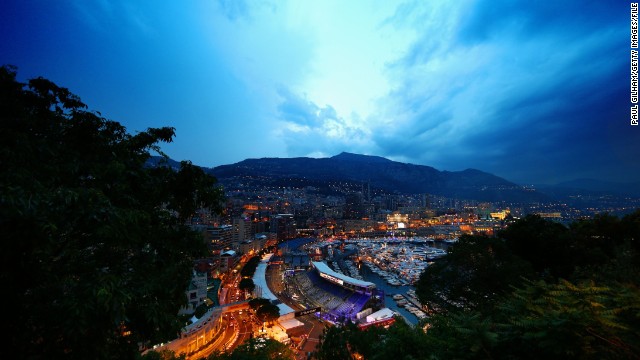 Moneybags Monaco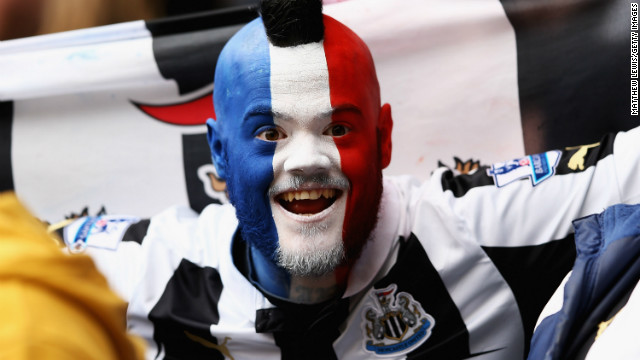 A Newcastle fan shows his support for the club's French foreign legion at the club's home game against Southampton in February.
Newcastle fans made their players from across the Channel feel at home by producing a mosaic of the French flag before the 4-2 win over Southampton at St. James' Park.
There were seven French players named in the matchday squad for Newcastle's win over Southampton, while African stars Papiss Cisse and Cheik Tiote are both French speakers. The home fans have been delighted with the impact of the new arrivals with the team beginning to turn its season around.
The locals have even renamed their own pub "La Fraise" instead of its original name, "The Strawberry." Newcastle is more famous for its Brown Ale than its Chardonnay and Merlot.
Midfielder Moussa Sissoko has been a great acquisition for Newcastle since making the move from French club Toulouse in January. The 23-year-old scored three times in his opening six appearances and is considered as one of the best purchases of the transfer window.
French President Francois Hollande (center) failed in his initial plan to raise tax to 75% but has not given up. Meanwhile, Axelle Lemaire (left), MP for Northern Europe, insists tax is not a factor behind the influx of French players to the English Premier League.
French actor Gerard Depardieu has moved to Russia following a row with the government over potential tax rises. He was welcomed by President Vladimir Putin and awarded Russian citizenship at the Kremlin in January.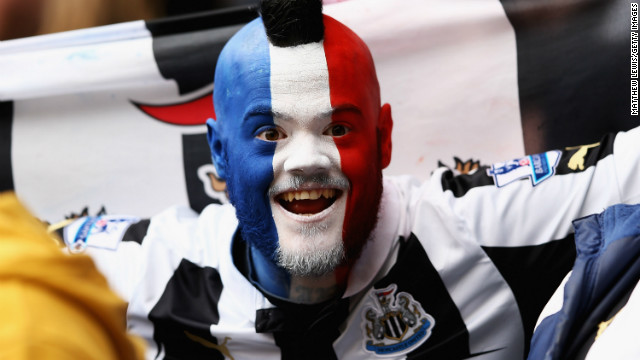 French football's foreign legion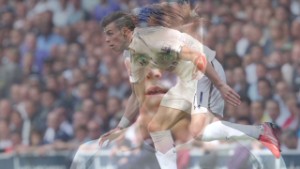 Good business in the transfer market?
"This unprecedented day must be the occasion for the silent majority of French football to express its opposition," UCPF president Jean-Pierre Louvel said in a statement Thursday.
Read: Monaco presents taxing problem for French football
The 75% tax will apply to players who earn more than €1 million ($1.38 million) a year. Under the law's initial wording the earners themselves would have had to pay it, but after protests Francois Hollande's Socialist Party government moved the responsibility to their employers.
However, the UCPF claims this is unfair as its clubs are losing money anyway -- racking up a combined deficit of €108 million ($149 million) at the end of the 2011-12 season. Their total debt for the last three season amounts to €303 million ($418 million).
"This tax, unfair and discriminatory, is estimated by the professional football industry at €44m ($60m) per year," the UCPF said.
"The economic crisis has not spared these clubs, who have seen their income from ticketing and TV rights decreased for the last three years in a row."
Read: French football's talent exodus
The UCPF claims the tax will make French clubs less competitive against European rivals in countries which have lower taxes.
"In a context of a deregulated European competition where players have the ability to go and play everywhere they want, the French clubs -- if they want to stay competitive -- cannot massively decrease their remunerations," it said.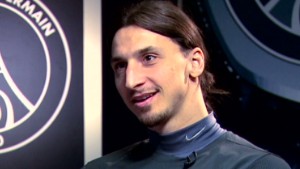 Exclusive: What makes Ibrahimovic tick?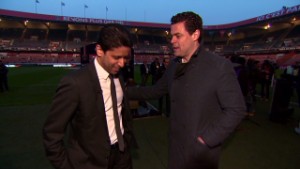 Behind the scenes at Paris St Germain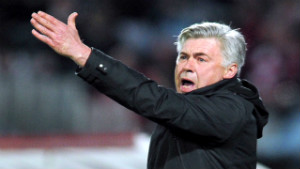 French football club spends big
"For similar salaries, a player in France is costing the clubs 33% more than a player would in Germany, England, Spain or Italy."
The UCPF, which says it pays €130 million ($179.5 million) to amateur sports each year as an act of "solidarity," claims the tax will cost jobs in the French football industry -- which employs 25,000 people.
'We wish to open all the stadiums to all the fans, football lovers, those people who make French football on a daily basis," Louvel said of the strike.
"The supporters, amateur players, associations, volunteers, coaches, agents and employees. All of those who will suffer from the consequences of this unfair tax. The social role of football will be impacted by the consequences of this measure."
The tax will hit clubs to varying degrees. Big-spending champion Paris Saint-Germain, which has invested more than €200 million ($276 million) in players since being bought by a Qatari consortium in 2011, may have to pay just under half the clubs' €44 million bill according to reports estimating its salary bills.
Monaco, backed by a Russian billionaire, would next season be exempt as it does not fall under French tax laws -- and the principality club says it will fight the league's plans to change its status in future.