Space travel: U.S. company to offer 30 km-high balloon flights
October 24, 2013 -- Updated 0653 GMT (1453 HKT)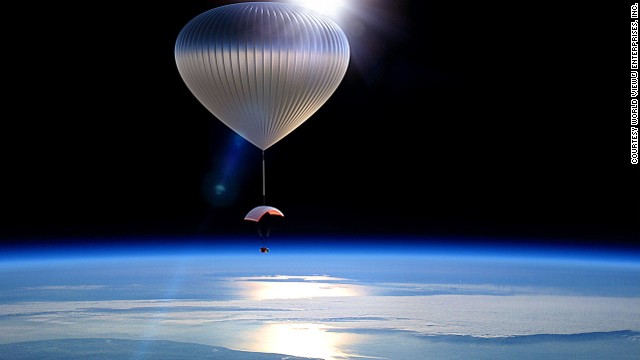 Arizona-based World View Enterprises plans to take travelers to the edge of space with a balloon and thinks it will look something like this.
The company claims it will be a gentle ride in a luxurious space capsule that fits eight passengers.
After a two-hour flight to about 100,000 feet, the ghettoblaster-looking space capsule will descend back to Earth with the help of a parachute.
The space capsule is lifted by a high altitude balloon to about 30 kilometers, around three times as high as a passenger reaches on commercial airplane flights.
"Affordable" space travel
Room with a view
Ready to land
The air up there
STORY HIGHLIGHTS
Arizona-based company plans trip to the edge of space in a "luxury capsule"
Lifted by a high altitude balloon, the capsule will travel to a height of about 30 kilometers
The first flight is expected to take off in three years
(CNN) -- Want space travel but don't have pockets deep enough for Richard Branson's Virgin Galactic or the courage levels to match Felix Baumgartner, the daredevil space-jumper? A balloon trip to (almost) space and back might just be the answer.
Arizona-based space travel company World View Enterprises says it plans to offer a trip to the edge of space in a luxurious eight-seat capsule for $75,000 per ticket.
It's somewhat more affordable considering Virgin Galactic charges $250,000, which also includes three days of training and two and a half hours in space.
The capsule will be lifted by a high altitude balloon that will rise up to about 30 kilometers (98,425 feet or almost 20 miles) and stay aloft for two hours before returning back to Earth, according to a company press statement.
Quiz: Do you have the smarts to be a space tourist?
That is not as high as Baumgartner's jumping point (128,100 feet or around 39 kilometers) last year but much higher than one can usually reach -- the average altitude for commercial flights is about nine or ten kilometers above ground, or 30,000 to 40,000 feet.
"Passengers will be among the few to have seen the curvature of the Earth with their own eyes," the statement touted.
"They will be able to gaze at the astounding views, the blackness of space, the brilliance of stars and the thin veil of atmosphere enveloping our planet."
The first flight is planned for 2016.
Component testing has already begun and sub-scale testing will soon be carried out as well, the company says.
The space capsule will be developed by Paragon Space Development Corporation, which is developing technology for Inspiration Mars, a 501-day mission around Mars.
Zero gravity flights: cheaper than space travel

Part of complete coverage on
December 6, 2013 -- Updated 0304 GMT (1104 HKT)

A Japanese blogger has gained Internet fame for taking selfies with a fake lover. Here's his sad/uplifting tale.
December 6, 2013 -- Updated 0151 GMT (0951 HKT)

Biman Bangladesh Airline will take star-crossed airliner on its last joy ride.
December 3, 2013 -- Updated 0303 GMT (1103 HKT)

Whistler, Chamonix, Aspen -- the best known winter sports resorts have become that for a reason.

More than just the merger of Buda and Pest, the Pearl of the Danube is also the cultural crossroads of Europe's east and west.
December 2, 2013 -- Updated 1316 GMT (2116 HKT)

Visiting the DPRK is easy these days, so long as you don't forget to play by their rules.
November 26, 2013 -- Updated 2330 GMT (0730 HKT)

The best places to indulge our second-favorite thing to do with ice.

Top drinking spots with bird's eye views of one of the world's greatest cities.
November 26, 2013 -- Updated 0138 GMT (0938 HKT)

Mulled wine, skating on the river, light shows over snow. Some cities are made for winter.
November 22, 2013 -- Updated 1607 GMT (0007 HKT)

Only 800 people a year are allowed to visit Namibia's bleak but beautiful Skeleton Coast, littered with whale bones and crumbling shipwrecks.
November 25, 2013 -- Updated 0515 GMT (1315 HKT)

Or 23 reasons to stop hating and start traveling.
November 24, 2013 -- Updated 0500 GMT (1300 HKT)

Aah, slide shows. How we hated Grandpa's annual two-hour presentation of his trip to the Grand Canyon. But now, don't we kind of miss them?

For 24 hours, we made the world's busiest airport our destination and found a world unto its own. Join us on our journey.

Today's five most popular stories