Space travel: U.S. company to offer 30 km-high balloon flights
October 24, 2013 -- Updated 0653 GMT (1453 HKT)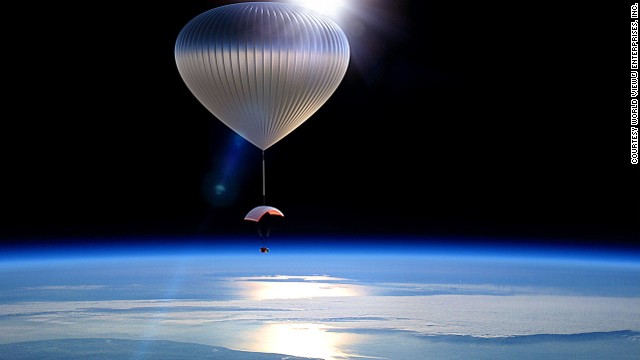 Arizona-based World View Enterprises plans to take travelers to the edge of space with a balloon and thinks it will look something like this.
The company claims it will be a gentle ride in a luxurious space capsule that fits eight passengers.
After a two-hour flight to about 100,000 feet, the ghettoblaster-looking space capsule will descend back to Earth with the help of a parachute.
The space capsule is lifted by a high altitude balloon to about 30 kilometers, around three times as high as a passenger reaches on commercial airplane flights.
"Affordable" space travel
Room with a view
Ready to land
The air up there
STORY HIGHLIGHTS
Arizona-based company plans trip to the edge of space in a "luxury capsule"
Lifted by a high altitude balloon, the capsule will travel to a height of about 30 kilometers
The first flight is expected to take off in three years
(CNN) -- Want space travel but don't have pockets deep enough for Richard Branson's Virgin Galactic or the courage levels to match Felix Baumgartner, the daredevil space-jumper? A balloon trip to (almost) space and back might just be the answer.
Arizona-based space travel company World View Enterprises says it plans to offer a trip to the edge of space in a luxurious eight-seat capsule for $75,000 per ticket.
It's somewhat more affordable considering Virgin Galactic charges $250,000, which also includes three days of training and two and a half hours in space.
The capsule will be lifted by a high altitude balloon that will rise up to about 30 kilometers (98,425 feet or almost 20 miles) and stay aloft for two hours before returning back to Earth, according to a company press statement.
Quiz: Do you have the smarts to be a space tourist?
That is not as high as Baumgartner's jumping point (128,100 feet or around 39 kilometers) last year but much higher than one can usually reach -- the average altitude for commercial flights is about nine or ten kilometers above ground, or 30,000 to 40,000 feet.
"Passengers will be among the few to have seen the curvature of the Earth with their own eyes," the statement touted.
"They will be able to gaze at the astounding views, the blackness of space, the brilliance of stars and the thin veil of atmosphere enveloping our planet."
The first flight is planned for 2016.
Component testing has already begun and sub-scale testing will soon be carried out as well, the company says.
The space capsule will be developed by Paragon Space Development Corporation, which is developing technology for Inspiration Mars, a 501-day mission around Mars.
Zero gravity flights: cheaper than space travel

Today's five most popular stories
Part of complete coverage on
November 24, 2014 -- Updated 0118 GMT (0918 HKT)

These quirky and beautiful subway stops make standing cheek-to-cheek with 45 strangers almost seem fun.
November 21, 2014 -- Updated 1314 GMT (2114 HKT)

Luxury vintage Land Rover tours explore Bedouin backwaters without bashing up precious dunes.
November 20, 2014 -- Updated 0250 GMT (1050 HKT)

Cities around the world have closed the brew gap, but the Oregon city's innovative scene continues to lead the beer parade.
November 19, 2014 -- Updated 2249 GMT (0649 HKT)

From gourmet hotdogs to Sevillian tapas, the food served in these London restaurants is worth lining up for.
November 20, 2014 -- Updated 1545 GMT (2345 HKT)

Plans are underway to build the world's tallest -- and quite possibly most terrifying -- roller coaster at an Orlando, Florida, theme park due to open in 2017.
November 18, 2014 -- Updated 1932 GMT (0332 HKT)

The 7th Annual Cruise Critic Editors' Picks Awards highlight the top cruise lines for North American travelers in 18 categories.
November 19, 2014 -- Updated 0206 GMT (1006 HKT)

Joining the ranks of pilgrims tackling Adam's Peak rewards with a spiritual awakening, or at least a stunning sunrise.
November 18, 2014 -- Updated 1313 GMT (2113 HKT)

Beautifully designed travel document reveals image of Northern Lights when placed under UV light.
November 18, 2014 -- Updated 0525 GMT (1325 HKT)

New concept offering luxury rooms in ancient dwellings helps spare beautiful villages from falling into ruin.
November 21, 2014 -- Updated 2247 GMT (0647 HKT)

Are you the butcher or the cattle? Tainted meat-obsessed fans are following the tracks of their favorite "Walking Dead" survivors.
November 17, 2014 -- Updated 0521 GMT (1321 HKT)

People never cease to find amazing ways to make water more incredible than it already is. Here are some powerful examples