Space travel: U.S. company to offer 30 km-high balloon flights
October 24, 2013 -- Updated 0653 GMT (1453 HKT)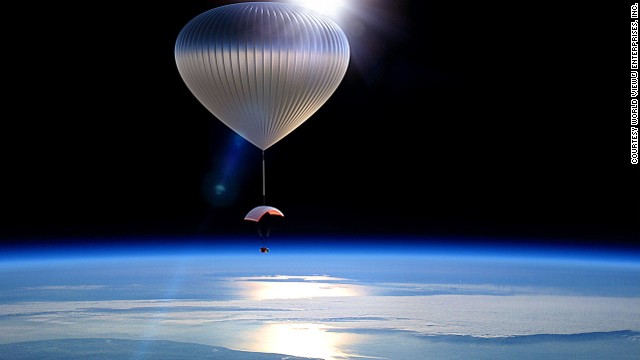 Arizona-based World View Enterprises plans to take travelers to the edge of space with a balloon and thinks it will look something like this.
The company claims it will be a gentle ride in a luxurious space capsule that fits eight passengers.
After a two-hour flight to about 100,000 feet, the ghettoblaster-looking space capsule will descend back to Earth with the help of a parachute.
The space capsule is lifted by a high altitude balloon to about 30 kilometers, around three times as high as a passenger reaches on commercial airplane flights.
"Affordable" space travel
Room with a view
Ready to land
The air up there
STORY HIGHLIGHTS
Arizona-based company plans trip to the edge of space in a "luxury capsule"
Lifted by a high altitude balloon, the capsule will travel to a height of about 30 kilometers
The first flight is expected to take off in three years
(CNN) -- Want space travel but don't have pockets deep enough for Richard Branson's Virgin Galactic or the courage levels to match Felix Baumgartner, the daredevil space-jumper? A balloon trip to (almost) space and back might just be the answer.
Arizona-based space travel company World View Enterprises says it plans to offer a trip to the edge of space in a luxurious eight-seat capsule for $75,000 per ticket.
It's somewhat more affordable considering Virgin Galactic charges $250,000, which also includes three days of training and two and a half hours in space.
The capsule will be lifted by a high altitude balloon that will rise up to about 30 kilometers (98,425 feet or almost 20 miles) and stay aloft for two hours before returning back to Earth, according to a company press statement.
Quiz: Do you have the smarts to be a space tourist?
That is not as high as Baumgartner's jumping point (128,100 feet or around 39 kilometers) last year but much higher than one can usually reach -- the average altitude for commercial flights is about nine or ten kilometers above ground, or 30,000 to 40,000 feet.
"Passengers will be among the few to have seen the curvature of the Earth with their own eyes," the statement touted.
"They will be able to gaze at the astounding views, the blackness of space, the brilliance of stars and the thin veil of atmosphere enveloping our planet."
The first flight is planned for 2016.
Component testing has already begun and sub-scale testing will soon be carried out as well, the company says.
The space capsule will be developed by Paragon Space Development Corporation, which is developing technology for Inspiration Mars, a 501-day mission around Mars.
Zero gravity flights: cheaper than space travel

Part of complete coverage on
September 23, 2014 -- Updated 1007 GMT (1807 HKT)

Which cities provide the most memorable party times? A self-proclaimed "nightlife connoisseur" names his top 10.
September 22, 2014 -- Updated 0344 GMT (1144 HKT)

Whether you're looking for a post-meeting pint or a wild night out, creativity is on the menu at these hot Hong Kong venues.
September 23, 2014 -- Updated 1028 GMT (1828 HKT)

Artists and migrants are moving out as a once-crumbling neighborhood goes upscale.
September 20, 2014 -- Updated 0502 GMT (1302 HKT)

They irrigate our farms, are an important means of transport and a source of eco-friendly power.
September 19, 2014 -- Updated 0828 GMT (1628 HKT)

Open House festivals allow snooping in homes and landmarks normally closed to public
September 19, 2014 -- Updated 0422 GMT (1222 HKT)

Ancient competitions held and yurt town set up to rejuvenate nomadic cultures.
September 19, 2014 -- Updated 0102 GMT (0902 HKT)
Playful sea lions, fearless boobies and the only ocean-going lizards in the world -- these islands offer amazing experiences for naturalists and tourists alike.
September 18, 2014 -- Updated 1200 GMT (2000 HKT)

A foreign language can be the best aphrodisiac, so we traveled the world in search of the hottest accents.
September 23, 2014 -- Updated 0657 GMT (1457 HKT)

Hidden from the rest of the world for decades, Myanmar's Lethwei boxing is experiencing a revival globally.
September 17, 2014 -- Updated 1117 GMT (1917 HKT)

This aging cargo work whale makes more than 60 flights each week, carrying parts for all of the Airbus programs.
September 15, 2014 -- Updated 0026 GMT (0826 HKT)

Former brothels, public toilets and war bunkers now provide eccentric watering holes for those willing to drink deep.
September 12, 2014 -- Updated 0338 GMT (1138 HKT)

Whether filled with electric blue sulfur flames or hissing lava, these mega mountains offer incredible vistas.

Today's five most popular stories