Transformers versus the triads of Hong Kong: the sequel
October 27, 2013 -- Updated 0233 GMT (1033 HKT)
STORY HIGHLIGHTS
Suspected Hong Kong triads target Transformers filming second time in a week
Four men demand money from production team; one arrested, three escape
Shakedown follows assault on Transformers director Michael Bay for $13,000
Triad-related crimes rose 15% between 2010 and 2012, says Hong Kong Police Force
Hong Kong (CNN) -- For the second time in a week, suspected Hong Kong organized crime syndicates -- known better as triads -- have targeted the production of "Transformers: Age of Extinction" being filmed in the Chinese territory.
Four men attempted to extort an undisclosed sum of money from a crew member inspecting a rooftop shot location in the district of Kowloon Tuesday, the Hong Kong Police told CNN.
Police arrested and charged one 35-year old man with blackmail but his three partners remain at-large.
The attempted shakedown follows a suspected triad incident October 17 in which two men assaulted Transformers director Michael Bay.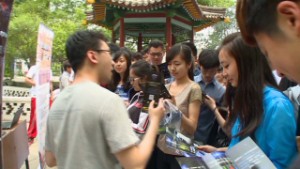 Hollywood wooing Chinese viewers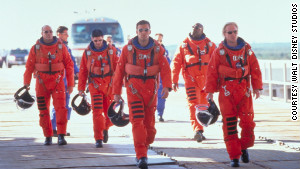 Michael Bay apologizes for 'Armageddon'
Bay, 48, explained that every vendor that experienced disruptions from filming in the area "got paid a fair price for our inconvenience" but one man "wanted four times that amount" -- around $13,000 (100,000 Hong Kong dollars).
"I personally told this man and his friends to forget it," said Bay. "We were not going to let him extort us. He didn't like that answer."
The man returned an hour later, "carrying a long air-conditioner unit," added Bay. "He walked right up to me and tried to smack my face, but I ducked threw the air unit on the floor and pushed him away."
Hong Kong police arrested two brothers in connection with the incident.
In both episodes, triads -- known for their dealings in smuggling, prostitution and illegal gambling -- are believed to be involved.
"The two incidents associated with Transformers are indicative of low-level attempts to extort money from a big production by persons who may be triad members," said Steve Vickers, former head of the Royal Hong Kong Police Force's Criminal Intelligence Bureau and now CEO of Steve Vickers and Associates, a specialist political and corporate risk consultancy.
"The separate side of this is that the triad control of the movie industry in Hong Kong is a very complicated issue and has been in place for many years," added Vickers. "The triads strangle the oxygen out of the local movie scene. They're not just extorting people for money. It's control of movies, starlets and distribution."
In recent years, triad-related crimes in general have been on the rise, according to crime statistics from the Hong Kong Police Force.
For three years in a row, from 2010 to 2012, the number of triad-linked incidents rose nearly 15%. Most recent data for the first half of 2013, however, shows 988 triad-related crimes -- the second lowest reported number for the same time period over the past decade.
But "reported crime is not an accurate measure of triad influence," said Vickers. "Triad related crimes are under reported."

Part of complete coverage on
December 9, 2013 -- Updated 1558 GMT (2358 HKT)

The Web is set to change our lives over the next decade. This will also question the use of personal data and balancing new powers with ethics.
December 9, 2013 -- Updated 0111 GMT (0911 HKT)

The image of the Shinkansen bullet train streaking past Mount Fuji is a powerful part of the iconography of the resurgent post-war Japan.
December 9, 2013 -- Updated 2023 GMT (0423 HKT)

Imagine the delight at unwrapping your Christmas present in 2043 and discovering you've been gifted a trip around the Moon.
December 9, 2013 -- Updated 0727 GMT (1527 HKT)

A new political party claiming to champion ordinary Indian voters makes a startling electoral debut.

Few words in Hungarian, including place names, are easily recognizable to foreigners.
December 9, 2013 -- Updated 1744 GMT (0144 HKT)

Browse through images you don't always see in news reports, taken by CNN teams all around the world.
December 9, 2013 -- Updated 1234 GMT (2034 HKT)

Walking into one of Yayoi Kusama's infinity rooms is like walking into a completely different universe.
December 9, 2013 -- Updated 1529 GMT (2329 HKT)

Meet Tony Allen -- famous for helping create Afrobeat by fusing different beats and patterns.
December 8, 2013 -- Updated 2116 GMT (0516 HKT)

Fans converged on the site where Paul Walker died to pay tribute to the actor. CNN's Paul Vercammen reports.

He was imprisoned for life but that did not quiet him. Nelson Mandela became South Africa's first black president, and an icon and inspiration.
December 9, 2013 -- Updated 1002 GMT (1802 HKT)

Watching digital artist Kyle Lambert's stunning photo-realistic iPad paintings emerge from a blank screen is an awe-inspiring experience.

Today's five most popular stories