'DWTS' cohorts defend Julianne Hough
updated 8:45 PM EDT, Wed October 30, 2013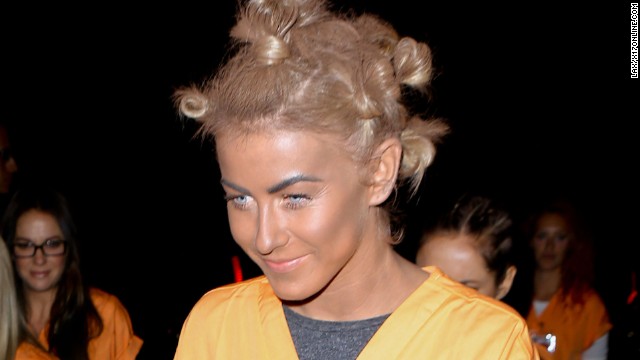 Oh Julianne Hough. What made you think darkening your skin for your Halloween costume as Crazy Eyes from prison drama "Orange Is the New Black" was a good idea? The actress/dancer
quickly apologized,
but here are some other stars with questionable actions:
Remember when Singer Michael Jackson held his 8-month-old son Prince Michael II, aka Blanket, over the balcony of the Adlon Hotel in Berlin, Germany, in 2002? That didn't go over well.
That little move in 2004 during Super Bowl XXXVIII where Justin Timberlake tore off a piece of Janet Jackson's outfit did not go over well with the world or the censors.
opted for 10 surgeries
in order to change her look -- leaving her unrecognizable to many of her fans from the reality show "The Hills."
Heidi Montag started with breast augmentation and a nose job in 2007 and eventually
How much more should we even say about Kanye West rushing Taylor Swift and hijacking the mic during the 2009 MTV Video Music Awards? Nothing more? Agreed.
Chris Brown could be on this list for multiple reasons including what was supposed to be part of his "comeback" tour where he acted up and reportedly stormed from the "Good Morning America" set after being interviewed by Robin Roberts in March 2011.
Rapper MIA (right) flipped the bird while performing with Nicki Minaj and Madonna during the Bridgestone Super Bowl XLVI Halftime Show in February 2012 in Indianapolis.
alleged public urination incident
to showing up
naked for his grandma,
he's had a lot going on in 2013 that left some asking if he was
Hollywood's new bad boy.
Where to even begin with Justin Bieber? From the
being arrested.
FYI Reese, police don't like it when you ask "Do you know my name?"
Actress and America's sweetheart Reese Witherspoon found herself in PR hot water after she sassed a Georgia State patrol officer when she and her husband were pulled over for suspected drunken driving in April 2013. They both ended up
blamed it on the booze
when he posed for
a semi-nude selfie
he tweeted in July 2013.
Geraldo Rivera
Twerk, thy name is now apparently Miley Cyrus. She and Robin Thicke had a lot of heads scratching after their performance at the 2013 MTV Video Music Awards at the Barclays Center in August.
asked to leave
when she staged an impromptu fashion photo shoot at the Sheikh Zayed Grand Mosque Center in the United Arab Emirates in October 2013.
Singer Rihanna was
Now she's red-faced
The height of irresponsibility
Malfunction junction
Who's that girl?
A stage fright
Goodbye America
The ol' finger flub
Rude 'n' nude
Trash talkin' the trooper
Ready for his close-up
Miles from clean-cut 'Montana'
Disturbia
STORY HIGHLIGHTS
Hough had darkened her skin for Halloween party
"Dancing with the Stars" friends say she made a mistake
Her brother hopes she will be forgiven
(CNN) -- Julianne Hough may have taken some heat for her Halloween costume, but those who know her say she didn't mean any harm.
The actress-dancer-singer darkened her skin as part of her look when she attended a party dressed as one of the African-American stars of the Netflix series "Orange Is the New Black." Hough quickly took to Twitter to apologize once there was backlash.
On Monday night competitors from her former show, "Dancing with the Stars," stepped up to defend her.
"I know Julianne personally and none of the critique that she is getting at all relates to her as a person, period," dancer Val Chmerkovskiy told CNN. "Whether it was a smart decision is a different conversation. But the intention, and going deep into the conversation of judging her character, of what she may or may not think behind the scenes -- that is absurd."
"I know her as a person and she is kind and graceful ... and she has the right mentality. I just think it was a stupid mistake."
Her brother, Derek Hough, who also competes on the show, told E! News his sister couldn't feel sorrier about the incident.
"She's so apologetic," he said. "She's so, so sorry, and I just hope that we can all forgive her and move on,"
Comic and "DWTS" contestant Bill Engvall echoed others' sentiments and said Hough -- who twice won the dancing competition with her celebrity partners Apolo Anton Ohno and Helio Castroneves -- doesn't have "a mean bone in her body." He said he believes Hough was just out for some fun and got caught in the media glare.
"Fortunately or unfortunately, in this day and age with 24-hour coverage and social media and all that, you got to be careful with what you do. And (Hough) would no more make any kind of racist statements than anybody on the earth," Engvall said. "And so I would say it was probably just an innocent mistake. ... Trust me, I've had things taken the way I didn't want things."
CNN's KJ Matthews contributed to this report