STORY HIGHLIGHTS
EA Sports will drop the Tiger Woods name from its next-gen golf games
There have been 14 editions of the Tiger Woods game
PR expert believes Woods in unique category when it comes to sponsorship
EA Sports sold $771 million worth of games with Woods' name on it
(CNN) -- Tiger Woods has been clubbed into the long grass by EA Sports after the games manufacturer ended its association with the world's most famous golfer.
Woods, 37, won the last of his 14 major titles back in 2008, but this year returned to world No.1 after replacing Rory McIlroy at the top of the rankings.
There were 14 editions of the video game bearing his name, which was played by millions of golf fans across the world.
Writing on EA's official website, the company's vice-president and general manager Daryl Holt commented: "EA Sports and Tiger Woods have made a mutual decision to end our partnership, which includes Tiger's named PGA Tour golf game. We've always been big fans of Tiger and we wish him continued success in all his future endeavors.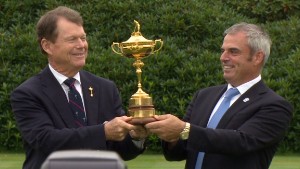 Countdown to Ryder Cup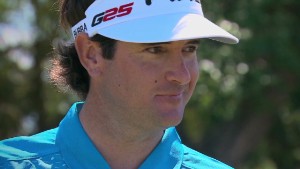 Hotshots with Bubba Watson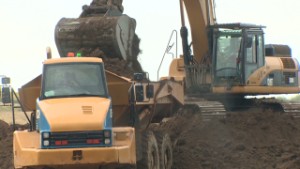 Building St Andrews' new course
"EA Sports golf fans have always loved authentic courses and players, but they've also asked for more choice and customization in how and where they play."
Read: Woods' agent threatens legal action
EA had previously stuck with Woods through his acrimonious divorce in August 2010 at a time where several other sponsors severed ties with the American.
Gatorade, AT&T and Accenture and Tag Heuer all withdrew sponsorship or did not renew their deals following the revelations of Woods' infidelity and subsequent divorce from Elin Nordegren -- costing him $20 million in earnings.
From the endorsements he held in 2009, just two remain: Nike, which teamed up with Woods when he turned professional in 1996; and NetJets, a plane ownership-sharing company.
"For most mortal sportsmen, losing the EA deal would constitute a real body blow. At an estimated $6.2 million a year, it's a very significant chunk of change," Sami McCabe, CEO of Clarity PR, told CNN.
"However, Tiger Woods is in a unique category in terms of earning potential from sponsorship deals -- particularly from his sportswear sponsor Nike, which ensures he dwarfs the majority of his peers -- in any sport.
"So I don't see this news being a source of sleepless nights from a financial perspective. However, it might be the cause of concern for the longevity and sustainability of 'Brand Tiger.' "
Read: McIlroy beats Woods in China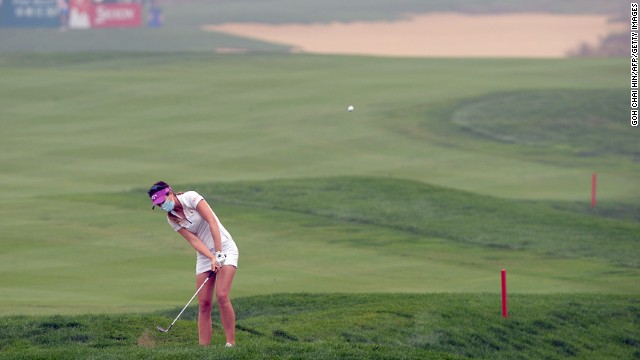 Germany's Sandra Gal was just one of the golfers spotted wearing masks to guard against air pollution at the Reignwood LPGA Classic in Beijing Sunday.
Mariajo Uribe of Colombia was another to take to the fairways wearing a mask during the final round of play of China's first LPGA event.
Swedish tennis player Robert Lindstedt, pictured here at the French Open in May, found the air quality in Beijing untenable, describing it on his blog as "a disaster" and questioning whether he would return to the event.
Spectators at the China Open also took to wearing the masks courtside over the weekend, such as this couple watching one of the women's semi-finals Saturday.
Masks were seen in the crowd Sunday also. This couple were spotted watching Novak Djokovic down Rafael Nadal in the men's final.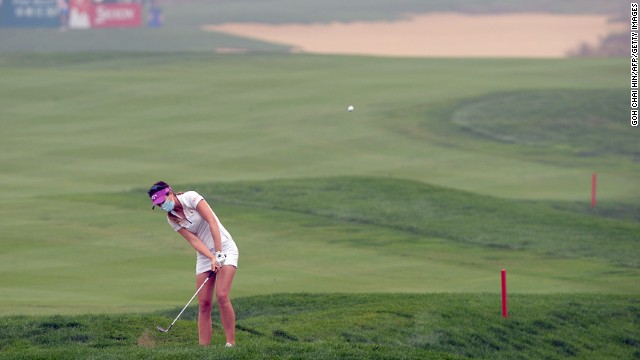 Pollution plagues Beijing's big sports weekend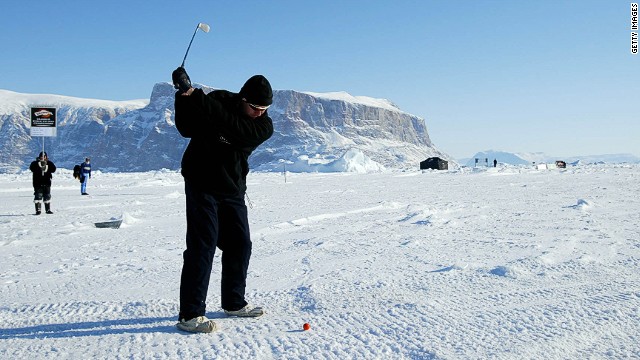 The World Ice Golf Championships takes place in Uummannaq, Greenland in temperatures which plummet to -50 Celsius (-58 Fahrenheit). Set 600 kilometers north of the Arctic circle, players have to cope with freezing glaciers and huge icebergs.
Indonesian girls play at a golf course in Sleman, near Yogyakarta, as a cloud of ash rises from Mount Merapi in the background. Indonesia raised its alert for the volcano to its highest level in October 2010 and ordered people living nearby to evacuate. It last erupted in June 2006, killing two people, but its deadliest activity occurred in 1930 when more than 1,300 people died.
As well as a regular 18-hole layout, New Zealand's Arikikapakapa Rotorua Golf Club also has a nine-hole thermal course where hot springs bubble, geysers spring and the smell of sulphur fills the air. The course sits alongside the Whakarewarewa Thermal Reserve.
To play the 19th hole at Legends Golf Resort in South Africa you have to take a helicopter to the tee, which is perched on top of a mountain. The green below is in the shape of Africa.
An Afghan player takes a shot during a tournament at the Kabul Golf Club. The nine-hole course, which first opened in 1967, became a battlefield in the 1990s when rival Mujahideen factions fought among themselves after overthrowing a Soviet-backed regime.
Brickyard Crossing Golf Club in Indianapolis has four holes inside the circuit that the famous Indy 500 is staged on.
Located in New Zealand's Hawkes Bay province, the Cape Kidnappers Golf course is considered one of the most beautiful and enchanting in the world. High up on the cliffs and overlooking the picturesque view, players must negotiate the deep gullies and crevices between each hole.
An indigenous Aymara woman plays an approach shot as her colleague holds the flag at La Paz Golf Club in Bolivia. It is considered to be the highest course in the world, with its layouts ranging from 3,277 to 3,342 meters above sea level.
Not all extreme golfing venues are so formal. Here a U.S. Army soldier of 333 Military Police Company hits a golf ball at his forward operating base in Paktika province, situated along the Afghan-Pakistan border.
Before his death in 2011, British-American photographer Tim Hetherington spent time taking pictures of a U.S. contingent of soldiers establishing an outpost in northeastern Afghanistan. Now on display at the Open Eye gallery in Liverpool, Hetherington's work explores how these soldiers cope with their emotionally draining existence -- in this case by playing on a makeshift driving range.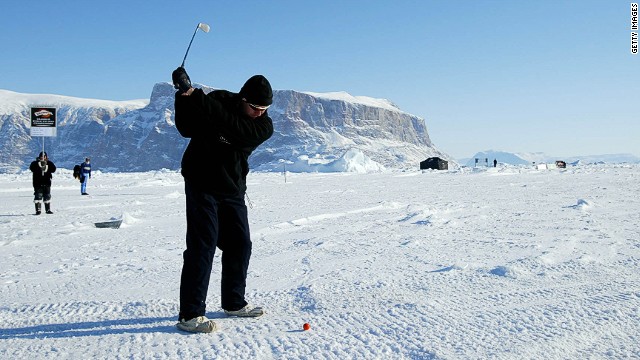 The world's most extreme golf courses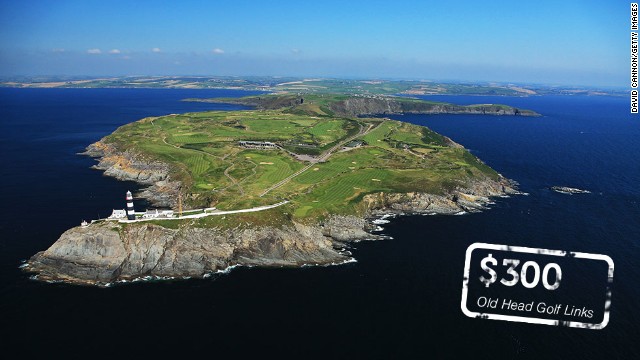 Pitch up with your credit card and your clubs if you want to walk the fairways at these golf courses. Places like Old Head Golf Links in County Cork, Ireland have some of the most expensive green fees on the planet. But given its glorious setting, it's no wonder some golfers will happily stump up the €220 ($300) required to play the course next summer.
Mission Hills Golf Club, Shenzhen, China: Mission Hills' massive golf complex boasts 12 courses with more planned. $HKD 10 billion ($1.3 billion) has been ploughed into the 20-square kilometer plot since it opened in 1994. A round at the Jack Nicklaus-designed World Cup Course will cost a cool 1920 Chinese Yuan ($310).
The Royal Melbourne Golf Club, Melbourne, Australia: The West course at the Royal Melbourne is widely rated as Australia's best. Designed by Augusta National co-architect Dr Alister Mackenzie in 1926, the club has hosted the Australian Open and more recently the Presidents Cup. Overseas visitors pay AUS$350 ($330).
Trump International Golf Links, Aberdeenshire, Scotland: Donald Trump's course opened to great fanfare in the summer of 2012 with the American tycoon hailing the 7,400-yard links on the northeast coast of Scotland as "the world's greatest golf course." Weekend green fees during the summer cost $215 ($345). Local residents can play for less.
Kauri Cliffs, Matauri Bay, New Zealand: Perched on the cliffs above the crystal clear waters of Matauri Bay, Kauri Cliffs is one of the most picturesque golf courses in the world. Six of the holes on the 7,119-yard, par 72 championship course run directly along the Pacific Ocean coast. The David Harman-designed links was ranked 19th in Golf Digest's "100 best courses outside the U.S." in 2012. Green fees for international visitors peak at $NZD 425 ($350).
Turnberry, Ayrshire, Scotland: A jewel in the crown of the home of golf. Turnberry's Ailsa course is one of the world's great courses and famously played host to the "Duel in the Sun" between Tom Watson and Jack Nicklaus at the 1977 British Open. Visitors wanting to play golf in the summer of 2014 will have to pay £250 ($400)
Valderrama, Sotogrande, Spain: Designed by American architect Robert Trent Jones, Valderrama is arguably the European continent's most famous golf club. The 6,990-yard course has hosted European Tour events and was the venue for the 1997 Ryder Cup -- the first time the biennial match between Europe and the U.S. was played on continental Europe. A weekend round currently costs €320 ($435).
Pebble Beach Golf Links, California: Probably the most famous links course outside Scotland and No.1 in Golf Digest's list of greatest American public courses. Half of Pebble Beach's holes sit alongside the Pacific Ocean including the par-three 17th where Tom Watson famously chipped in on his way to winning the 1982 U.S. Open. The 543-yard par five 18th (pictured) is one of the greatest closing holes in all of golf.
Shadow Creek, Las Vegas, U.S.: Sitting amid the uniformly beige landscape of Las Vegas' northern suburbs is a giant rectangular spash of green. Laid out over 350 acres, Shadow Creek was designed by Tom Fazio and, at $500 per round, is probably the most expensive public course in the U.S. The 7,239-yard course, which hosts Michael Jordan's annual charity golf event, can only be played if you are staying at a MGM hotel.
Wentworth, Virginia Water, Surrey, UK: In keeping with its uber-posh surroundings -- average house prices climbed to £1 million ($1.6 million) in Virginia Water earlier this year -- Wentworth's famous West course has one of the priciest green fees in the world with summer rates set at £360 ($580). The course has played host to numerous pro tournaments down the years including the World Matchplay Championship and Wentworth still hosts the European Tour's flagship event, the PGA Championship.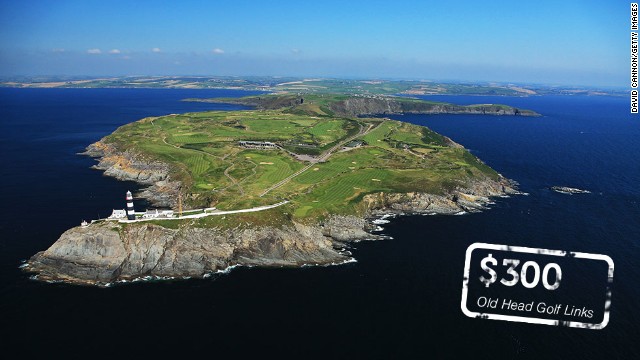 According to market tracking company NPD Group, EA sold $771 million worth of games boasting the Tiger Woods name.
DFC Intelligence, a consulting firm which deals with the gaming market, states that EA made $3.79 billion last year -- with its Battlefield and Madden NFL games the top sellers.
But while the loss of the EA partnership should not cause major damage to the Woods brand, McCabe does believe the move remains significant.
"Losing a marquee sponsorship deal says two things: first, he's no longer the force he once was on the golf course; and secondly, EA will no doubt be replacing him with someone else," he said.
"Rory McIlroy would seem the most obvious choice -- assuming his form picks up. So this might be perceived as the first major step in a changing of the guard.
"Losing EA Games won't make much of a dent on Tiger's bank balance, but it does make a dent on his ubiquity.
"And that ubiquity is the single biggest reason why he's able to command such astronomical sponsorship deals.
"That said, a couple of major wins would surely turn the tide back in his favor."
Read: Tiger Woods outfoxed by feral friend?
EA started making golf simulation games back in 1990, with PGA Tour golf coming out on PC, Amiga and the Sega Megadrive.
In 1998 it produced the "Tiger Woods PGA Tour 99" which became a huge hit on Playstation and blazed the trail for further success.
But in recent years EA has begun to take a step back, with the 2010 cover of the game the first to feature another golfer alongside Woods -- Northern Ireland's rising star McIlroy.
A few months later on a newer version it simply showed Augusta, home of the Masters, with no trace of Woods on the cover.
Rickie Fowler joined Woods on the front of "Tiger Woods PGA Tour 13" in the U.S., while Arnold Palmer was used in the latest version.