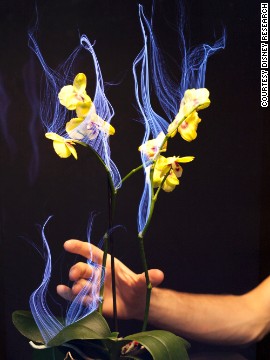 What will the future of touch look like? With haptic technology, which could be described as the science of touch, users have a physical experience, making the technology more interactive. This will revolutionize the gaming experience but also be useful in medicine and every-day life. How about plants that can interpret how you touch them?
Walt Disney Research
in Pittsburgh have come up with
Botanicus Interacticus
, which, in combination with the research team's sensing technology
Touché,
can turn any plant into a musical instrument, game controller, light switch and more.
This is not a burning bush, but rather a plant that is happy to be caressed. Scientists and developers at
AIREAL
works by shaping air, for real. Also developed by Disney Research, AIREAL uses a ring of air that can travel several meters while keeping its shape and velocity. When it hits your skin, the ring collapses with a force you can feel.
Ok, so Gandalf managed to shape a galleon by puffing smoke from his pipe, but that was obviously fiction.
By using several devices at once, AIREAL can create the sensation of tactile feedback from several angles when playing video games or watching films.
Bristol Interaction and Graphics Group
have developed
UltraHaptics
. Users can now get tactile feedback from a touchscreen mid-air. "Waves of ultrasound displace the air, creating a pressure difference. By causing many waves to arrive at the same place simultaneously, a noticeable pressure difference is created at that point. With this method, we are able to create multiple, concurrent points of haptic feedback in mid-air."
First there were buttons, then there was the touchscreen. And now there is the hands-free touchscreen. Researchers from the
Woojer
has developed a device that clips onto your clothing in one or more places along "strategic meridian bodylines." It convinces the brain that your entire body is experiencing high acoustic sound via perceptual inference.
Enhance your audio experience while gaming or listening to music.
Surround Haptics
, by
Disney Research
, uses a grid of vibrating actuators to create moving tactile strokes on your skin. It feels like someone dragging a finger across your skin. It sounds creepy but there are many applications -- maybe in a motorcycle jacket that would let you feel the traffic around you or in gaming, feeling every motion.
TeslaTouch is another haptic technology developed by Disney Research and simulates 3D geometric features on touch screens. It aims to let touch screen users feel different sensations on glass.
For example, TeslaTouch could let you run your fingers across a screen and feel the texture of a picture of a teapot.
Tactus Technology
has invented a dial pad that will only appear when the surface of a touchscreen is being touched. These buttons on demand might make you think of bubble wrap, but will provide the sensation of real buttons.
Touché
device from Disney Research.
Objects that recognize your touch and act accordingly? When you leave your office, use two fingers on a doorknob to mean "be right back", or hold it with your entire hand to lock the door completely. All possible thanks to the prototype
Grathio Labs
has developed a prototype haptic device called Tacit, which applies pressure to the wrist when objects come in range of its sensors. It's intended to help the blind navigate.
San Francisco-based inventor Steve Hoefer from
Feel it in the air! This is the future of touch
Plants need love
Light as air
Play outside the box
Don't leave me hanging
Feel the sound
Real-life gaming experiences
This simulation doesn't fall flat
Put the kettle on
Rise to the occasion
Not just a doorknob
Now feel this
STORY HIGHLIGHTS
Researchers are working on allowing you to 'feel' objects in mid-air
Disney Research uses bursts of air, Bristol students experimenting with ultrasound
New touchscreens also offer tactile feedback
Inventions point to a future where you can feel technology in new ways
(CNN) -- Touch technology has come a long way in the last decade. Just six years ago, most phones used traditional keypads; today, almost all smartphones have a touchscreen, and the technology has spread to tablets, handheld consoles and laptops as well.
One thing still lacking in touchscreens, though, is any kind of sensory feedback; you cannot feel the keypad on your iPhone, nor the action buttons when you play a game on your Android tablet. You can't feel the icons on your home screen, or the texture of your photos.
Over the next decade all this looks set to change with the emergence of new tactile or "haptic" devices. One new technology announced this month by the research wing of the Walt Disney Company allows users to feel textures on a touchscreen, pointing to a future where you will be able to use your phone not only to see and hear, but also to feel.
Ivan Poupyrev, the Principle Research Scientist at Disney's Interaction Group, told CNN that in his view the future will see "touch screens on mobile devices, tablets, laptops, tables and walls. Everything will be touch-sensitive in the future and we need tactile feedback to make it more useful and usable."
Read: Bionic bicep gives you the strength of Hercules
As well as making screens you can feel, Disney Research is also developing tactile equipment that doesn't require any actual contact at all -- like an Xbox Kinect, but where you feel as though you can touch objects in front of you in thin air. The device is called the "Aireal" and in its developers' words it provides "interactive tactile experiences in free air." The Aireal works by blowing small rings of air at a user to simulate touch, movement or collisions with objects.
Students at the University of Bristol in England are working on a similar project called UltraHaptics, which gives the same sense of mid-air feeling through ultrasound vibrations rather than pulses of air.
According to its inventors, UltraHaptics deploys "ultrasonic transducers" to produce a variety of different sensations on the skin -- basically using sound waves to simulate touch.
Everything will be touch-sensitive in the future
Ivan Poupyrev, Principle Research Scientist at Disney Interaction
Poupyrev says UltraHaptics is an interesting idea that, in his view, points to the future of touch devices: "I love this work -- (it is) very well done. In general creating tactile feedback in free air is a very important research direction."
Read: Bionic fashion, hot wearable tech
Other products under development use tactile feedback in completely different ways. A new sound device called the Woojer aims to immerse users in sound by using low frequency vibrations to create the physical sensation of bass -- rather like being in a loud cinema or standing in front of a speaker at a rock concert.
The Tactus takes a different approach to bringing feeling to a touchscreen by creating real, physical buttons that emerge from the screen to emulate a physical keyboard.
Another new invention, the Tacit, aims to provide physical feedback to help visually impaired people navigate by "feeling" the objects around them. The device attaches to the wrist and uses ultrasound to scan the immediate area, delivering soft pressure to the user's wrist as they get close to objects.
If these inventions go into production, then Poupyrev's projected future of tactile devices begins to look so close ... you could almost touch it.
Jenny Soffel contributed to this article