CSKA Moscow: UEFA punishes Russian club over racism
October 30, 2013 -- Updated 2110 GMT (0510 HKT)
STORY HIGHLIGHTS
UEFA punish CSKA Moscow for racism offenses
The Russian club will play its next Champions League game with part of the stadium closed
Racist abuse occurred during CSKA's match against Manchester City on October 23
(CNN) -- CSKA Moscow will play its next home European Champions League match with part of its stadium closed as punishment for racism offenses.
Manchester City complained its players had been subjected to "monkey chants" during a match against CSKA at the Arena Khimki on October 23.
European football's governing body UEFA announced the sanction on Wednesday, warning CSKA that further incidents of racism would results in graver punishments.
Read: Russian furore is latest FIFA headache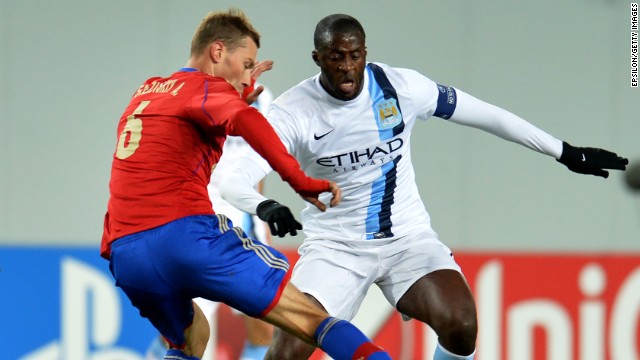 Manchester City's Yaya Toure says he was subjected to "monkey chants" during Wednesday's European Champions League match against CSKA Moscow.
AC Milan's Mario Balotelli reacts to racist abuse from the visiting Roma fans at the San Siro in May. It was not the first time the Italian-born striker has been racially abused in Serie A.
Serie A side Lazio was punished four times during the 2012-13 season due to racist offenses by its fans in European matches.
"I don't care what game it is -- a friendly, Italian league or Champions League match -- I would walk off again," the Germany-born Kevin-Prince Boateng, who has represented Ghana, told CNN in an exclusive interview in January after he walked off in protest at racist abuse he was subjected to in a friendly match.
U.S. star Jozy Altidore was subjected to racial abuse during AZ Alkmaar's cup win at Den Bosch in the Netherlands. The match was halted and the crowd were asked to stop the abusive chanting before the action resumed.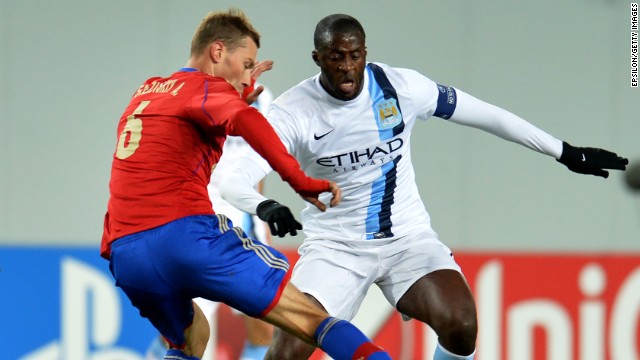 Yaya Toure racially abused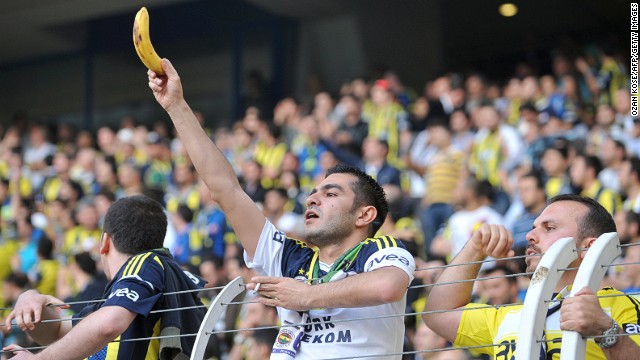 Racism has long been a stain on football but a resurgence of incidents in recent years has prompted soccer's authorities to launch a renewed bid to rid the game of discrimination for good. Here a Fenerbahce fan holds a banana towards Galatasaray's Ivory Coast striker Didier Drogba during a Turkish league match in May 2013.
The spark for a raft of racism reforms from the game's power brokers came when AC Milan midfielder Kevin-Prince Boateng walked off in a match with Italian lower league side Pro Patria in January after their fans abused him with monkey noises. The game was abandoned and his protest made headline news the world over.
CNN's Pedro Pinto stands on the spot where Boateng decided he'd had enough. He told the World Sport Presents Racism in Football documentary: "I decided to walk off the pitch because I said to myself, in this kind of environment, in this situation, I don't want to play football anymore."
Boateng's AC Milan teammate Mario Balotelli has been the subject of racial abuse over a number of years. He and Boateng were abused by AS Roma fans during a match at the San Siro in May that was briefly suspended by the officials as a result. A public address announcement implored visiting supporters to stop their chants.
Balotelli has had to deal with racism throughout his career. As far back as 2009, when he played for Inter, he was racially abused by opposing Juventus fans. Here, Inter's fans hold up banners in support of the striker.
Balotelli told Pedro Pinto he was prepared to walk off if he receives more racial abuse: "After what happened to me in (the Roma) game, I felt a little bit alone when I was home. I always said that if that happened in the stadium, like if nobody said anything, I don't care. But this time I think I changed my mind a little bit, and if it is going to happen one more time, I'm going to leave the pitch because it's so stupid."
Boateng's walk-off prompted the game's governing body to act and FIFA president Sepp Blatter invited the midfielder to sit on a task force dedicated to tackling racism in football. A raft of reforms have now been passed that could see teams relegated or expelled from competitions.
The head of FIFA's racism task force, Jeffrey Webb, told CNN the new measures could be "a defining moment in the fight against racism and discrimination." He labeled the recent abuse of Balotelli and Galatasaray striker Didier Drogba as "ignorant" and "unbelievable."
Blatter's new-found vigor to tackle racism was at odds with his sentiments in a 2011 interview with CNN when he expressed his belief that there was no on-field racism in football and that players who think they have been abused should simply say "this is a game." He later said his comments had been misinterpreted.
One of the most high-profile incidents in England saw Liverpool striker Luis Suarez banned for eight-matches for racially abusing Manchester United's Patrice Evra in October 2011. Prior to the teams' return fixture the following February, Suarez refused to shake Evra's hand. Suarez subsequently apologized.
Former England captain John Terry was found not guilty in a criminal court of racially abusing rival footballer Anton Ferdinand but was banned for four-matches by the Football Association. He accepted the charge, a £220,000 fine and apologized, saying: "I accept that the language I used, regardless of the context, is not acceptable on the football field or indeed in any walk of life."
The Serbian Football Association was hit with an $84,000 fine after a brawl between their under-21 team and England's in the city of Krusevac in October 2012. England player Danny Rose (far right) said he had been subjected to monkey chants throughout the game. The Serbian FA insisted their fine was for the altercation.
Serbian fans are renowned for creating an intimidating atmosphere, as CNN discovered at the Belgrade derby in May. Despite previous incidents, there was no hint of racism in the match, though the Serbian Football Association's technical director Savo Milosevic did reveal they have no program in place to tackle racism.
European football's governing body, UEFA also passed new laws on racism. They introduced a minimum 10-match ban for racist abuse by players or officials and escalating measures for clubs including fines and stadium closures for repeat offenders.
Various initiatives across Europe's leagues help to try and combat racism and offer opportunities to those communities that are under represented at the top of the game. The Asian Stars event, recently held at Chelsea's training ground, aims to encourage participation among aspiring Asian players at all levels of football.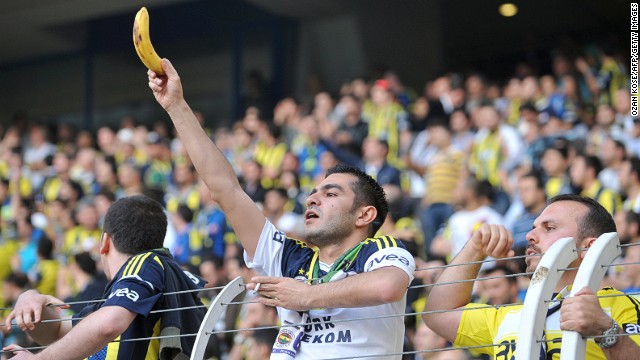 Racism in football
"The UEFA Control and Disciplinary Body has handed down sanctions to CSKA Moscow following incidents during their UEFA Champions League home game against Manchester City," read a UEFA statement.
"Specifically, the Control and Disciplinary Body has decided to close sector D of the stadium during the club's next UEFA competition home match.
"CSKA's next home fixture is scheduled against Bayern Munich in the UEFA Champions League on 27 November in Moscow.
"The fight against racism is a high priority for UEFA ... All forms of racist behavior are considered serious offenses against the disciplinary regulations and are punished with the most severe sanctions."
Read: Toure wants tougher racism punishments
City's Ivorian midfielder Yaya Toure declared himself "furious" in a post-match interview with the club's TV channel, calling on UEFA to "ban them (CSKA) for a couple of years."
Two former Premier League footballers were far from impressed with the sanction meted out to the Russian club, taking to Twitter to criticize the decision.
"Wow. Partial closure of stadium for 1 match for racist abuse for CSKA Moscow! Those boys at UEFA are sooo tough!" opined former Southampton player Matt Le Tissier, who now works as a football pundit.
Another former player who has also gone into broadcasting - Stan Collymore - was similarly scathing.
"I'm a racist. I'm going to move to section E against Bayern ... more Uefa clownery," wrote the former Nottingham Forest and Liverpool player.
Nonetheless, UEFA regulations state that a first racism offense should be punished with a partial stadium closer, a second incident of discrimination would results in a full stadium closure for one match and a €50,000 ($68,000) fine.
Any club found guilty of racism a third time faces the prospect of multiple matches behind closed doors, the forfeiting of a match, deduction of points or expulsion from a competition.