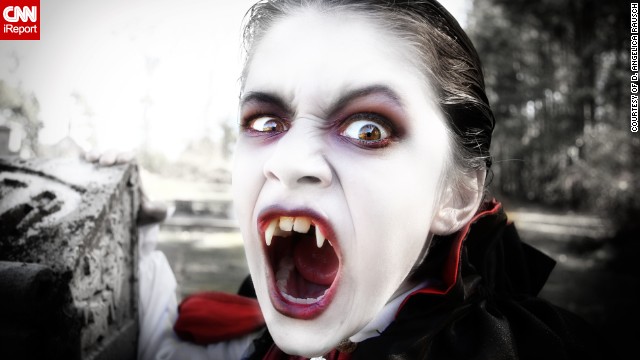 Dressing up as a vampire has become a family tradition for Ruhl Rausch and his mum Angelica, who has been taking photos of his antics for the past three years. "
Ruhl has a flair for the dramatic
and loves to get into character for the shoots, and with me being a semi-professional photographer he is certainly not camera shy," she said.
Halloween fanatic
Jennifer Kirkland, 36, from Kentucky jumped at the chance to perform at the local haunted corn maze as "Sightless". "I love scaring people! You get some of the most honest emotion when someone is scared. The eye pieces were a prosthetic and the blacked out area is actually made of mesh, so you can see through it. The hair is all mine!" she said.
Three years ago self-confessed
"If it's not custom, it's not worth doing,"
said the professional photographer. "My love of Halloween and handmade costumes goes back to childhood. My mom is very creative and would sew outfits and help apply make-up for whatever idea I could come up with. Halloween allows me to let my imagination run wild and display it in a very public way that can't be done the rest of the year," he said.
It took Jeff Wickliffe, 38, an hour to perfect his zombie pirate costume for Halloween.
terrifying face
. She made it using latex, tissues, fake nails painted silver and cut into sharp teeth finished off with a healthy dose of fake blood. "This makeup creeps people out so much and it's awesome to see their reaction," said the 18-year-old student from Quebec, Canada.
It took Laurence Moreau-Lefebvre nearly two hours to complete this
make several children and grown-ups cry
. "I couldn't walk five feet without someone stopping me to touch it, take a photograph or compliment me on it. I would say the majority of the people encountered that night were quite freaked out by it though," said the 25-year-old from Northern Ireland.
When Glen Dunlop, 25, donned this frighteningly good Halloween outfit he managed to
impressive collection of freaky Halloween faces
. By day she is a make-up artists catering for weddings and the like, but her true passion is special effects make up. "I love playing with people's imaginations and freaking them out a little. I want people to try to figure out how I created a look," she said.
Even though she is only 19, Martha Ryan from Ireland has an
"I call her Scary'lyn Monroe," said 27-year-old cosmetology student Sammy Cragun, who transformed her friend Andie Royster into a dead hot Marilyn Monroe. "I loved to draw and do art my whole life. Makeup is live art with a face or body for a canvas, plus I have always had an affinity for the macabre," she added.
special family portrait featuring her three sons
Rahne, Ruhl and Josef. The result is this stunning yet creepy teenage zombie photo taken at a cemetery in Georgia. "My oldest son had to be talked into it a little bit but the younger two were all in! Zombies are very in this year, especially in Georgia where the Walking Dead is filmed," she said.
For this year's Halloween iReport assignment, photographer Angelica Rausch wanted to create a
There is something a little too realistic about Jade Brady's Halloween costume, but that's what the freelance makeup artist was aiming for. "I've had really good reactions, a lot of people said it looked real and as many said it was disgusting but really good. It was actually quite simple to do, I just attached the top part of the pencil using a small amount of stage wax and some tissue paper and liquid latex. Unfortunately I had to stick the other part up my nose!" said the 25-year-old from Manchester, UK.
Last year Maya Buber dressed up her son Silas as Chucky from the movie Childs Play because "he looks just like him" and she loves the movie. "I took this photo right after we had been trick-or-treating as he was having a sugar overdose on my bed. Some people loved this idea of mine and some were completely against this as I may traumatize my child, but I have an open mind," said the pest controller from Arizona who is re-training to become a funeral director.
armed with his camera
to capture the beasts walking through the German capital. "The atmosphere during the walk was super. A lot of spectators in the streets, cafes, restaurants and shops watched, giggled and took pictures with their cell phones, some even joined in the parade. School classes walking in the streets were screaming and laughing as they were chased by the zombies," he said.
On October 26 the annual Zombie Walk took place in Berlin. Raymond Angeles went there
Left 4 Dead
. "I created this costume using mattress foam for the body, crutches for the arms to lean on, and latex bases spray paint for the overall color. I also embedded speakers in the body of the costume to have the Tank's signature theme song play as I walk around," said the 27-year-old from Florida. A for effort!
It took Rob Heath three months to create his Tank costume based on the popular video game series
mission accomplished in the fright department
. The reactions have been terrifying yet positive for the most part; however what is a Halloween costume if not to be scary?" confessed the 26-year-old who snapped this photo in 2010. "It took about 3 hours to complete and I used spirit wax, spirit gum, fake blood, latex, and even toilet paper to achieve the ripped off flesh look," she added.
There is something disturbingly attractive about this gruesome Halloween costume made by makeup artist Amanda Kroon from California. "I say it was a
Hiding behind that scary mask is Chomper the pitbull. "Chomper looks like the meanest dogs you have ever seen but she is the biggest chicken. She is extremely mellow and lazy and even gets chased by poodles," said her owner Colleen Mulligan, a 26-year-old dog trainer from Queens, NY. "Ironically I bought that mask to scare her, but she has become so used to me trying to scare her she knew it was me under the mask," she added.
aiming a leaf blower at her friend
as she snapped a bunch of Halloween portraits. She also used Photoshop's liquify tool to further exaggerate some of their facial features. "It was a combination of a few ideas and resources that was stewing in my brain for a while. It also took us some time to figure out how to handle the intensity of the leaf blower in the face. Most folks could only handle it for a few seconds," she said.
Photographer Natalie Cass captured this hilarious photo by
Ruhl the vampire
Keeping my eyes on you
Pirates from hell
Razor sharp
Zip it!
Do I have something in my eye?
Some like it dead
Zombie family portrait
Homework accident
My precious little Chucky
Dead men walking in Berlin
Tanking it
Young dead pretty things
Scary bear
Hellish hound
Little dead girl
Blow face!