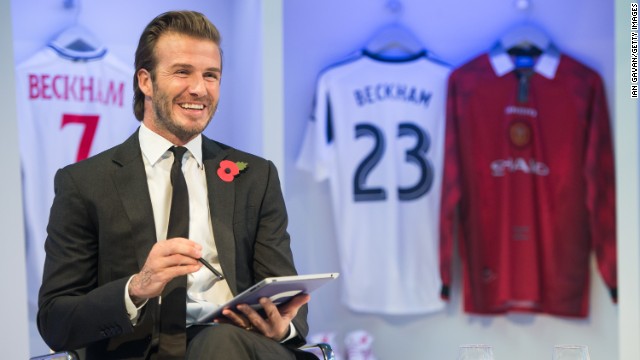 David Beckham's latest autobiography was launched via a 'global book signing' that was streamed on Facebook to entice the 30.5 million people who 'like' his page to shell out for a copy. It showcased how important social media is becoming in helping to promote new releases.
Beckham offered a personalized autograph for e-book buyers across the globe from Brazil to Bermuda in his question and answer session in London.
Alex Ferguson's book sold 115,547 copies in the first week of release, a UK record that made a cool £1.4 million.
Ferguson's tome garnered a wave of press coverage as he put the boot into former Manchester United greats like David Beckham and Roy Keane. It was the hottest topic in football when it was released.
Sweden striker Zlatan Ibrahimovic recently updated his autobiography which was true to his supremely confident manner. The Paris Saint-Germain star constantly refers to himself in the third person and throws out lines like: "An injured Zlatan is a properly serious thing for any team."
Author Ian Ridley was ghostwriter for the full and frank autobiography of former Arsenal and England captain Tony Adams -- 'Addicted' -- in which he detailed his battle with alcohol. The book made national headline news and went on to sell over a million copies.
Ridley's most recent project was ghostwriting former English Premier League referee Mark Halsey's autobiography 'Added Time: Surviving Cancer, Death Threats and the Premier League.' The pair had it printed in Lithuania after their intial publishing deal fell through.
QPR manager Harry Redknapp criticized England manager Roy Hodgson in his autobiography and also revealed about his wife Sandra: "We've been married 46 years and I always say she was my best signing."
The perfect pitch
The perfect pitch
The perfect pitch
The perfect pitch
The perfect pitch
The perfect pitch
The perfect pitch
The perfect pitch
STORY HIGHLIGHTS
Several high-profile figures have recently released sporting autobiographies
Alex Ferguson, David Beckham and Zlatan Ibrahimovic all have books out
But what are the 10 key commandments for a successfully ghostwritten tome?
Author Ian Ridley explains the vital ingredients necessary to produce a best seller
(CNN) -- They are global sporting superstars, and they've got a story to tell.
From former Manchester United manager Alex Ferguson to ex-England captain David Beckham it seems everyone is releasing autobiographies in a blaze of promotion and headline grabbing excerpts -- and all in time for Christmas.
Read: Alex Ferguson's book: 10 things you need to know
But whether the intention is to set the record straight, settle a few old scores or simply tell it like it is, the majority tend to live and die by their ghost writer.
Trying to capture the authenticity of the subject's voice and cram the book full of interesting anecdotes can be a daunting task.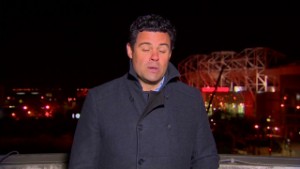 CNN Football Club: Alex Ferguson special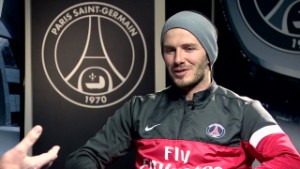 David Beckham's life in Paris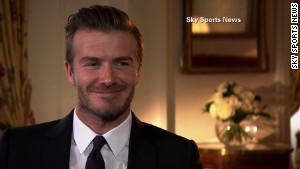 Beckham: I want to go out on top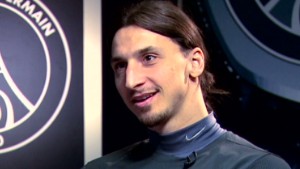 Exclusive: What makes Ibrahimovic tick?
But with the help of one respected author of several big football autobiographies, Ian Ridley, whose book on former England captain Tony Adams sold a million copies, here are 10 key components to a successful sporting tome.
Story telling
Perhaps the most obvious commandment for any sporting book is that the subject matter has to be interesting.
While a big name can usually be guaranteed to bring with them a loyal following who will buy whatever they release, the more casual observer needs a little more persuasion.
Ridley's most famous subject was former England soccer captain Tony Adams, who famously battled alcohol addiction throughout the most successful parts of his career.
Another focused on former footballer Steve Claridge's issues with betting while his most recent, on former English Premier League referee Mark Halsey dealt with his recovery from cancer.
"The subject of the book has to be honest about these things," Ridley told CNN. "As a writer you have to press ever detail out of them and make sure you draw out the material."
Capture the voice
Any book must bring the character to life in their own words -- it is no good having David Beckham hypothesizing over the French renaissance period.
But get the ex-England captain talking about the influence of Alex Ferguson on his career or any of his famous 'hairdryer' moments and people will be gripped.
"You have to capture their voice," Ridley explains. "Ghostwriting is much more of a skill than is recognized."
Read: Keane hits back at Ferguson
One good example is the recent autobiography of Swedish striker Zlatan Ibrahimovic, entitled 'I am Zlatan', that manages to captures his supreme confidence.
For instance, the Paris Saint-Germain forward, who continually refers to himself in the third person, notes: "An injured Zlatan is a properly serious thing for any team."
Mining the seam
The odd five minute chat here or there isn't going to cut it -- an author needs to live and breathe his subject for months if not years.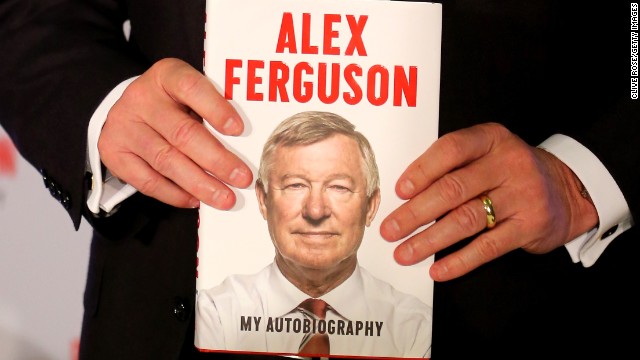 ¿Qué pensaba el antiguo entrenador del Manchester United de Wayne Rooney, Roy Keane, David Beckham y Cristiano Ronaldo? Sigue leyendo...
El delantero inglés Wayne Rooney se unió al Manchester United luego de ser parte del Everton en 2004. "Wayne Rooney es de aprendizaje lento y lucha por manternerse en forma", dice Ferguson del internacional inglés en su autobiografía.
Roy Keane jugó para el Manchester United entre 1993 y 2005, pero el centrocampista de la República de Irlanda discutió de forma espectacular con el entrenador de Old Trafford después de que criticara a sus compañeros de equipo en un canal de televisión del club. "Lo que noté en él ese día mientras estábamos discutiendo, fue que sus ojos empezaron a reducirse, casi a cuentas negras pequeñitas. Daba miedo verlo. Y yo soy de Glasgow", escribe Ferguson.
No hay mención de la esposa de David Beckham, Victoria —la "Posh Spice"— en el capítulo del libro que Ferguson dedica al jugador. "El gran problema para mí ... él se enamoró de Victoria y eso lo cambió todo", dijo Ferguson en su conferencia de prensa para promocionar el libro.
En 2011 el defensa del Manchester United, Patrice Evra se quejó de que había sido insultado con comentarios racistas por el delantero del Liverpool, Luis Suárez, que posteriormente recibió una sanción de ocho partidos por la Asociacion Inglesa de Fútbol. "Liverpool vistió estas camisetas apoyando a Suarez, lo que en mi opinión fue la cosa más ridícula para un club de la talla del Liverpool", escribe Ferguson.
"Todas las veces que me preguntan me resulta imposible de decir definitivamente quién es el mejor jugador --Cristiano Ronaldo o Lionel Messi-- porque relegar a cualquiera de ellos al segundo lugar sería un error", escribe Ferguson.
"Messi tiene algo mágico en él cuando el balón toca sus pies", escribe Ferguson. "Es como si cayese en una cama de plumas. Su bajo sentido de gravedad es devastador".
Ferguson dice que dos veces le pidieron que dirigiera al equipo de Inglaterra. "Se trataba de una cama de clavos sobre la cual nunca estuve tentado a acostarme", escribe el exentrenador del Manchester United.
Sven-Goran Eriksson se hizo cargo del equipo de Inglaterra entre 2001 y 2006. "Recuerdo que le pregunté a Paul Scholes un día: 'Scholesy, ¿qué es lo que tiene Eriksson?', pero Scholesy no me dio una respuesta clara".
Ferguson elogia mucho al entrenador del Chelsea José Mourinho, quien está ahora en su segunda temporada en el Stamford Bridge. "José era uno de esos tipos sobre una tabla de surf que podía permanecer en la ola por más tiempo", dice el escocés.
El gol en tiempo extra de Sergio Agüero en la victoria 3 a 2 contra Queens Park Rangers aseguró que el Manchester City ganara el título de la Premier League Inglesa 2011-2012. "Fuimos campeones durante 30 segundos", escribe Ferguson "Cuando sonó nuestro silbato -- contra el Sunderland -- éramos campeones. Siendo justos con nuestros jugadores, ellos sabían que la habían arruinado. No había excusas".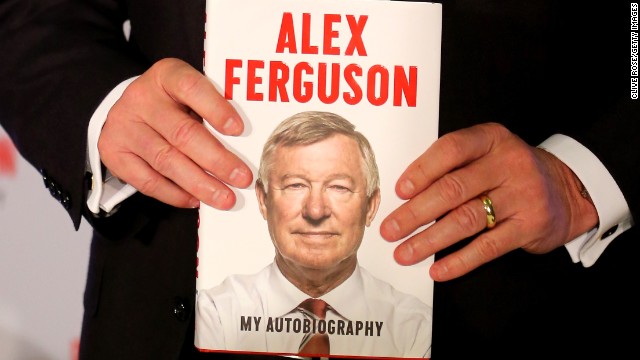 Las 10 cosas para no perderse del libro de Alex Ferguson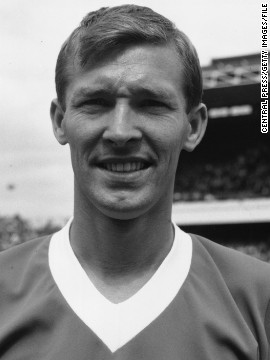 As a player, Alex Ferguson enjoyed a moderately successful career. A prolific striker, he scored 170 goals in 317 appearances including 25 goals in 41 appearances for Glasgow Rangers.
Ferguson was appointed manager of Aberdeen in 1978. In addition to three Scottish First Division titles, Ferguson guided the club to an impressive triumph over Real Madrid in the 1983 European Cup Winners' Cup.
Ferguson was assistant to Scotland coach Jock Stein during the qualifying campaign for the 1986 World Cup. Scotland secured a 1-1 draw against Wales in their final game to reach the tournament, but Stein collapsed and died following the final whistle in Cardiff.
A late winner from substitute Mark Robbins in an FA Cup replay against Nottingham Forest in January 1990 allegedly spared Ferguson the sack. United went on to beat Crystal Palace at the second attempt in the final, giving Ferguson his first trophy at Old Trafford.
The Scot originally planned to retire from management at the end of the 2001-02 season. But, after helping the team recover from a slip in form which saw them drop as low as ninth in the Premier League table, Ferguson reversed his decision in February 2002 and signed a new three-year contract.
A boot flew into the face of Manchester United's star midfielder David Beckham after Ferguson lost his temper following a 2-0 FA Cup defeat to Arsenal in February 2003. Beckham had to be held back following the incident and he joined Real Madrid ahead of the following season.
Ferguson's finest hour arrived in Barcelona in May 1999, when his United team came from 1-0 down in the 90th minute to beat Bayern Munich 2-1 in the European Champions League final. The win completed an historic treble of titles won during the 1998-99 season, which included the Premier League title and the FA Cup.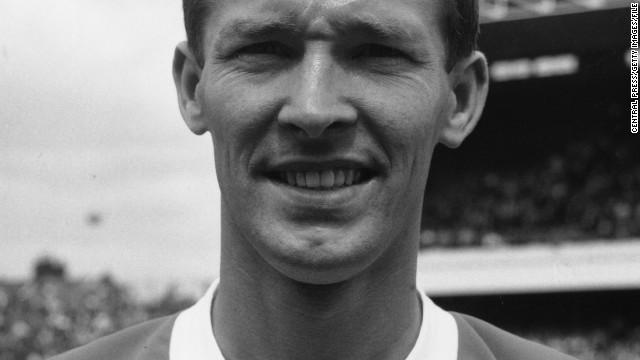 The seven moments which define Alex Ferguson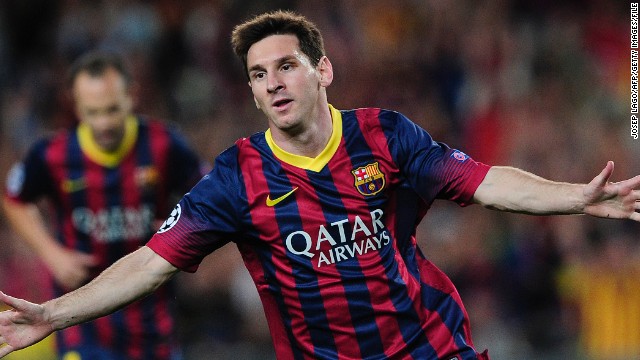 Lionel Messi (Barcelona y Argentina) Clasificación de CNN: Aspirante La pregunta que todos hacen es si alguien destronar a Messi. El argentino ha recogido el premio en cada uno de los últimos cuatro años y nuevamente ha sido un astro para el Barcelona en la temporada 2012-2013, cuando el equipo goleó en el título español, con 46 anotaciones en un victorioso campeonato de La Liga.
Cristiano Ronaldo (Real Madrid y Portugal) Clasificación de CNN: Aspirante Ronaldo compite para ganar el premio por segunda vez en su carrera y, aunque el Real Madrid terminó en un distante segundo lugar contra el Barça en La Liga y durante la temporada pasada no ganó premios, los compañeros del portugués aseguran que siempre es un aspirante a los máximos honores.
Zlatan Ibrahimovic (Paris Saint-Germain y Suecia) Clasificación de CNN: Aspirante Desde que llegó a París, el volátil delantero sueco se he convertido en un símbolo del nuevo estatus de elite del PSG. Ibrahimovic terminó como el mejor goleador en Francia mientras el PSG se aseguró el título de la liga. Su tendencia a marcar goles alucinantes y su franqueza lo han convertido en una figura de culto entre los fanáticos del fútbol alrededor del mundo.
Franck Ribery (Bayern Munich y Francia) Clasificación de CNN: Aspirante La temporada 2012-13 fue la mejor de Ribery hasta la fecha, con el francés como uno de los jugadores clave en el equipo del Bayern, que ganó la Liga de Campeones Europea, la Bundesliga y la Copa Alemana. Un número de jugadores del Bayern podrían ser dignos receptores del galardón; el arte y la astucia de Ribery lo convierten en un candidato destacado.
Arjen Robben (Bayern Munich y Países Bajos) Clasificación de CNN: Aspirante El centrocampista holandés finalmente consiguió deshacerse de la etiqueta de jugador que se atraganta en escena cuando marcó el gol ganador en el último momento contra el Borussia Dortmund y coronó al Bayern como campeón europeo. Tan sólo por esto, Robben es un aspirante.
Philipp Lahm (Bayern Munich y Alemania) Clasificación de CNN: Aspirante Lahm fue capitán del Bayern que arrasó con todo la última temporada. El Balón de Oro sería testimonio del tranquilo y sereno liderazgo del alemán en un equipo que grabó su nombre en la historia.
Thomas Muller (Bayern Munich y Alemania) Clasificación de CNN: Aspirante El graduado del equipo juvenil del Bayern se ha forjado la reputación de ser uno de los mejores acabadores clínicos del mundo. Muller esperará reunir el Balón de Oro con la Bota de Oro que ganó en la Copa del Mundo de 2010 en Suráfrica.
Bastian Schweinsteiger (Bayern Munich y Alemania) Clasificación de CNN: Posibilidad remota Bastian Schweinsteiger ha sido por mucho tiempo una roca en la base del medio campo del Bayern, pero parece que el jugador será eclipsado por sus compañeros de equipo atacantes.
Manuel Neuer (Bayern Munich y Alemania) Clasificación de CNN: Posibilidad remota La clase de Neuer es incuestionable; sin embargo, ningún portero ha ganado jamás el premio. La contribución de Neuer en la campaña 2012-13, que incluyó una actuación destacada en la final de la Liga de Campeones contra el Dortmund, no será suficiente para llevarlo por encima de Messi, Ronaldo y todos los demás en la votación final.
Robert Lewandowski (Borussia Dortmund y Polonia) Posibilidad remota El delantero polaco fue la punta de la lanza del equipo de Dortmund que ganó muchos admiradores durante su carrera a la final de la Liga de Campeones. La destrucción con cuatro goles de Lewandowski contra el Real Madrid en las semifinales fue una muestra de su implacable actuación, pero parece que va a perder el premio en 2013.
Andrés Iniesta (Barcelona y España) Clasificación de CNN: Posibilidad remota El pedigrí y el talento de Iniesta lo convierten en uno de los mejores jugadores del planeta, pero el centrocampista seguramente sufrirá como resultado de la derrota aplastante del Barcelona a manos del Bayern en las semifinales de la Liga de Campeones.
Gareth Bale (Real Madrid y Gales) Clasificación de CNN: Posibilidad remota El jugador más caro del mundo disfrutó de la mejor temporada de su carrera hasta ahora en el Tottenham Hotspur, dando lugar a una movida de mucho dinero al Real Madrid. El galés seguramente perderá, sin embargo, porque no jugó en la competición de los mejores clubes europeos en la temporada pasada. .
Edinson Cavani (Paris Saint-Germain & Uruguay) Clasificación de CNN: Sin posibilidad Cavani es uno de los goleadores más talentosos del mundo, el PSG desembolsó $88 millones para atraer al uruguayo desde el Napoli en julio pasado. El tiempo lo dirá si un periodo en uno de los mejores clubes europeos verá a Cavani desafiando para ganar grandes honores internacionales en el futuro.
Neymar (Barcelona y Brasil) Clasificación de CNN: Sin posibilidad El gol de Neymar en el reciente "Clásico" entre el Barça y el Real Madrid mostró que está comenzando a establecerse en el fútbol europeo. Un triunfo en la Copa del Mundo en su tierra natal con Brasil podría ayudar a que Neymar convenza para ganar el premio en 2014.
Radamel Falcao (Mónaco y Colombia) Clasificación de CNN: Sin posibilidad Destreza goleadora de Falcao ayudó al Atlético de Madrid a un triunfo de la Copa del Rey y un lugar en la Liga de Campeones esta temporada. Una campaña prolífica con Mónaco y una buena Copa del Mundo con Colombia sería elevar el perfil del delantero.
Xavi (Barcelona y España) Clasificación de CNN: Sin posibilidad La lista de logros de Xavi en el juego, ganador en la Copa del Mundo, tres triunfos en la Liga de Campeones y dos Campeonatos Europeos significan que siempre será considerado como un grande de todos los tiempos. Desafortunadamente, a los 33 años, el centrocampista batalla contra problemas de lesiones constantes.
Luis Suárez (Liverpool y Uruguay) Clasificación de CNN: Sin posibilidad El talento de Suárez significa que se garantizará un sitio en cualquier lista de los mejores futbolistas del mundo. Desafortunadamente, su temperamento a menudo se cruza en su camino. El uruguayo ha recibido prolongadas prohibiciones por ofensas racistas y por morder a sus oponentes.
Andrea Pirlo (Juventus e Italia) Clasificación de CNN: Sin posibilidad Pirlo, un refinado centrocampista que destila clase, sería un ganador sorpresa después de una campaña que vio a la Juve ganar el título italiano pero que no pudo avanzar más allá de los cuartos de final en la Liga de Campeones.
Thiago Silva (Paris Saint-Germain y Brasil) Clasificación de CNN: Sin posibilidad El defensa llevó a Brasil al éxito en la Copa de Confederaciones en 2013. Si puede repetir la proeza como capitán de su país en la Copa del Mundo el próximo año, no estará lejos de recibir el honor en 2014.
Robin van Persie (Manchester United y Países Bajos) Clasificación de CNN: Sin posibilidad Los goles del holandés propulsaron al título al United en la Premier League de manera convincente, pero los fallos del club Old Trafford en Europa significa que luchó para obtener resultados en el continente.
Yaya Toure (Manchester City y Costa de Marfil) Clasificación de CNN: Sin posibilidad El poderoso centrocampista aguantó una frustrante campaña 2012-13 con el Manchester City. Toure vio a su equipo terminar 11 puntos detrás de su vecino, el United, en la Premier League, perder la final de la FA Cup contra el Wigan y no avanzar más allá de la fase de grupos en la Liga de Campeones.
Mesut Ozil (Arsenal y Alemania) Clasificación de CNN: Sin posibilidad Özil ha deleitado a los seguidores del Arsenal ya que el intercambio de Real Madrid a Londres en agosto, pero las necesidades alemanas para llevar a los Gunners a la gloria si es que quiere luchar por los honores individuales.
Eden Hazard (Chelsea y Bélgica) Clasificación de CNN: Sin posibilidad Ayudar a Chelsea a ganar la Europa League 2013, la competición de clubes de segundo nivel de Europa, no será suficiente para ver peligro en el funcionamiento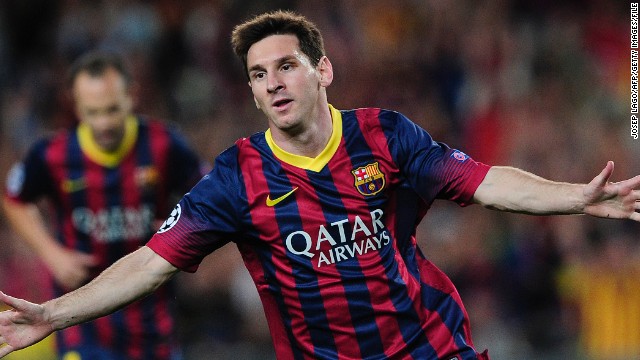 Nominados al Balón de Oro 2013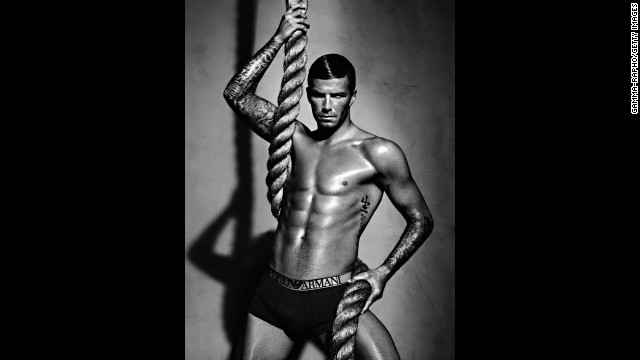 David Beckham is a man of many talents. Not only is he one of the most famous names in sports, but he's also one heck of a model. Tommy Hilfiger has now recognized the 38-year-old former soccer player as the No. 1 underwear model of the century. It's just one of several career highs for Beckham, seen here modeling Emporio Armani underwear in a 2009-2010 ad campaign.
Beckham makes his England debut at a World Cup qualifying match against Moldova in 1996.
Beckham celebrates his goal against Colombia in the 1998 World Cup.
As a player on Manchester United, Beckham cools down during the FA Charity Shield match against Arsenal in 1998.
At the 1998 World Cup, in a second-round match against Argentina, Beckham was sent off for kicking out at Diego Simeone. England lost the match on penalties and was eliminated, with Beckham becoming a hate figure for some fans.
Beckham poses after a news conference in Awaji-shima Island, Japan, in 2002.
Beckham poses with Beyonce, left, and Jennifer Lopez in Madrid during a presentation of the new Pepsi "Samourai" in 2004.
Beckham acts as England's captain during the 2004 European Championships in Portugal.
Beckham waves after a La Liga match between Real Madrid and Deportivo La Coruna in 2007.
The midfielder celebrates with his sons in 2007 after Real Madrid won the Spanish League title by beating Mallorca.
Beckham makes an appearance to promote his fragrance "David Beckham Intimately Night" in Sydney in 2007.
Beckham reveals his new No. 32 jersey after his loan move to AC Milan in 2008.
Beckham controls the ball during a 2010 World Cup qualifier.
Beckham, during his time with the Los Angeles Galaxy, walks toward the line judge to have a chat during Game 1 of the MLS Western Conference semifinals in 2009.
Beckham arrives at Sydney International Airport in 2010.
David and his wife, Victoria, arrive at the wedding of Prince William and Kate Middleton at Westminster Abbey in 2011.
The Beckhams attend the Vanity Fair Oscar Party in West Hollywood, California, in 2012.
Beckham celebrated his second MLS Cup in December 2012 when he decided to leave with a year left on his contract and seek one final challenge in Europe.
Beckham passes under London's Tower Bridge in a speedboat carrying the Olympic Torch in 2012.
Beckham poses with Paris Saint-Germain President Nasser Al-Khelaifi, left, and PSG sports director Leonardo during a news conference announcing his new gig in January 2013.
Beckham waves after PSG played Brest in his final home match in May. Beckham had signed on with the team just a few months prior to his retirement.
Beckham and his daughter, Harper, make their way through a crowd in New York in February. Harper, Beckham's fourth child, was born in 2011.
Since retiring from soccer, Beckham has tried his hand at acting. It was announced in March that he will appear in a special edition of the UK classic sitcom, "Only Fools and Horses," to raise money for a good cause.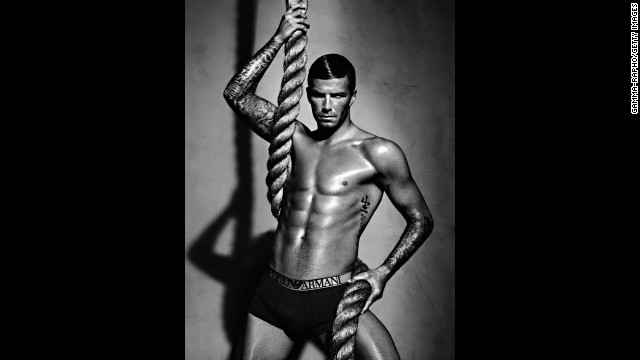 David Beckham through the years
That dictum is especially crucial if your sporting figure isn't particularly effusive at the outset -- as the relationship between the two grows so does the material.
"With the Adams book (the process) took about 18 months," Ridley said.
"Don't forget this was in the days before the Internet, which meant research was a lot more time consuming. Initially we did three months of interviews -- about 40 hours of tape."
Lessen outside influences
Obviously, the publisher is king in the process but Ridley says it is important to keep their influence -- and pressure -- to a minimum.
"I have never been under pressure from a publisher and I have never extended a deadline," he said.
"As a journalist you are used to meeting deadlines and of course you don't get paid until you deliver the manuscript.
"I have never been told how to structure a book, though in the editing process they might come back and say we need more of this and we would have a discussion about that."
Any publicity is good publicity
That old adage rings true even more than ever in the instant digital world of today.
Despite huge chunks of Ferguson's books being reproduced -- much to the chagrin of his ghostwriter Paul Hayward -- it helped get the juicier bits of the text out in front of the public.
"You get worried they are ignoring the depth of the book," Ridley says. "Such is the difficulty of selling books. But any publicity is good publicity.
"There isn't the bravery or the courage anymore in publishing especially with anything that isn't mainstream."
Drown out the detractors
Any autobiography worth its weight is bound to offend someone or other -- the more the better in terms of publicity -- but it is important the author sticks to his guns.
Ridley's book on Adams contained a plethora of sensational snippets from the footballer''s life, not all of them savory and saccharine.
When the proofs were sent to David Dein -- then former vice-president of Adams' club Arsenal -- he was deeply unhappy says Ridley and was worried it painted the club in a bad light.
But after pointing out the consequences to Dein of attempting to gag Adams, Ridley saw the ex-Arsenal vice-president's attitude completely change upon the book's publication.
"When the book was released Dein came over to me with a smile on his face and said it was flying off the shelves in the club shop. He was delighted."
Get it serialized
For guns, read books. I was introduced to a middle man who ran the merchandise to printers in Lithuania
Author Ian Ridley
Any self respecting autobiography must be trailed in a leading national newspaper to ensure maximum coverage ahead of its release.
Not only does this help to prick the nation's consciousness it can provide some valuable income in a world where the digital market is shredding the publishing industry slowly and steadily.
Serialization deals sometimes outweigh the advance for a book thanks to a lot of big names releasing books than turned out to be big duds.
"The publishing industry is in a mess in terms of the digital revolution, especially selling books in hard cover and paperback," Ridley said.
"Publishers have been burnt by ordinary sports books that were so dull, but that huge sums had been paid for. Now advances are very poor and you get what you can for serialization rights."
Press the flesh
Despite smashing UK sales records by selling 115,547 in its first week of release and making £1.4 million ($2.24m), Ferguson is still hitting the road for a series of speaking events to promote his autobiography.
All but one of the six dates dotted around the UK have sold out and cost £40 a ticket, which includes a signed copy of the book that is currently retailing at £25 ($40).
Not only does this help with sales but it also helps to keep Ferguson and his book in the public eye, with many newspapers -- both regional and national -- covering the events.
Embrace the digital revolution
These days social media plays a huge role in the promotion of sports books with Twitter and Facebook campaigns an integral part of any launch.
As part of Beckham's media blitz the public were invited to a 'global book signing' via the former Los Angeles Galaxy star's Facebook page, whch has 30.5 million 'likes.'.
Fans from across the globe were able to get a personalized digital autograph on e-books from Beckham, during a session that included a question and answer section.
"I always like innovative and original ideas," said Beckham. "What has been created is ambitious but it should be a fantastic event.
"I love the interaction with my fans, but not only will I be able to do this in London, I will be able to sign for them in locations across the world."
Be determined
An extension of 'drowning out the detractors' includes a commitment to getting the book out on the streets in the first place.
When Ridley and Halsey lost a publishing deal they determined to print it themselves -- in Lithuania.
There followed three months of under-the-radar work that felt like the plot of a spy novel," Ridley said. "For guns, read books. I was introduced to a middle man who ran the merchandise to printers in Lithuania."
But the hard work has been worth it with Halsey's book garnering bags of column inches in the media and plenty of publicity.
Ian Ridley is the author of Mark Halsey's autobiography Added Time: Surviving Cancer, Death Threats and the Premier League.