STORY HIGHLIGHTS
American Dan Gaspar is part of the coaching team for the Iran football team
Gaspar is a friend of Carlos Queiroz, the Portuguese head coach of Iran
The Portuguese-American has worked in the MLS and with the Portugal team
Gaspar was part of the coaching team which qualified for the 2014 World Cup
Tehran (CNN) -- His wife advised him not to go. His friends said it was too dangerous. But in 2011 veteran American football coach Dan Gaspar ignored the warnings and traveled to the Islamic Republic of Iran -- Washington's longtime political nemesis -- to help Iran's national football team qualify for the 2014 World Cup in Brazil.
"Sports is my life," said Gaspar. "When I came to Iran it didn't have anything to do with political reasons. My personality is one of adventure and curiosity. I wanted to experience a culture in a part of the world I had never been to."
The goalkeeping coach's journey to Iran is the latest chapter in an international career that's taken the 58-year-old from the amateur football leagues in the U.S. state of Connecticut -- where he was born -- to the football capitals of the world.
The Portuguese-American's resume includes stints with Major League Soccer's NY/NJ MetroStars and the Portuguese national team -- featuring megastar Cristiano Ronaldo -- which qualified for the 2010 World Cup.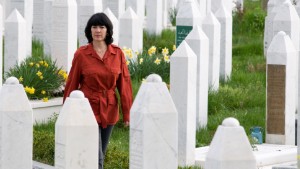 A victory for the dreamers in Bosnia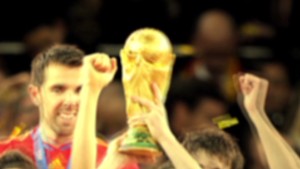 FIFA World Cup Trophy takes off
Read: World Cup joy for Bosnia
In 2011, Gaspar's friend and former colleague Carlos Queiroz was named head of coach of Iran's national football team. Soon after, Queiroz invited Gaspar to join the coaching staff in Iran.
At the time, the Iranian government was locked in a bitter political feud with Washington. Iran regularly called the U.S. "The Great Satan".
U.S. politicians frequently described Iran as a rogue nation led by a radical regime, secretly building a nuclear bomb.
When discussing Washington's conflict with Tehran, U.S. President Barack Obama said that "all options are on the table", suggesting an attack against Iran was not out of the question.
Despite the ominous climate Gaspar accepted the offer -- a decision his wife wasn't quite comfortable with.
"She was shocked," Gaspar said. "She was concerned as most family members were."
Gaspar admits he had concerns too.
"When we first arrived, we didn't know how to behave and how to react," he said.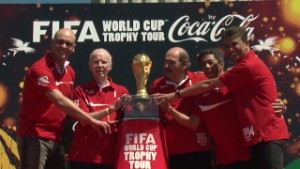 The business behind the World Cup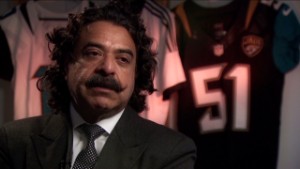 Moving the 2022 Qatar World Cup
Read: Beckham 'passionate' about MLS franchise
During his first few months Gaspar didn't socialize much and rarely left his apartment, except for trips to football practice.
But Gaspar says he steadily started feeling comfortable.
He says he learned his impressions of Iran, created mostly by the media, didn't quite match reality.
"When you listen to the news and you read the news, you see things. Sometimes during commercials I step off my couch and look out of the balcony and it's not what I am seeing, it's not what I am reading, it's not what I am hearing."
Gaspar says what he has observed during his stay in Iran is a nation full of generous people who love their country, their food and their football team.
One of his most memorable moments was meeting former Iranian President Mahmoud Ahmadinejad.
"He walked on to the pitch and asked everyone to sit down, and then he himself sat down on the grass," Gaspar said. "I thought it was interesting how he put himself on the same level as everyone else. At the end of the day -- I saw him as another human being."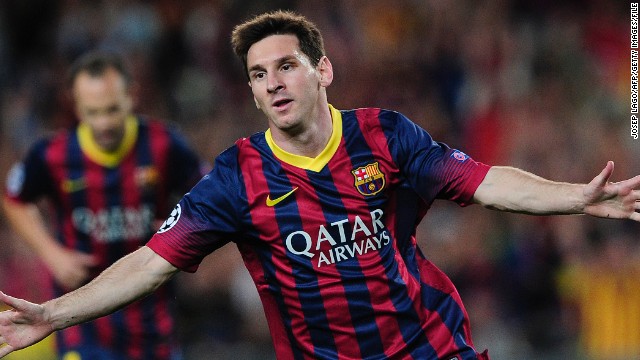 Lionel Messi (Barcelona & Argentina) CNN rating: Contender Can anyone dethrone Messi? The Argentine has lifted the prize in each of the last four years and once again starred for Barcelona during the 2012-13 season as they romped to the Spanish title, scoring 46 goals during a victorious La Liga campaign.
Cristiano Ronaldo (Real Madrid & Portugal) CNN rating: Contender Ronaldo is bidding to win the award for the second time in his career and, although Real finished a distant second to Barca in La Liga and failed to win any silverware last season, the Portuguese's class ensures he is always a contender for top honors.
Zlatan Ibrahimovic (Paris Saint-Germain & Sweden) CNN rating: Contender Since arriving in Paris, the mercurial Sweden striker has become a symbol of PSG's new elite status. Ibrahimovic finished as the top goalscorer in France as PSG secured the league title. His penchant for scoring jaw-dropping goals, and his often outspoken approach, has made him a cult figure among football fans the world over.
Franck Ribery (Bayern Munich & France) CNN rating: Contender The 2012-13 season was the finest of Ribery's career to date, with the Frenchman one of the key players in a Bayern team which won the European Champions League, the Bundesliga and the German Cup. A number of Bayern players would be worthy recipients of the accolade, with Ribery's craft and guile making him a standout candidate.
Arjen Robben (Bayern Munich & Netherlands) CNN rating: Contender The Dutch winger finally managed to shake off his tag as a player who chokes on the big stage by scoring a last-minute winner against Borussia Dortmund to crown Bayern champions of Europe. For this alone, Robben is in contention.
Philipp Lahm (Bayern Munich & Germany) CNN rating: Contender Lahm was captain of the Bayern team which swept all before it last season. The Ballon d'Or would be testament to the German's calm, composed leadership of a team which etched its name in history.
Thomas Muller (Bayern Munich & Germany) CNN rating: Contender The Bayern youth academy graduate has forged a reputation as one of the world's most clinical finishers. Muller will hope to add the Ballon d'Or to the Golden Boot he won at the 2010 World Cup in South Africa.
Bastian Schweinsteiger (Bayern Munich & Germany) CNN rating: Longshot Bastian Schweinsteiger has long been a rock at the base of the Bayern midfield, but the playmaker looks likely to be outshone by his attacking teammates.
Manuel Neuer (Bayern Munich & Germany) CNN rating: Longshot Neuer's class is unquestionable, however no goalkeeper has ever won the award. Neuer's contributions during the 2012-13 campaign, which included a standout performance in the Champions League final against Dortmund, will not be enough to lift him above Messi, Ronaldo et al in the final ballot.
Robert Lewandowski (Borussia Dortmund & Poland) CNN rating: Longshot The Polish striker was the spearhead of a Dortmund team which won plenty of admirers during its run to the Champions League final. Lewandowski's four-goal demolition of Real Madrid in the semifinals was a display of ruthless finishing, but he looks set to miss out in 2013.
Andres Iniesta (Barcelona & Spain) CNN rating: Longshot Iniesta's pedigree and talent makes him one of the finest players on the planet, but the midfielder will likely suffer as a result of Barcelona's crushing defeat at the hands of Bayern in the Champions League semifinals.
Gareth Bale (Real Madrid & Wales) CNN rating: Longshot The world's most expensive player enjoyed the best season of his career so far with Tottenham Hotspur, prompting a money-spinning move to Real Madrid. The Welshman will likely miss out, however, having not played in Europe's top club competition last season.
Edinson Cavani (Paris Saint-Germain & Uruguay) CNN rating: No chance Cavani is one of the world's most talented goalscorers with PSG forking out a reported $88 million to snare the Uruguayan away from Napoli last July. Time will tell whether a spell with one of Europe's top clubs will see Cavani challenging for major international honors in the future.
Neymar (Barcelona & Brazil) CNN rating: No chance Neymar's goal in the recent El Clasico match between Barca and Real Madrid showed he is starting to settle in European football. A World Cup win in his homeland with Brazil could see Neymar mount a convincing challegne for the 2014 award.
Xavi (Barcelona & Spain) CNN rating: No chance Xavi's list of accomplishments in the game, a World Cup winner, three Champions League triumphs and two European Championships, means he will always be regarded as an all-time great. Regrettably, at 33, the midfielder is battling persistent injury problems.
Luis Suarez (Liverpool & Uruguay) CNN rating: No chance Suarez's talent means he warrants a place on any list of the world's best footballers. Unfortunately his temperament often gets in the way. The Uruguayan has received lengthy bans for racism offenses and biting opponents.
Andrea Pirlo (Juventus & Italy) CNN rating: No chance A refined midfielder who oozes class, Pirlo would be a surprise winner after a campaign which saw Juve win the Italian title but fail to advance beyond the quarterfinals of the Champions League.
Thiago Silva (Paris Saint-Germain & Brazil) CNN rating: No chance The defender led Brazil to Confederations Cup success in 2013. If he can repeat the feat as captain of his country at next year's World Cup, he won't be far away from the 2014 honor.
Robin van Persie (Manchester United & Netherlands) CNN rating: No chance The Dutchman's goals propelled United to the Premier League title in convincing fashion, but the Old Trafford club's failings in Europe meant he struggled to make an impact on the continent.
Yaya Toure (Manchester City & Ivory Coast) CNN rating: No chance The powerful midfielder endured a frustrating 2012-13 campaign with Manchester City. Toure saw his team finish 11 points behind neighbors United in the Premier League, lose the FA Cup final to lowly Wigan and fail to advance past the group stage of the Champions League.
Radamel Falcao (Monaco & Colombia) CNN rating: No chance Falcao's goalscoring prowess helped Atletico Madrid to a Copa del Rey triumph and a place in this season's Champions League. A prolific campaign with Monaco and a good World Cup with Colombia would raise the forward's profile.
Mesut Ozil (Arsenal & Germany) CNN rating: No chance Ozil has delighted Arsenal fans since swapping Real Madrid for London in August, but the German needs to lead the Gunners to glory if he is to challenge for individual honors.
Eden Hazard (Chelsea & Belgium) CNN rating: No chance Helping Chelsea win the 2013 Europa League, Europe's second-tier club competition, won't be enough to see Hazard in the running.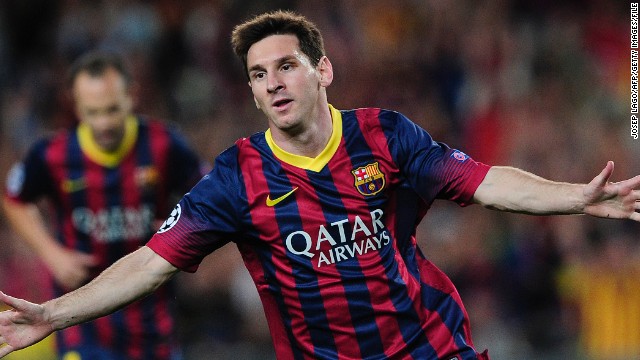 2013 Ballon d'Or nominees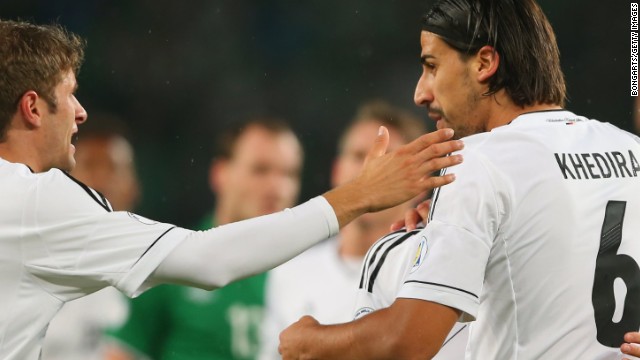 Sami Khedira gave Germany an early lead against the Republic of Ireland as they booked their passage to the 2014 World Cup finals.
Romelu Lukaku scored both Belgium's goals in the 2-1 away win over Croatia which ensured their qualification for Brazil 2014.
Switzerland's Michael Lang scored the crucial second goal in their 2-1 win in Albania to clinch qualification for football's global showcase.
Ukraine's Andriy Yarmolenko celebrates his crucial goal as they beat Poland 1-0 in Kharkiv to keep alive their hopes of qualification from Group H.
Wayne Rooney made the much needed breakthrough for England against Montenegro at Wembley as they remained top of Group H with a 4-1 victory.
Alexander Samedov was on target for Russia as they boosted their qualification hopes with a 4-0 victory against minnows Luxembourg.
Robin van Persie scored a hat-trick in an 8-1 thrashing of Hungary by his Dutch team who have topped Group D.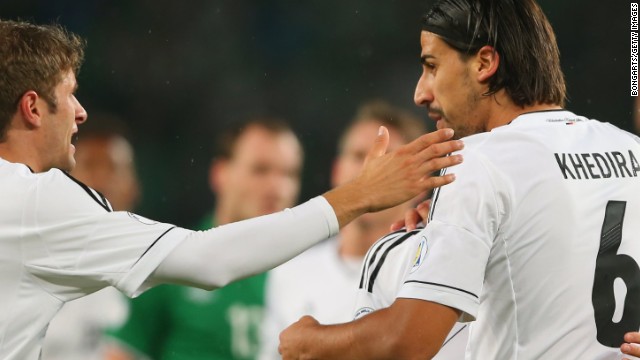 World Cup winners and losers
Read: CSKA Moscow hit with racism sanction
In recent months, Gaspar's stay in Iran has coincided with a push by Tehran to improve relations with Washington, as moderate President Hassan Rouhani tries to settle Iran's nuclear dispute with the west.
"Right now more than ever there seems to be a lot of hope and optimism and a sense of energy that things will get better," says Gaspar. "For me I believe in peace, and, if peace is an end result, then that's best for the world."
But the highlight of Gaspar's Iranian adventure came on the night of June 18, when Iran's national football team recorded a 1-0 win over South Korea to qualify for the World Cup for only the fourth time.
The win sparked frenzied celebrations on the field and in the streets of Tehran.
"There were a lot of tears, a lot of hugging. You can't describe it. Only a few privileged people have the opportunity to climb the mountain and go to the big dance in Brazil in 2014."
Gaspar says his only disappointment that night was not being able to share the win with his wife and family back in America.
His contract in Iran runs through World Cup in Brazil next June and July. He says his focus is to help Iran impress at the tournament and then return to America with some remarkable memories.
"If I would've listened to the experts, and my friends, and family, I would have never been here in Iran. It's been part of my life for three years and the memories will last a lifetime."