Edward Snowden gets website job in Russia, lawyer says
November 1, 2013 -- Updated 0151 GMT (0951 HKT)
STORY HIGHLIGHTS
NEW: A German lawmaker meets with Snowden and invites him to testify before parliament
Snowden to start job Friday with major Russian website, one of his lawyers says
Lawyer declines to name site, citing security concerns
Russia gave asylum to Snowden in August after he leaked info about U.S. spy programs
Moscow (CNN) -- Weeks after getting asylum in Russia, Edward Snowden now has a job there, one of his lawyers says.
Snowden, the U.S. national security contractor turned leaker, will start a job Friday with a major Russian website, his attorney Anatoly Kucherena told CNN Thursday.
Kucherena declined to name the employer for security reasons. He told Russian state-run news agency RIA Novosti that Snowden would perform maintenance for the site.
Europe falls out of love with Obama over NSA spying claims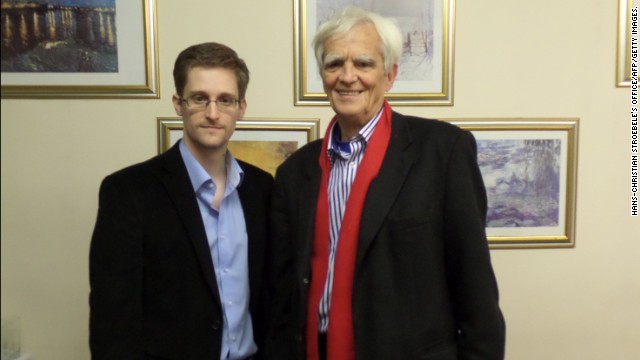 National Security Agency leaker Edward Snowden poses with German Green party parliamentarian Hans-Christian Stroebele in Moscow on October 31. Stroebele returned from the meeting with a letter from Snowden to German authorities, which was distributed to the media. In it, Snowden said he is confident that with international support, the United States would abandon its efforts to "treat dissent as defection" and "criminalize political speech with felony charges."
Snowden's refugee document granted by Russia is seen during a news conference in Moscow on August 1. Snowden slipped quietly out of the airport after securing temporary asylum in Russia, ending more than a month in limbo.
Sen. Charles Schumer, D-New York, leaves a last-minute news conference at the U.S. Capitol after Russia announced that it would grant Snowden temporary asylum on August 1. "Russia has stabbed us in the back, and each day that Mr. Snowden is allowed to roam free is another twist of the knife," he said.
Snowden's father, Lon Snowden, who has adamantly supported his son, talks to reporters in Washington on Tuesday, July 30. He has urged his son to remain in Russia "until we have assurances that he would receive a fair trial."
Demonstrators in Berlin hold a protest march on Saturday, July 27, in support of Snowden and WikiLeaks document provider Bradley Manning. Both men have been portrayed as traitors and whistle-blowers. Manning was acquitted on July 30 on the most serious charge of aiding the enemy, but he was convicted on several other counts and likely faces a lengthy term in a military prison.
Russian lawyer Anatoly Kucherena, center, speaks with journalists at the Sheremetyevo International Airport in Moscow after meeting with Snowden on Wednesday, July 24. Kucherena said he was in daily contact with Russian authorities about securing permission for Snowden to leave the airport.
Snowden meets with human rights activists and lawyers on July 12 in a transit zone of the Russian airport. It was his first public appearance since he left Hong Kong on June 23. He announced that he was seeking refuge Russia while awaiting safe passage to Latin America, where he has been offered asylum.
Russian President Vladimir Putin attends a meeting in Prokhorovka on July 12. Russian officials said Snowden abandoned his effort to seek asylum in the country after Putin warned that he would have to stop leaking information about U.S. surveillance programs if he wanted to stay.
A woman burns American flags during a protest in support of Bolivian President Evo Morales in front of the U.S. embassy in Mexico City on July 4. Leftist Latin American leaders and activists were fuming after some European nations temporarily refused Morales' plane access to their airspace amid suspicions Snowden was aboard.
Bolivian President Evo Morales holds a news conference at the Vienna International Airport on July 3. He angrily denied any wrongdoing after his plane was diverted to Vienna and said that Bolivia is willing to give asylum to Snowden, as "fair protest" after four European countries restricted his plane from flying back from Moscow to La Paz.
Umbrellas with slogans are lined up before a protest march to the U.S. consulate in Hong Kong on June 15. Snowden was hiding in Hong Kong, where he arrived on May 20 before blowing the lid off the NSA surveillance operation.
Protesters in Hong Kong shout slogans in support of Snowden on June 13. The NSA leaker vowed to fight any bid to extradite him from Hong Kong.
Graffiti sympathetic to Snowden is stenciled on the sidewalk in San Francisco on June 11.
An American flag flutters in front of the U.S. consulate in Hong Kong on June 10.
Snowden outs himself on June 9 in the British newspaper The Guardian, which published details of his revelations about the NSA electronic surveillance programs. "I have no intention of hiding who I am because I know I have done nothing wrong," he said in a video interview.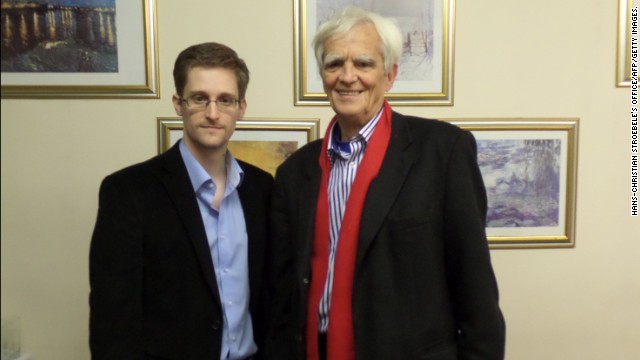 Photos: NSA leaker Edward Snowden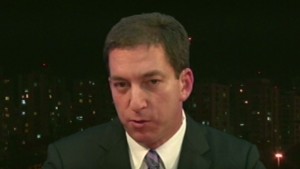 Glenn Greenwald on NSA spying on allies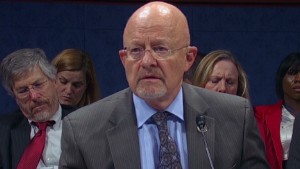 Intel directors: Snowden is a traitor
Snowden, a 30-year-old former government information technology contractor, collected information on spy programs -- in which the National Security Agency mined phone and Internet metadata from thousands of people inside and outside of the United States -- and exposed the programs to the media.
Anticipating legal consequences, he fled to Hong Kong in late May and flew on June 23 to Moscow, where he holed up at the airport for more than five weeks.
U.S. authorities have charged him with espionage and theft of government property.
After Russia granted him an asylum term of one year on August 1, he left the airport.
As Snowden got ready to start his new job, he was also meeting Thursday with a German lawmaker who visited him in Russia.
Hans-Christian Stroebele, a well-known leftist legislator in Germany, met with Snowden in Moscow to invite him to testify before the German parliament.
According to Stroebele's website, during their meeting, Snowden gave him a letter addressed to the German parliament and to the country's attorney general.
Stroebele, a member of the Green party, tweeted a picture of himself with Snowden and said he would hold a news conference Friday to provide details about the letter's contents.
The meeting comes amid outrage among many German leaders over claims that an NSA surveillance operation targeted German Chancellor Angela Merkel's cell phone.
Germany's Der Spiegel news magazine first reported the alleged operation, citing documents leaked by Snowden.
Stroebele sits on a parliamentary committee that monitors intelligence agencies.
Spying on allies - everyone does it
CNN's Diana Magnay and Stefan Simons contributed to this report.