Japan yakuza and banks: Mobster connections?
November 1, 2013 -- Updated 0803 GMT (1603 HKT)
STORY HIGHLIGHTS
Three of Japan's largest banks are under scrutiny for making loans to underworld groups
Mizuho has punished 54 executives loans to people affiliated with the yakuza, the Japanese mafia
Expert: "Yakuza have been tremendously successful because they can work out in the open"
Tokyo (CNN) -- As Japanese authorities widen their investigation into ties between financial institutions and organized crime, an investigative reporter says the current allegations have left with a sense of "déjà vu."
"In 2004, Citibank (Japan) lost their private banking license because they were allowing yakuza to do many complex transactions," Jake Adelstein, author of "Tokyo Vice" and an expert on Japan's mafia -- known as the yakuza -- told CNN. "They got spanked in 2009 for failing to update their databases and allowing yakuza to do business with them again.
The Financial Services Agency (FSA), the country's financial regulator, will send inspectors to Japan's three largest banks -- Mizuho Bank, Tokyo Mitsubishi UFJ Bank and Sumitomo Mitsui Bank -- to "review over their corporate governance, legal compliance and overall risk management," said Hiroki Kato, director of the Inspection Bureau of the FSA. The on-site inspections are scheduled to begin next week.
All three banks declined to comment on the review when contacted by CNN.
Ties to gangs
Mizuho has already come under scrutiny after 54 executives, including the bank's president, were punished after it was revealed an affiliate made more than $2 million in loans to people with ties to organized crime.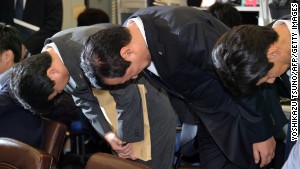 Mizuho Financial Group chief executive Yasuhiro Sato apologizing for loans to gangsters in Tokyo on October 28.
Yakuza is the name given to Japan's organized crime syndicates. Adelstein -- the only American who has worked a crime beat for the Yomiuri Shimbun, Japan's largest newspaper -- has called them "Goldman Sachs with guns" because of the financial prowess and sometimes brutal means.
"The yakuza have been tremendously successful because they can work out in the open," Adelstein told CNN. "They have business cards, they have office buildings. People know who they are -- they have fan magazines and they have a lot of money."
Strict code
Members are said to follow a strict code of discipline -- and often sport full body tattoos. The biggest and wealthiest yakuza gang -- the Yamaguchi-gumi -- is said to number nearly 40,000 members. Robert Feldman of Morgan Stanley Japan once called the Yamaguichi-gumi "Japan's largest private equity group."
Belonging to a yakuza gang itself is not a crime. But members are known to engage in drugs, prostitution and gambling. After recent crackdowns by Japanese authorities, yakuza are making more strides into white-collar crime, experts say.
"So if you have a lot of money and a lot of information and you can use blackmail and extortion to do insider trading it can make quite a tremendous financial force," Adelstein said. "Yakuza have tremendous political connections and they have a lot of information to blackmail people."

Part of complete coverage on
September 17, 2014 -- Updated 1239 GMT (2039 HKT)

Sean Connery says "yes," whilst David Beckham says "no." See what the famous are saying about Scotland's referendum.
September 17, 2014 -- Updated 1710 GMT (0110 HKT)

On September 18, Scots go to the polls to vote on the future of their country. Here's what you should know.
September 17, 2014 -- Updated 1720 GMT (0120 HKT)

This is "Flames of War," a slick and ominous new video from the ISIS media center.
September 16, 2014 -- Updated 1903 GMT (0303 HKT)

For years, Morten Storm moved between two worlds. A radical Islamist turned double agent is lifting the lid on some of the world's best-kept secrets.
September 17, 2014 -- Updated 0038 GMT (0838 HKT)

A man abducted alongside killed U.S. journalist Steven Sotloff tells CNN that no one from the U.S. government has tried to talk with him.
September 17, 2014 -- Updated 1508 GMT (2308 HKT)

Mulatu Astatke is the founding father of ethio-jazz: a fusion of Ethiopian music with western jazz.
September 17, 2014 -- Updated 1311 GMT (2111 HKT)

Have you been to these? The global museum list, released Tuesday, ranks 25 of the world's best museums.
September 17, 2014 -- Updated 1703 GMT (0103 HKT)

iOS 8, the latest version of Apple's mobile operating system, comes with new features that you'll enjoy.
September 16, 2014 -- Updated 1253 GMT (2053 HKT)

The Ebola virus, very deadly and currently without a cure, is fast-spreading throughout the small West African country.
September 17, 2014 -- Updated 1213 GMT (2013 HKT)

It's a surfer's paradise -- but Diah Rahayu is out on her own when it comes to professional women's wave-riding in Bali.
September 17, 2014 -- Updated 1004 GMT (1804 HKT)

Each day, CNN brings you an image capturing a moment to remember, defining the present in our changing world.

Browse through images from CNN teams around the world that you don't always see on news reports.

Today's five most popular stories