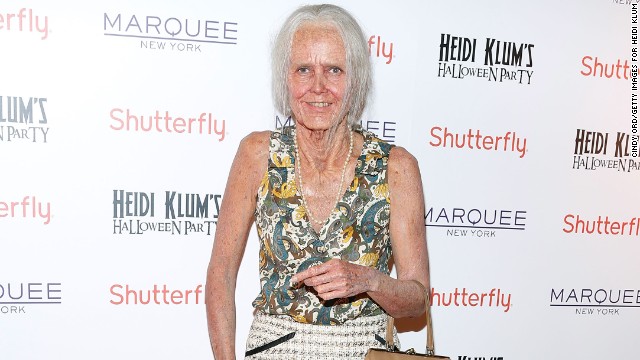 Heidi Klum may have won Halloween this year. The "Project Runway" host attended her 14th Annual Halloween Party in New York City dressed as an elderly version of herself and she nailed it. Here are some other celebs who got into the spirit.
Kelly Ripa, second from left, channeled a really good Miley Cyrus here with, from left, Art Moore, Michael Strahan and Michael Gelman at the "LIVE With Kelly and Michael: Best Halloween Show Ever in New York.
Jimmy Kimmel got his guys on the Halloween episode of his late night show "Jimmy Kimmel Live" to dress as Disney princesses. His Snow White was on point.
Talk show host and former "Real Housewives of New York" cast member Bethenny Frankel attended Heidi Klum's party as Marilyn Monroe.
Demi Lovato was a bloody mess as a zombie at her Halloween party in West Hollywood, California.
"Today's" Matt Lauer clearly places no limits on what he'll do for the morning news program. For Halloween 2013, he dressed up as Pamela Anderson from "Baywatch."
"Today's" Savannah Guthrie and Natalie Morales transformed into classic TV characters Laverne and Shirley for Halloween 2013.
Another "Today" show pair, Kathie Lee Gifford and Hoda Kotb, went retro -- like, "Flintstones" retro, as Wilma and Betty -- for Halloween 2013.
Perhaps Ellen DeGeneres was really impressed with Miley Cyrus' costume for Halloween 2012. In 2013, the talk show host decided that she, too, wanted to dress up as Nicki Minaj.
Miley Cyrus, meanwhile, has moved on from Minaj. For 2013, she settled on a memorable outfit from rapper Lil Kim's closet.
decided to dress up as
"a character whose sex appeal is always ignored ... sexy R2D2!" He even accessorized with a pumpkin Darth Vader.
For Halloween 2013, "Glee's" Chris Colfer (left)
Nicole Richie
channeled the '80s Danny DeVito classic "Twins" for her 2013 Halloween costume.
Lance Bass rounded up some outrageously dressed friends
to rock out at a Halloween bash as Garth from "Wayne's World."
Naya Rivera
headed? To a Halloween party as a sexy Carmen Sandiego, obviously.
Where in the world was
"Jersey Shore" BFFs Jennie "JWoww" Farley and Nicole "Snooki" Polizzi at least have a sense of humor about their misadventures. The pair went as Tweedledee and Tweedledum to an October 25 Halloween shindig.
Kelly Osbourne surely drove onlookers "Mad" when she dressed up as screen siren Christina Hendricks for an E! Halloween special.
Cindy Crawford, left, and Rande Gerber grooved at an October 25 Halloween party as Slash and Axl Rose.
Larry David must adore his Halloween party companion to agree to a two-headed costume.
John Stamos was feeling devilish at an October 25 Halloween party.
Just in case George Clooney doesn't know what he's missing, Elisabetta Canalis donned a Wonder Woman costume for an October 25 event.
Count on Tim Allen to represent for his home team, even while in costume.
Ryan Seacrest is such a busy guy, we don't blame him for wanting to disappear for a night as a "Phantom of the Opera."
when she shared this photo
, but it's just her Halloween costume.
Chelsea Handler might've made her Twitter followers take a pregnant pause
Paris Hilton, never one to miss out on a trend, went as Miley Cyrus for Halloween 2013.
Hugh Hefner gave Paris Hilton a run for her money, though. He and his wife, Crystal Harris, twerked a little harder on their MTV VMAs-inspired costumes.
David Arquette gets into the Halloween spirit on October 26.
That's not "The Voice's" Christina Aguilera and CeeLo Green after a little surgery. That's actually Kelly Ripa and her morning show co-host, Michael Strahan, in some very convincing costumes.
Clearly, Scott Disick is a dead ringer for Christian Bale in "American Psycho," which was his costume for a 2012 Halloween event. We're not sure if that's a good or bad thing, but there you have it.
went as one of our favorite BFF pairs
, Daria Morgendorffer and Jane Lane, for Halloween in 2012.
Katy Perry and her pal Shannon Woodward
Only Kate Moss, accompanied by husband Jamie Hince in 2012, could make horror looks so haute.
Kanye West and Kim Kardashian had so much fun dressing up for Halloween last year, they stepped out in two different costumes. First, Kanye was the sailor to Kim K.'s mermaid at the 2012 Midori Green party in New York City. Then...
... On October 31, 2012, the couple traded their seafaring costumes for capes and leather at a Halloween party in Miami.
Believe it or not, that's Amber Rose under that wig and top hat. The model masqueraded as Slash at Heidi Klum's 2011 Halloween party.
In 2011, Chrissy Teigen hopped aboard the child beauty queen costume trend for Heidi Klum's annual bash.
Heidi Klum and Seal's costumes for the supermodel's annual Halloween parties have become legendary. They're no longer together, but we consider this get-up one of their masterpieces.
That's not a "Monster High" character come to life, but "90210's" Shenae Grimes certainly could've fooled us. The actress went as Frankie Stein for Matthew Morrison's Halloween party in 2012.
was our fairy godmother, like she pretended to be at the Hub Network's first Halloween party in October 2013.
We can't be the only ones who secretly wish that Martha Stewart really
Beyonce buzzes about as a "Queen Bee" (get it?) in New York City on October 31, 2011.
If there were a costume contest for cutest mother-kid pair, Sandra Bullock and her son Louis would consistently be in it to win it. In 2012, mom Bullock dressed up as Jessie the Yodeling Cowgirl from the "Toy Story" films while her son went as Buzz Lightyear.
The geeks that play together, stay together. Married couple of 13 years Harrison Ford and Calista Flockhart tried on less glamorous personas for Halloween 2012.
What should a super-well-known pop singer and super-athlete dress up as for Halloween? In 2012, One Direction's Liam Payne and Olympic diver Tom Daley went with portraying a pair of super-foes -- or at least we think. Payne's Batman is pretty obvious, while Daley appears to have dressed as a hybrid of The Penguin and a skeleton.
Gwen Stefani didn't have to speak for people to understand that her 2012 costume was a bloodied Sandy from "Grease." Those high-waisted black pants say it all.
Aziz Ansari looked a little lost when he dressed up as Thomas the Tank Engine in 2012.
Don't know about you, but we've heard that Rose McGowan was a total ice queen at a Halloween 2012 party.
We always assumed that we wouldn't like Dwayne "The Rock" Johnson when he's angry, but he proved it for Halloween 2012.
We'd be more worried about whether Patton Oswalt's Doctor Octopus costume was scary to kids if it wasn't so awesome.
Soak it in, folks: This is probably the only time you'll see Sean "P. Diddy" Combs wearing guyliner. (His Prince costume wouldn't work without it, obviously.)
Halloween in Hollywood: Best celeb costumes
Halloween in Hollywood: Best celeb costumes
Halloween in Hollywood: Best celeb costumes
Halloween in Hollywood: Best celeb costumes
Halloween in Hollywood: Best celeb costumes
Halloween in Hollywood: Best celeb costumes
Halloween in Hollywood: Best celeb costumes
Halloween in Hollywood: Best celeb costumes
Halloween in Hollywood: Best celeb costumes
Halloween in Hollywood: Best celeb costumes
Halloween in Hollywood: Best celeb costumes
Halloween in Hollywood: Best celeb costumes
Halloween in Hollywood: Best celeb costumes
Halloween in Hollywood: Best celeb costumes
Halloween in Hollywood: Best celeb costumes
Halloween in Hollywood: Best celeb costumes
Halloween in Hollywood: Best celeb costumes
Halloween in Hollywood: Best celeb costumes
Halloween in Hollywood: Best celeb costumes
Halloween in Hollywood: Best celeb costumes
Halloween in Hollywood: Best celeb costumes
Halloween in Hollywood: Best celeb costumes
Halloween in Hollywood: Best celeb costumes
Halloween in Hollywood: Best celeb costumes
Halloween in Hollywood: Best celeb costumes
Halloween in Hollywood: Best celeb costumes
Halloween in Hollywood: Best celeb costumes
Halloween in Hollywood: Best celeb costumes
Halloween in Hollywood: Best celeb costumes
Halloween in Hollywood: Best celeb costumes
Halloween in Hollywood: Best celeb costumes
Halloween in Hollywood: Best celeb costumes
Halloween in Hollywood: Best celeb costumes
Halloween in Hollywood: Best celeb costumes
Halloween in Hollywood: Best celeb costumes
Halloween in Hollywood: Best celeb costumes
Halloween in Hollywood: Best celeb costumes
Halloween in Hollywood: Best celeb costumes
Halloween in Hollywood: Best celeb costumes
Halloween in Hollywood: Best celeb costumes
Halloween in Hollywood: Best celeb costumes
Halloween in Hollywood: Best celeb costumes
Halloween in Hollywood: Best celeb costumes
Halloween in Hollywood: Best celeb costumes
Halloween in Hollywood: Best celeb costumes
Halloween in Hollywood: Best celeb costumes
Halloween in Hollywood: Best celeb costumes
Halloween in Hollywood: Best celeb costumes
Halloween in Hollywood: Best celeb costumes
Halloween in Hollywood: Best celeb costumes
Halloween in Hollywood: Best celeb costumes
Halloween in Hollywood: Best celeb costumes