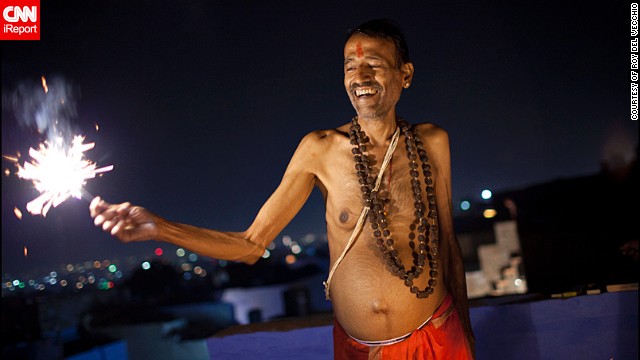 Roy del Vecchio from the Netherlands was traveling through India during Diwali. "I love India and wanted to experience the festival once in Rajasthan.
This man invited me for sweets
, a tradition during Diwali, and together with his sons we lit some fireworks on the rooftop," said the 39-year-old.
huge motorcade
in the capital Georgetown. This photo, featuring one of the sparkling vehicles, was captured in 2009 by Guyana native Amanda Richards. She said: "Spectators line the route and wait for hours to see the parade pass by. It is now a tourist attraction and also a family outing for thousands of people."
Each year Guyana's 200,000 strong Hindu population celebrate Diwali with a
swastika made of marigold flowers
at the campus the prestigious business school XLRI in Jamshedpur. "The celebration of Diwali is symbolized as the victory of good over evil, and refers to the light of higher knowledge dispelling all ignorance," said the 32-year-old.
Despite the Nazis' attempt to hijack the swastika it was, and remains, a celebrated ancient Asian symbol representing good and peace. Samarjit Mazumdar from Bangalore, India, captured this beautiful
bronze diyas
, waiting to have their cotton strip wicks lit, belong to 27-year-old Instagrammer Hrishikesh Deshmukh from Mumbai, India. He said it is a tradition to light the diyas at night: "Diwali is the festival of lights and it looks very beautiful."
During Diwali various lights and candles are lit to commemorate the legend of the return of the Hindu god Rama to his kingdom after 14 years in exile. These beautiful
Bridgwater Carnival
, which is one of the largest illuminated carnivals in Europe. "The carts have been limited to the total length, height and width to make sure they fit down our narrow roads. They can have up to 10,000 light bulbs on them. It is free to attend but people collect money which is then distributed among the local charities," said Keith Gough, 46, who took this photo.
This spectacular Diwali themed float illuminated the British town of North Petherton during the annual Guy Fawkes celebrations. It is part of the
work in Indian films as actors
. Celebrations have always been a part of our day to day life and Diwali has been important to us since our childhood," said the 21-year-old Bollywood actress.
This Diwali family portrait features Uttharaa Unni (left), her sister Samyuktha Varma and their mother Urmila Unni. "The three of us
Instagrammer Vincent Paul JR
a few days ago during his lunch break at a shopping mall in Kuala Lumpur, Malaysia. The 27-year-old, who teaches English at the local university, was raised as a Catholic but converted to Hinduism a few years ago. "The lamps comply to the Hindu belief that light is a form of the divine. Rangoli is a symbol of welcome, Indians drew them on their doorsteps to invite all sorts good energy into their homes during special occasions. The rangoli is made out of edible colored rice which serves the purpose of feeding inferior beings such as rats, pigeons and ants as a form of good deed (Dharma) in the Hindu tradition," he said.
The vibrant colors of the Diwali lanterns and a rangoli was captured by avid
People in India love to burn crackers
, and this picture is made using a cracker," he said.
The young man standing in the center of this sparkling circle of light is Adarsh Charanpahari from Patna, a city in north east India. The 17-year-old amateur photographer took this photo of himself last year on the roof terrace of his home. "I used a tripod and set the camera in self timer mode. It's not difficult to create a sparkling ring, it just requires good knowledge of photography and some special tricks.
Serangoon Road in Singapore
. "The area is affectionately known to locals as "Little India" and it consists of stalls selling clothes, lamps, flowers, home accessories, food delicacies, anything that a believer could need for the Diwali celebrations and a fresh start to the new year," said John Liow Ye Tsun. "I'm Christian by faith so while I don't celebrate Diwali personally, a large number of my friends are Hindu and it's through their invitations that I understand this tradition, and get to experience a slice of the celebration," said the 40-year-old.
This beautiful photo captures the hustle and bustle of the bazaars along
This photo was taken during Diwali in 2011 when 17-year-old Kapil Gurnani and his brother decided to ditch the fire crackers for lanterns. "My brother said that this is a way of enjoying Diwali with lights in a more peaceful way. We were up till late in the night lighting them. The lanterns kept flying in the air for hours, it was a very beautiful sight," said the student from Silvassa, in western India.
"These kandeels, as these paper lanterns are called in Hindi, were displayed outside a shop in Mulund, a suburb in Mumbai," said Tripthi Battapadi. "I was walking with a friend, when I noticed this display of light and colors and I paused to capture it on my phone. Usually, the lanterns are hung outside windows in the city during Diwali," added the 21-year-old graduate student.
triumph of good over evil
," said 29-year-old Brittany Ashie from Toronto, Canada.
This photo was taken in a makeshift tent outside of the Dixie Gurdwara temple in Mississauga Ontario, Canada. "I learned of Diwali three years ago when I met my boyfriend, Happy, whose family are Sikhs originally from the state of Punjab in India. These candles and diyas were lit and added by people of all ages celebrating Diwali. The burning of the oil and wax is to signify the
Uttar Pradesh, India
. "This year I will celebrate Diwali with my family and friends, starting with puja (a religious ritual), and lighting lamps all around as Diwali is festivals of lights," said the 28-year-old.
Last year Devender Kumar and his colleagues decided to celebrate Diwali on the rooftop of their office building in
giant Diya symbol
in her hometown of New Delhi, India. "I took it at Select Citywalk, a mall in New Delhi which was decorated beautifully for the festival season. The Diya is a symbol of light and thus prosperity during this auspicious festival of Diwal in India," said the 26-year-old.
Malliqa Luthra decided to take this photo of a
Rooftop celebrations
Guyana's motorcade brigade
Reclaiming the swastika
Before the light
Diwali lights in Britain
Family portrait
Inner glow
Keeping the faith
Ring of fire
Little India
Peaceful Diwali lights
Kandeels of India
Canadian candles of good
Office party New Delhi style
Symbol of light