STORY HIGHLIGHTS
Arsenal leads EPL by five points after beating title rival Liverpool 2-0 Saturday
Second-placed Chelsea suffers surprise defeat by same score at Newcastle
Manchester City up to fourth place after thrashing Norwich 7-0
Stoke goalkeeper scores after just 13 seconds against Southampton
(CNN) -- The last time Arsenal led the English Premier League by as much as five points, it was February 2008.
So it's no surprise that Arsene Wenger, whose last silverware came three years before that, is not getting carried away.
The veteran manager knows, after all, that a few days is a long time in football.
On Tuesday his team lost 2-0 to Chelsea in the League Cup, which many trumpeted as a sign that Jose Mourinho's side had taken the ascendancy and would be the dominant force this season.
But on Saturday Mourinho's men crashed 2-0 to Newcastle, which had lost to the EPL's bottom side Sunderland the previous weekend, and Arsenal earned a five-point lead at the top with a comprehensive win by the same score against another title hopeful, Liverpool.
Arsenal's pre-season target Luis Suarez and fellow in-form striker Daniel Sturridge barely had a look-in for Liverpool, which had scored 12 goals in the past four games.
Santi Cazorla volleyed a 19th-minute opener after his header hit the post, and Aaron Ramsey joined Sturridge on 10 goals in all competitions just before the hour mark when the Wales midfielder was given time to shoot from outside the penalty area.
"I am always confident, but of course there is a long way to go," Wenger said. "Today was an important win for the team.
"It was vital to win, I said that before the game and I don't change my mind, because had we not won people would say 'Yes, Arsenal at home they cannot win the big games.'
"The Chelsea game was an important game but not of the importance of today's game. But still, it was a disappointment and it was important to respond today, to convince people that we can win these big games.
"We had a good solidarity, a good focus, and I believe we have plenty of other big games coming up and this will help us deal well with them."
On Wednesday, the Gunners will travel to Germany to face Borussia Dortmund in a match which will have a big bearing on the London club's hopes of progressing to the knockout stage of the Champions League.
"Who would have said that Chelsea would lose today at Newcastle after Tuesday night? But that's the Premier League and it's down to consistency," Wenger said.
"We are consistent since the first of January 2013, with the same group (of players). We have shown since our massive blip against Aston Villa (at the start of this season) that we have been very consistent. We have 10 games, 25 points."
While Wenger appears calm, Mourinho admitted to being worried after the Newcastle defeat left his Chelsea side in second place, above Liverpool on goal difference.
"I'm angry because I don't understand it," said the former Real Madrid manager, who won two EPL titles in his first season at the London club. "Of course I am worried, and I read in previous years it happened the same.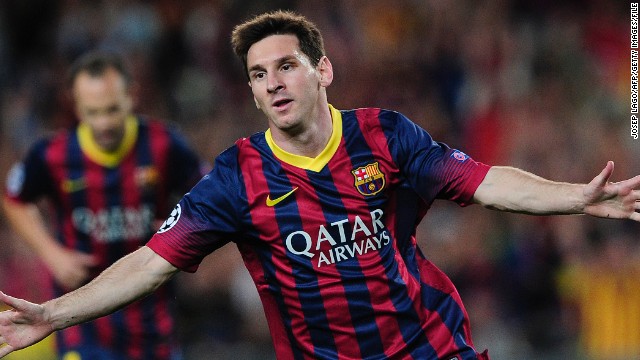 Lionel Messi (Barcelona & Argentina) CNN rating: Contender Can anyone dethrone Messi? The Argentine has lifted the prize in each of the last four years and once again starred for Barcelona during the 2012-13 season as they romped to the Spanish title, scoring 46 goals during a victorious La Liga campaign.
Cristiano Ronaldo (Real Madrid & Portugal) CNN rating: Contender Ronaldo is bidding to win the award for the second time in his career and, although Real finished a distant second to Barca in La Liga and failed to win any silverware last season, the Portuguese's class ensures he is always a contender for top honors.
Zlatan Ibrahimovic (Paris Saint-Germain & Sweden) CNN rating: Contender Since arriving in Paris, the mercurial Sweden striker has become a symbol of PSG's new elite status. Ibrahimovic finished as the top goalscorer in France as PSG secured the league title. His penchant for scoring jaw-dropping goals, and his often outspoken approach, has made him a cult figure among football fans the world over.
Franck Ribery (Bayern Munich & France) CNN rating: Contender The 2012-13 season was the finest of Ribery's career to date, with the Frenchman one of the key players in a Bayern team which won the European Champions League, the Bundesliga and the German Cup. A number of Bayern players would be worthy recipients of the accolade, with Ribery's craft and guile making him a standout candidate.
Arjen Robben (Bayern Munich & Netherlands) CNN rating: Contender The Dutch winger finally managed to shake off his tag as a player who chokes on the big stage by scoring a last-minute winner against Borussia Dortmund to crown Bayern champions of Europe. For this alone, Robben is in contention.
Philipp Lahm (Bayern Munich & Germany) CNN rating: Contender Lahm was captain of the Bayern team which swept all before it last season. The Ballon d'Or would be testament to the German's calm, composed leadership of a team which etched its name in history.
Thomas Muller (Bayern Munich & Germany) CNN rating: Contender The Bayern youth academy graduate has forged a reputation as one of the world's most clinical finishers. Muller will hope to add the Ballon d'Or to the Golden Boot he won at the 2010 World Cup in South Africa.
Bastian Schweinsteiger (Bayern Munich & Germany) CNN rating: Longshot Bastian Schweinsteiger has long been a rock at the base of the Bayern midfield, but the playmaker looks likely to be outshone by his attacking teammates.
Manuel Neuer (Bayern Munich & Germany) CNN rating: Longshot Neuer's class is unquestionable, however no goalkeeper has ever won the award. Neuer's contributions during the 2012-13 campaign, which included a standout performance in the Champions League final against Dortmund, will not be enough to lift him above Messi, Ronaldo et al in the final ballot.
Robert Lewandowski (Borussia Dortmund & Poland) CNN rating: Longshot The Polish striker was the spearhead of a Dortmund team which won plenty of admirers during its run to the Champions League final. Lewandowski's four-goal demolition of Real Madrid in the semifinals was a display of ruthless finishing, but he looks set to miss out in 2013.
Andres Iniesta (Barcelona & Spain) CNN rating: Longshot Iniesta's pedigree and talent makes him one of the finest players on the planet, but the midfielder will likely suffer as a result of Barcelona's crushing defeat at the hands of Bayern in the Champions League semifinals.
Gareth Bale (Real Madrid & Wales) CNN rating: Longshot The world's most expensive player enjoyed the best season of his career so far with Tottenham Hotspur, prompting a money-spinning move to Real Madrid. The Welshman will likely miss out, however, having not played in Europe's top club competition last season.
Edinson Cavani (Paris Saint-Germain & Uruguay) CNN rating: No chance Cavani is one of the world's most talented goalscorers with PSG forking out a reported $88 million to snare the Uruguayan away from Napoli last July. Time will tell whether a spell with one of Europe's top clubs will see Cavani challenging for major international honors in the future.
Neymar (Barcelona & Brazil) CNN rating: No chance Neymar's goal in the recent El Clasico match between Barca and Real Madrid showed he is starting to settle in European football. A World Cup win in his homeland with Brazil could see Neymar mount a convincing challegne for the 2014 award.
Xavi (Barcelona & Spain) CNN rating: No chance Xavi's list of accomplishments in the game, a World Cup winner, three Champions League triumphs and two European Championships, means he will always be regarded as an all-time great. Regrettably, at 33, the midfielder is battling persistent injury problems.
Luis Suarez (Liverpool & Uruguay) CNN rating: No chance Suarez's talent means he warrants a place on any list of the world's best footballers. Unfortunately his temperament often gets in the way. The Uruguayan has received lengthy bans for racism offenses and biting opponents.
Andrea Pirlo (Juventus & Italy) CNN rating: No chance A refined midfielder who oozes class, Pirlo would be a surprise winner after a campaign which saw Juve win the Italian title but fail to advance beyond the quarterfinals of the Champions League.
Thiago Silva (Paris Saint-Germain & Brazil) CNN rating: No chance The defender led Brazil to Confederations Cup success in 2013. If he can repeat the feat as captain of his country at next year's World Cup, he won't be far away from the 2014 honor.
Robin van Persie (Manchester United & Netherlands) CNN rating: No chance The Dutchman's goals propelled United to the Premier League title in convincing fashion, but the Old Trafford club's failings in Europe meant he struggled to make an impact on the continent.
Yaya Toure (Manchester City & Ivory Coast) CNN rating: No chance The powerful midfielder endured a frustrating 2012-13 campaign with Manchester City. Toure saw his team finish 11 points behind neighbors United in the Premier League, lose the FA Cup final to lowly Wigan and fail to advance past the group stage of the Champions League.
Radamel Falcao (Monaco & Colombia) CNN rating: No chance Falcao's goalscoring prowess helped Atletico Madrid to a Copa del Rey triumph and a place in this season's Champions League. A prolific campaign with Monaco and a good World Cup with Colombia would raise the forward's profile.
Mesut Ozil (Arsenal & Germany) CNN rating: No chance Ozil has delighted Arsenal fans since swapping Real Madrid for London in August, but the German needs to lead the Gunners to glory if he is to challenge for individual honors.
Eden Hazard (Chelsea & Belgium) CNN rating: No chance Helping Chelsea win the 2013 Europa League, Europe's second-tier club competition, won't be enough to see Hazard in the running.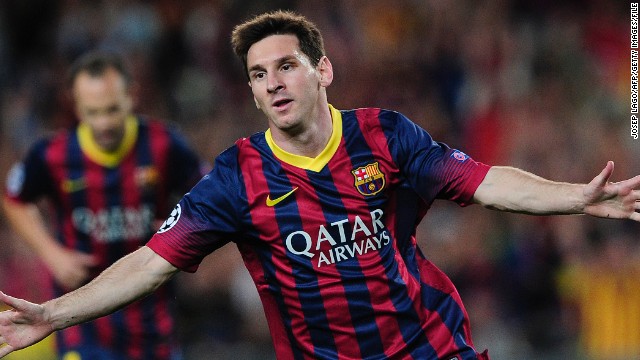 2013 Ballon d'Or nominees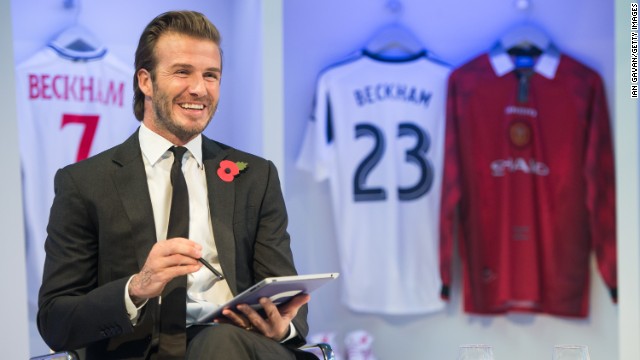 David Beckham's latest autobiography was launched via a 'global book signing' that was streamed on Facebook to entice the 30.5 million people who 'like' his page to shell out for a copy. It showcased how important social media is becoming in helping to promote new releases.
Beckham offered a personalized autograph for e-book buyers across the globe from Brazil to Bermuda in his question and answer session in London.
Alex Ferguson's book sold 115,547 copies in the first week of release, a UK record that made a cool £1.4 million.
Ferguson's tome garnered a wave of press coverage as he put the boot into former Manchester United greats like David Beckham and Roy Keane. It was the hottest topic in football when it was released.
Sweden striker Zlatan Ibrahimovic recently updated his autobiography which was true to his supremely confident manner. The Paris Saint-Germain star constantly refers to himself in the third person and throws out lines like: "An injured Zlatan is a properly serious thing for any team."
Author Ian Ridley was ghostwriter for the full and frank autobiography of former Arsenal and England captain Tony Adams -- 'Addicted' -- in which he detailed his battle with alcohol. The book made national headline news and went on to sell over a million copies.
Ridley's most recent project was ghostwriting former English Premier League referee Mark Halsey's autobiography 'Added Time: Surviving Cancer, Death Threats and the Premier League.' The pair had it printed in Lithuania after their intial publishing deal fell through.
QPR manager Harry Redknapp criticized England manager Roy Hodgson in his autobiography and also revealed about his wife Sandra: "We've been married 46 years and I always say she was my best signing."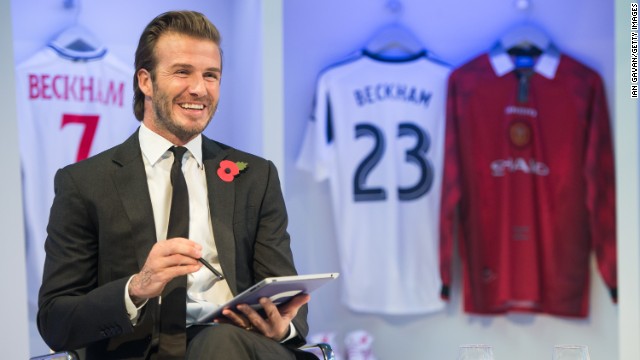 The perfect pitch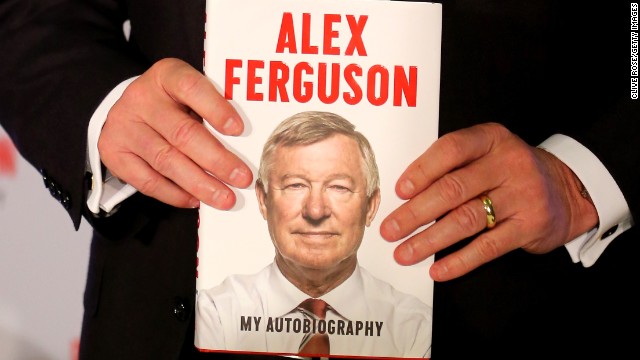 Just what did former Manchester United manager Alex Ferguson think about Wayne Rooney, Roy Keane, David Beckham and Cristiano Ronaldo? Read on......
England striker Wayne Rooney joined Manchester United from Everton in 2004. "Wayne Rooney is a slow learner and he struggles to stay fit," says Ferguson of the England international in his autobiography.
Roy Keane played for Manchester United between 1993 and 2005, but the Republic of Ireland midfielder fell out spectacularly with the Old Trafford manager after he criticized his teammates on the club's television channel. "What I noticed about him that day as I was arguing with him was that his eyes started to narrow, almost to wee black beads. It was frightening to watch. And I'm from Glasgow," writes Ferguson.
There is no mention of David Beckham's wife Victoria -- Posh Spice -- in the chapter of the book that Ferguson devotes to the player. "The big problem for me ... he fell in love with Victoria and that changed everything," said Ferguson in his press conference to promote the book.
In 2011 Manchester United defender Patrice Evra complained he had been racially abused by Liverpool striker Luis Suarez, who was subsequently handed an eight-match ban by the English Football Association. "Liverpool wore those T-shirts supporting Suarez, which I thought was the most ridiculous thing for a club of Liverpool's stature," writes Ferguson.
"In all the times I'm asked I find it impossible to definitely say which is the better player -- Cristiano Ronaldo or Lionel Messi -- because to relegate either to second place would feel wrong," writes Ferguson.
"Messi has something magical about him when the ball touches his feet," writes Ferguson. "It's as if it's landed on a bed of feathers. His low sense of gravity is devastating."
Ferguson says he was twice asked to manage England. "It wasn't a bed of nails I was ever tempted to lie on," writes the former Manchester United manager.
Sven-Goran Eriksson took charge of the England team between 2001 and 2006. "I remember asking Paul Scholes one day: 'Scholesy, what's Eriksson got?' but Scholesy could shed no light."
Ferguson is full of praise for Chelsea manager Jose Mourinho, who is now in his second spell at Stamford Bridge. "Jose was one of those guys on a surfboard who can stay longer on the wave than anyone else," says the Scot.
Sergio Aguero's stoppage-time goal in a 3-2 win against Queens Park Rangers ensured Manchester City won the 2011-2012 English Premier League title. "We were champions for 30 seconds," writes Ferguson. "When our whistle blew -- against Sunderland -- we were champions. In fairness to our players, they knew they had ballsed it up. There were no excuses."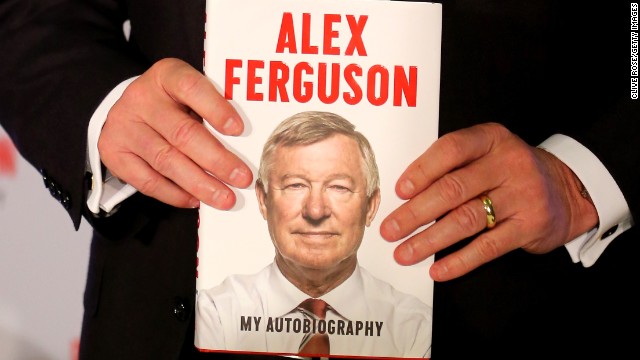 Alex Ferguson's book: 10 things not to miss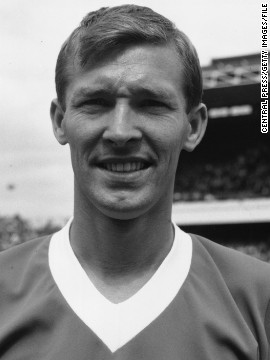 As a player, Alex Ferguson enjoyed a moderately successful career. A prolific striker, he scored 170 goals in 317 appearances including 25 goals in 41 appearances for Glasgow Rangers.
Ferguson was appointed manager of Aberdeen in 1978. In addition to three Scottish First Division titles, Ferguson guided the club to an impressive triumph over Real Madrid in the 1983 European Cup Winners' Cup.
Ferguson was assistant to Scotland coach Jock Stein during the qualifying campaign for the 1986 World Cup. Scotland secured a 1-1 draw against Wales in their final game to reach the tournament, but Stein collapsed and died following the final whistle in Cardiff.
A late winner from substitute Mark Robbins in an FA Cup replay against Nottingham Forest in January 1990 allegedly spared Ferguson the sack. United went on to beat Crystal Palace at the second attempt in the final, giving Ferguson his first trophy at Old Trafford.
The Scot originally planned to retire from management at the end of the 2001-02 season. But, after helping the team recover from a slip in form which saw them drop as low as ninth in the Premier League table, Ferguson reversed his decision in February 2002 and signed a new three-year contract.
A boot flew into the face of Manchester United's star midfielder David Beckham after Ferguson lost his temper following a 2-0 FA Cup defeat to Arsenal in February 2003. Beckham had to be held back following the incident and he joined Real Madrid ahead of the following season.
Ferguson's finest hour arrived in Barcelona in May 1999, when his United team came from 1-0 down in the 90th minute to beat Bayern Munich 2-1 in the European Champions League final. The win completed an historic treble of titles won during the 1998-99 season, which included the Premier League title and the FA Cup.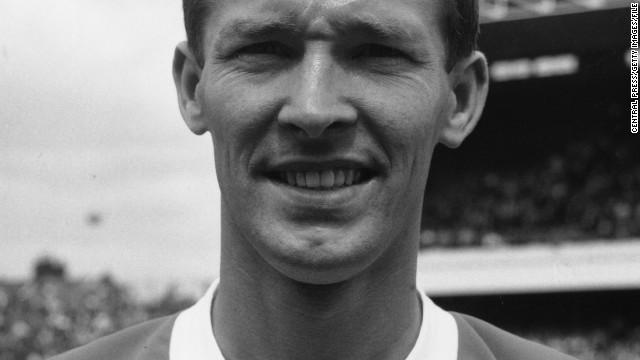 The seven moments which define Alex Ferguson
"Chelsea were successful in cup competitions but not successful in the Premier League. Last year in December, they were not in the race for the title because they were already 20 points behind."
Mourinho made nine changes to his team, and complained: "I made 11 mistakes. I should have picked another 11 and not this one."
While the Portuguese coach's fortunes may have momentarily dipped, those of the Manchester clubs soared this weekend.
Defending champion Manchester United won 3-1 at Fulham, the fourth victory in a row in all competitions for under-pressure manager David Moyes -- who saw Antonio Valencia, Robin van Persie and Wayne Rooney score in the first half as his side stayed eighth.
Manchester City moved up to fourth -- six points behind Arsenal -- with a 7-0 thrashing of third-bottom Norwich, having lost at Chelsea last Sunday.
England goalkeeper Joe Hart was dropped following his costly blunder at the end of that match, and his Romanian replacement Costel Pantilimon has now kept two clean sheets following the midweek League Cup win at Newcastle.
Sergio Aguero's eighth league goal this season moved the Argentina striker to the top of the scoring charts alongside Sturridge, while Yaya Toure hit his fifth, Alvaro Negredo his fourth and Edin Dzeko his third among seven individual scorers.
Stoke goalkeeper Asmir Begovic was also a notable name on the scoresheets after his wind-assisted effort deceived Southampton counterpart Artur Boruc after just 13 seconds.
The Bosnia international became the fifth keeper to hit the target since the EPL began in 1992, while Jay Rodriguez's equalizer left Saints in fifth place, behind City on goal difference.
"As a manager that is the first time I've had to experience a moment as unlucky as that," said Southampton's Mauricio Pochettino.
"I don't blame him at all. I think it had more to do with the weather conditions.
"He didn't apologize for anything because he didn't have to. The wind was changing gusts completely all the time and it is a ground which is open on three sides, which makes it even more windy."
West Brom moved up to 11th with a 2-0 win that dropped Crystal Palace to the bottom of the table, despite nine-man Sunderland losing 1-0 at 10th-placed Hull.
West Ham drew 0-0 with Aston Villa in Saturday's other match.