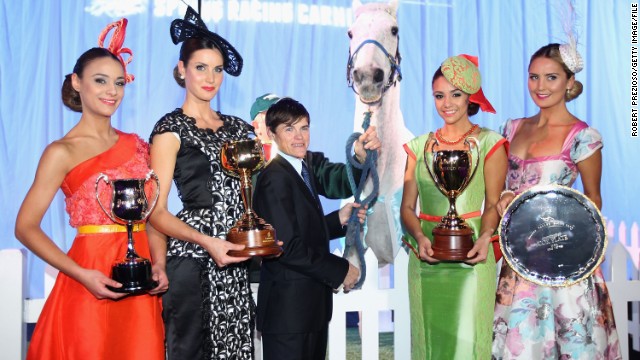 What is it about Australia and celebrity horses? Introducing Subzero -- the horse that once outshone pop singer Kylie Minogue...
Winner of the Melbourne Cup in 1992, 'Subbie' has become synonymous among households across Australia because of his charity work.
Each year, he is rolled out for the launch of the prestigious Melbourne Cup (with owner Graham Salisbury in red), which takes place in November, despite his advancing years and some recent ill health.
Subzero has been roped into all manner of photo opportunities, including this one in September of this month with Premier of Victoria Denis Napthine to mark 150 years of the Victoria Racing Club next year.
Subzero was trained to his big successes, notably the '92 Melbourne Cup, by legendary trainer Lee Freedman, who agreed his sale to Salisbury for a mere AUS $1.
Over the years, 'Subbie' has been ridden by all and sundry including well-known Australian actor Hugh Jackman, star of such films as Wolverine and Les Miserables.
Even diva Minogue admitted the wonder horse had upstaged her in a photoshoot.
Subzero also once ate one of the hats of Australian socialite Lillian Frank, which cost $570, although it is not entirely clear whether it was this particular creation.
Ex-Australia Prime Minister Kevin Rudd even intervened to keep Subzero alive after vital medication for the horse was refused entry into the country by customs officials.
Subzero: An Australian treasure
Prick up your ears
Red carpet treatment
Photogenic
Where it all started
Thespian
"I could be so lucky"
A diet of hay, carrots and hats
Political heavyweight
STORY HIGHLIGHTS
Australia's equine star Subzero still celebrated 21 years after Melbourne Cup win
'Subbie' has raised an estimated $10.4 million for various charities during his 'retirement'
Ex-Aussie Prime Minister Kevin Rudd's intervention saved his life back in 2009
Hugh Jackman and Kylie Minogue among celebrities to be upstaged by him
(CNN) -- He has been ridden by pop star Kylie Minogue, actor Hugh Jackman has performed cabaret on him in a casino and he had his life saved by the last Australian Prime Minister.
Meet Australian equine superstar Subzero.
'Subbie', as he is affectionately known, initially entered the Australian psyche when he was first past the post in the Melbourne Cup, the race that stops a nation 21 years ago, his last ever outing.
As only the fifth grey horse to win one of horse racing's most prestigious races and the first since World War II, he was instantly a hit.
But his celebrity status has very much come in retirement, much of it down to his myriad of public appearances from TV shows to schools and charity events. In all he has raised an estimated $10.4 million for charity during the past two decades.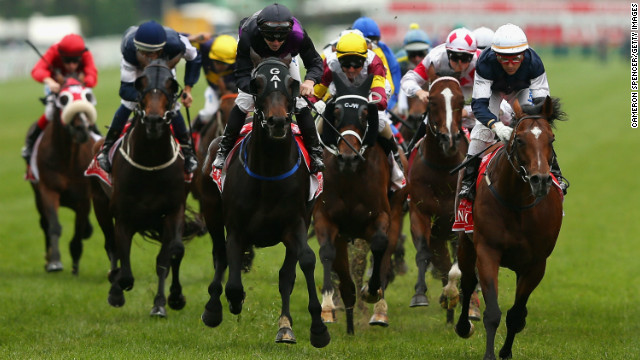 Brett Prebble riding Green Moon crosses the finish line to win the 2012 Melbourne Cup. The six-year-old Bay Stallion is owned by Australian businessman Lloyd Williams who now has four Cup wins. Green Moon defeated the Gai Waterhouse-trained Fiorente, with Jakkalberry third.
Brett Prebble riding Green Moon celebrates as he returns to the scales after winning the coveted Cup.
Green Moon seen contesting the Melbourne Cup at Flemington Racecourse. On the first Tuesday of November, millions of Australians drop whatever they're doing to watch the Melbourne Cup, an annual race that dates back to 1861. It's for horses over three years old and attracts some of the best racehorses in the world.
Prince Charles, Prince of Wales greets a racegoer on Melbourne Cup Day at Flemington Racecourse on November 6, 2012.
Camilla, Duchess of Cornwall and Prince Charles, Prince of Wales are in Australia on the second leg of a Diamond Jubilee Tour taking in Papua New Guinea, Australia and New Zealand.
Racegoers in the members area study the form on Melbourne Cup Day. Twenty-four horses will charge around the 3200 meter track for a total prize pool of $6 million and Australian fame and glory.
Entrants line up for the "Fashion on the Field" competition, which typically attracts more than 1,100 male and female "clothes horses." Competitors are judged on originality, accessories and their understanding of current trends. Prizes include a Lexus convertible.
A racegoer watches the horses in the parade ring on Melbourne Cup Day on November 6, 2012. There's a public holiday in the state of Victoria each year on race day. Huge crowds go to the track while others hold parties at home and in restaurants, bars and clubs.
Crowds watch on from under umbrellas as rain starts to fall during 2012 Melbourne Cup Day. The day is a mix of formal attire featuring creative hats and comical outfits.
These racegoers toast the day ahead of the main race. Ten races are being run throughout the day, over varying distances.
Horses jump from the barrier in the Lavazza Long Black during 2012 Melbourne Cup Day at Flemington Racecourse on November 6, 2012.
This is what they're all competing for: The Melbourne Cup. It's shown here during the annual Melbourne Cup Parade through the city on November 5.
Children dressed as jockeys take a break before the parade starts on November 5, 2012 in Melbourne, Australia.
Track riders head out for a trackwork session ahead of the big day,on November 5, Melbourne, Australia.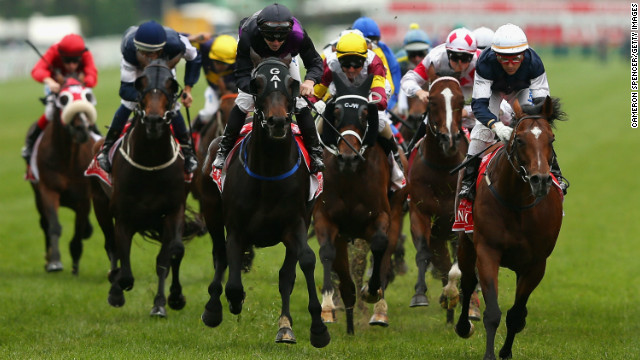 Australia stops for Melbourne Cup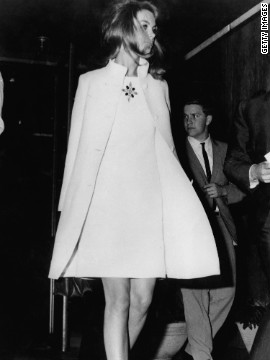 British model Jean Shrimpton caused a huge uproar after arrving at the Melbourne Cup Carnival in 1965 wearing a minidress five inches above the knees, with no stockings, gloves or hat.
London designer Colin Rolfe created the short, shoulderless dress after being given a limited amount of material by textile manufactuer DuPont.
For the first time since the inaugural race in 1861, the winning horse was knocked off newspaper front pages in favour of Shrimpton's legs.
Silence descended on the Flemington members' lounge as Shrimpton and Hollywood actor boyfriend Terence Stamp (pictured) marched in two hours late.
DuPont employed a local milliner, Adele Chapeaux of South Yarra, to create a hat for Shrimpton's next appearances. The model complied -- for one day.
Margaret Woods was the winner of the first Melbourne Cup Carnival "Fashions on the Field" competition in 1962. The top prize was a Ford Falcon Futura car.
Just three years after Shrimpton caused a stir, finalists in the 1968 "Fashions on the Field" competition can be seen wearing dresses well above the knee.
The 2011 "Fashions on the Field" winner Angela Menz (center) with finalists Alex Foxcroft and Louise Struber.
Competitors are judged on their originality, accessories, understanding of current fashion trends and deportment, with prizes in 2012 including a Lexus IS 250C F Sport convertible.
Actors Eva Longoria, right, and Ronn Moss attend the 2005 carnival. International celebrity guests are now a regular feature at the $6.2 million horse race.
Actress Kate Bosworth chats to jockey Chris Munce at the 2006 carnival. The mild Australian climate means punters aren't obliged to wear jackets and gloves.
"Sex and the City" star Sarah Jessica Parker at last year's carnival, alongside cricketer Shane Warne and actress Liz Hurley.
"Fashions on the Field" celebrated its 50th anniversary in 2012, with "O.C" star Mischa Barton one of the announced guests.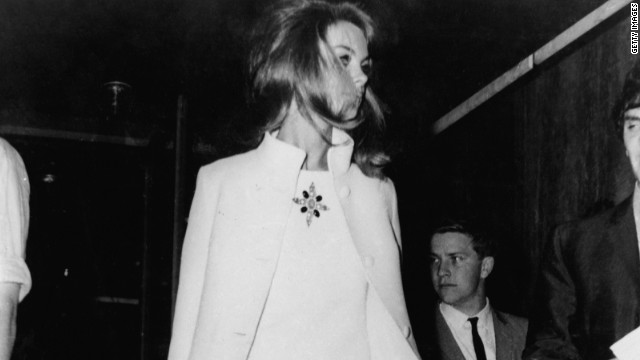 The legs that stopped a nation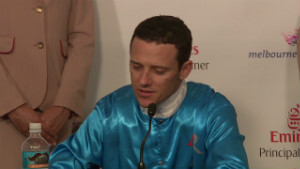 Green Moon wins Melbourne Cup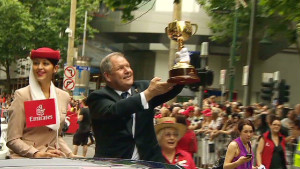 The race that stops a nation
With the exception of Black Caviar, mention some of the most famous Australian horses to their countrymen, names such as Carbine, Tulloch or Phar Lap, and non-racegoers will stare at you blankly.
Mention Subzero, and the recognition is immediate.
For those 21 years of retirement, he has been owned by Melbourne Cup clerk of the course Graham Salisbury, and once more the prestigious grey will be paraded at Flemington Racecourse in front of his adoring public when the 2013 version of the classic race takes place on Tuesday.
"People love him because he's a grey and that's obviously a rarity, then there's the Melbourne Cup win but then there's the fact he's such a character, he's so likeable," Salisbury told CNN.
"Basically, he's everyone's mate; he's the people's horse. He's an absolute hero in Australia."
That wasn't always the case. Ironically for such a tame beast, he used to be an edgy horse but Salisbury spent a year with him gaining his trust, and making him comfortable with the public.
Read: Black Cavair statue unveiled
That teaching involved 'Subbie' being blindfolded and Salisbury, laden with a bucket of carrots, calling for him to come to him.
That trust was quickly built up and his owner admits he will follow him anywhere, however bizarre. And there have been some bizarre locations, from a lift at the prestigious Crown Casino to an airplane.
He is so relaxed around the Salisburys, he even takes part in family meals... on occasion.
"He's got his own three-acre paddock and when we have a barbeque, he comes up, likes to have a chat, nod his head, have some lettuce and carrots, and maybe have a stubbie [an Australian term for a beer].
"He's a right character. You ask him a question and he'll answer you with a nod of the head. If there's a seat, he'll even sit down and have a chat with you."
Part of the family
You would imagine that Salisbury would have to have parted with some serious money to take ownership of Subzero but, in truth, all it cost for him to take him for good was a solitary Australian dollar.
Read: Photo finish -- the inside track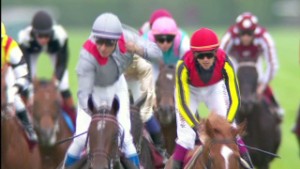 Inside the Prix de l'Arc de Triomphe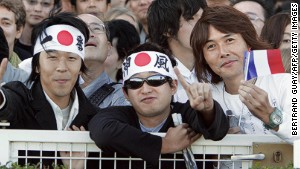 Japan's love affair with horse racing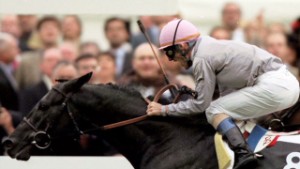 The paintballing jockey
Salisbury had been promised the horse for that cut price amount prior to the Melbourne Cup victory but, following that win, did he ever worry that the deal wouldn't go ahead?
"I remember when he won thinking 'Jesus, I'm not going to get him now'," reveals Salisbury.
"But I was told I had a better chance than ever as the handicap would be too much for him. I guess I always knew it would be OK as Lee Freedman [his trainer] had made a promise of the price and he's always true to his word."
There are those that have tried to buy him since, notably two Arab sheiks, who both made separate offers to purchase Subzero on the spot while on a trip to the United Arab Emirates to coincide with the Dubai World Cup horse race.
Salisbury reminisces: "This guy came up to me and said 'right here, right now, I'll swap him for a brand new Mercedes'. I said 'no' and the guy said 'not a small Mercedes, one of the big ones' but I explained 'he's not for sale.'
"Then this other guy tried to buy him for $100,000. I explained I wouldn't sell him for any money. He's too good a mate, and anyway it'd be like selling my daughter."
Salisbury's daughter, at 19, is a newer addition to the family than Subzero, and as a result "he's very much part of the family".
There have been times when there have been fears of losing this revered family member.
'Subbie' has had some occasional bouts of bad health, including a recent one.
The prospect of the horse's possible death, forces Salisbury to tears. "Sorry, I get pretty emotional thinking about that," he says, his voice cracking. "I just hope I go before him."
Read: Frankel -- capturing greatness
Subzero's most serious problems came in 2009 when chronic arthritis took hold on his aging bones.
Salisbury managed to rectify the problem with an American medication called SuperFlex and the introduction of it to Subzero's diet immediately rectified the problem.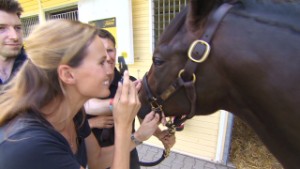 In search of the perfect horse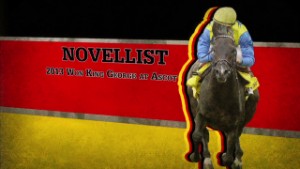 The rise of German race horses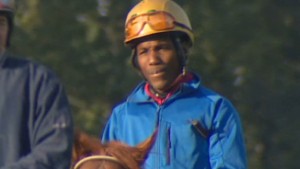 Jockey brings Panama flavor to Germany
But a problem occurred when the next batch of medicine was refused entry into Australia because of insufficient paperwork.
Salisbury persevered but failed to get that overturned, his condition deteriorated and there was talk of him being put down.
It led to such a public outcry and the intervention of then Prime Minister Kevin Rudd.
"I knew the then attorney general Rob Hulls and so mentioned it to him," says Salisbury. "Then the permit I needed appeared suddenly. I rang to thank him but he explained the Prime Minister was the one that kicked up a fuss and got it sorted."
It has allowed Subzero to return to what, seemingly, he loves best -- namely entertaining his adoring fans, of which there is a long and varied list.
"I had some lads come up to me and 'Subbie' the other day," says Salisbury.
They said they remember him coming to their school when he was kids. And then there's the sick kids in hospital whose faces light up when they see him. He's affected a lot of people's lives."
Some of Australia's brightest stars have even grown enamored after coming face to face with the equine superstar.
"I remember doing a charity thing at the casino with Jackman," says Salisbury looking back.
"I remember he said to me 'am I going to be OK on him?' I was like 'he'll be a lot better than those horses you rode in that film Australia.'
"Jackman's a big, big star but even he had to admit that he people were taking more photos of 'Subbie' than they were of his cabaret.
"It was the same with Kylie. She was with him at the Adelaide Cup some years back. OK, she wasn't the global star she is now then but she was still a massive star in Australia. She said 'I'm not used to being upstaged by a horse.'"
His brush with celebrity, in fact, has only endured one rare blip, when he ate the $600 hat of the socialite Lillian Frank.
"I've not had one problem, from having a family of four on his back, to getting on a plane or being patted by kids in a hospital, he's done it all without a fuss," adds Salisbury.
His feats have been enough to warrant his own race meeting, held in Melbourne in October, and all manner of adulation, which with his health restored looks likely to continue for many more years.