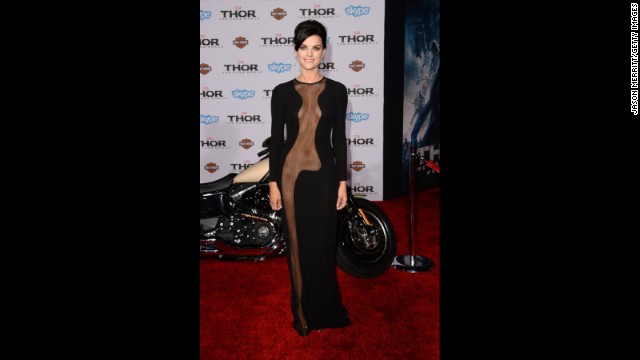 What movie premiere? Jaimie Alexander stole the show when she showed up to a "Thor: The Dark World" film premiere in a revealing gown. But she's not the only one to have a scandalous red carpet moment.
Actress Elizabeth Hurley set off her career when she wore a revealing Gianni Versace safety-pin dress to the premiere of her then-boyfriend Hugh Grant's film "Four Weddings and a Funeral" in 1994 in London.
Things got catty when Courtney Love crashed Madonna's red carpet interview during the 1995 MTV Video Music Awards, causing Madonna to quip that Love was "in dire need of attention right now."
Long before there was "Brangelina," Angelina Jolie and then-husband Billy Bob Thornton couldn't keep their hands off each other at the 2000 premiere of her film "Gone in 60 Seconds." The pair
Jennifer Lopez was unforgettable in a barely there dress on the Grammy Awards red carpet in 2000.
Kim Kardashian was doused with cooking flour on the red carpet before launching her fragrance True Reflection at the London Hotel in West Hollywood in 2012.
Will Smith was none too pleased
in 2012 when a male reporter tried to kiss him during the Moscow premiere of "Men in Black 3."
Marilyn Manson and Rose McGowan made quite the couple at the 1998 MTV Video Music Awards. Let's just say her dress barely lived up to the name.
was pranked with a microphone that squirted water.
"Why would you do that?" Cruise berated the prankster.
Tom Cruise had just arrived with Katie Holmes to the London premiere of his movie "War of the Worlds" in 2005 when he
Angelina Jolie started a one-legged movement after she wore a thigh-high split at the the Academy Awards in 2012.
This one was more shocking than scandalous: Beyonce let the world know she was expecting her first child by posing like this at the 2011 MTV Video Music Awards.
Scandalous red carpet moments
Scandalous red carpet moments
Scandalous red carpet moments
Scandalous red carpet moments
Scandalous red carpet moments
Scandalous red carpet moments
Scandalous red carpet moments