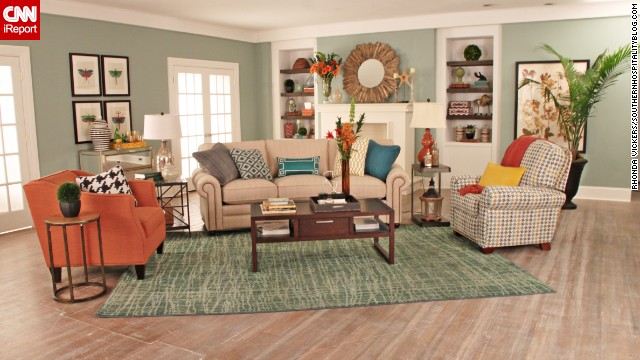 Lifestyle
blogger Rhoda Vickers
of Atlanta used a spectrum of orange to create this living space for a design contest: "I wanted to design a fun and fresh room with lots of color."
In Vickers' design, a bright pumpkin easy chair adds a warm touch to the room.
A marigold floral arrangement atop the fireplace contrasts with the light sea foam green wall.
Interior design blogger Sarah Macklem
also likes to add flowers to a room for a touch of orange.
Macklem finds that the contrast of orange flowers with dark furniture is striking and brings a bit of autumn inside.
A carrot-colored pillow adds a drop of sunshine, and comfort, to a chair.
Blogger Emily Clark
of Charlotte, North Carolina, used this orange-red print to play off of the cool navy and winter white on her walls.
Clark
decorated this bright space with orange accents to be kid friendly. "I wanted it to be a spot that all five of our children could use for reading, playing or just hanging out."
This mirror was inspired by
blogger Julia Konya'
s husband's love for orange. The frame adds a distinct border and color.
Orange adds a surprise to a silver space for Konya.
"I love the combo of pink, gold and orange," Konya said. "While it's not for everyone, I have to say that I love it."
blogger Holly Modica
couldn't resist the pattern of this orange and white quilt when she was shopping: "I was a little reluctant to make the purchase, but after remembering I wanted this house to be fresh and full of personality, I bit the bullet."
Connecticut
In Modica's room, the addition of the amber on the lamp cover brings out the orange in the painting and adds light in more ways than one.
Orange decor ideas
Orange decor ideas
Orange Decor
Orange decor ideas
Orange decor ideas
Orange decor ideas
Orange decor ideas
Orange decor ideas
Orange decor ideas
Orange decor ideas
Open house: Orange Decor
Orange decor ideas
Orange decor ideas
STORY HIGHLIGHTS
Orange was once a dreaded color for decorating, but it is making a comeback
Color expert Mark Woodman: Orange is fun and denotes energy
iReporter: "Chose an inexpensive way to add color like pillows or bedding"
Editor's note: Welcome to CNN's Open House, an interactive, online tour of iReporters' houses that showcases incredible decor. Space by space, we'll feature beautiful design moments and learn from decorators' experience.
(CNN) -- It wasn't so long ago that orange fell off the home decor color wheel. After a decade of being associated with popular appliance colors like "avocado green" and "harvest gold" (ah, the '70s), orange became outdated and was quietly dropped from the roster.
But, as Mark Woodman, the president of the Color Marketing Group points out, a color as bold as orange is never gone for good. (He should know. The Color Marketing Group forecasts the colors major industries, manufacturers and services will use one to three years in advance.)
In recent home decor trends such as "modern global" and the Chinoiserie revival, orange has been a key player in shades of pumpkin, cinnabar, terra cotta, vermillion and coral.
"The beauty of orange is its energetic appeal in almost all of its values," Woodman said. Especially in its brighter spectrum, orange is considered fun, upbeat and unique, he said.
But even as colors come and go in popular use (orange is already beginning to cycle down in popularity, with cooler blues taking the forefront in design and color news), orange always comes to mind as the weather cools down.
"Fall decorating will often take its clues from the natural world," Woodman said. "As leaves change color, we are introduced to a collection of reds, browns, golds and, of course, oranges. Of them all, the orange seems most to be the last vestige of summer joy. So it becomes a bridge color, hovering between the golds and browns with a hint of the past season marrying the coming season."
Perhaps it won't be so easy to let go of our orange decor as fabric and furniture trends continue to evolve, Woodman said.
While orange is the natural complement to the brand new blues soon to be seen in the home furnishing aisles of major retailers, the real future of the hue, Woodman said, is metallic: Think "copper."
"It is poised to be the metal to embrace in coming years and will keep orange alive," he said.
"In the end, orange has been embraced by so many that we won't want to see it go," Woodman said. "It may step back for a bit and become more subtle, but we will always want its bit of fun and energy."
Want to add orange to your home's color palette? Here are anecdotes and advice from this week's Open House contributors:
Take inexpensive risks
"If you're afraid to use color in your home, choose an inexpensive way to add color like pillows or bedding. These things can be replaced (more) easily and effortlessly than, say, an expensive orange couch or chair. Using neutral elements like gray curtains and white walls gives a bold color a resting place so that the room isn't too overwhelming. It also keeps the look fresh." -- Holly Modica, Old Lyme, Connecticut
Less is more
"Pair orange with cooler colors, and use it more as an accent to add a small dose. It also works well with metals: copper, gold and brass. With black or darker colors, orange can be a bit too 'heavy.' " -- Emily Clark, Charlotte, North Carolina
Mix it up
"My husband loves bright orange, not the muted fall orange, because bright orange is represented in his school colors. I fell in love with the color, too, and wanted it somewhere else in our home. I love the combo of pink, gold and orange, and that's what inspired me to paint the little box under our coffee table in that color combination. It is eye catching to say the least. While it's not for everyone, I have to say that I love it." -- Julie Konya
Alicia Stewart contributed to this report.