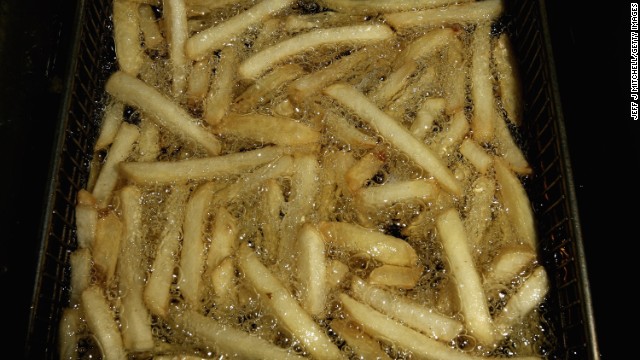 The Food and Drug Administration recently took a step toward eliminating most trans fat from our food. The government agency said it has made a preliminary determination that a major source of trans fats -- partially hydrogenated oils -- is no longer "generally recognized as safe." If the FDA's decision is finalized, partially hydrogenated oils will become food additives that could no longer be used without approval.
Source: The American Heart Association's "A History of Trans Fat"
Nobel Prize in Chemistry
for discovering the hydrogenation method that activists are fighting to remove from our food processes today. His research detailed the way nickel could be used as a catalyst to create chemical reactions between hydrogen molecules and other compounds. This laid the groundwork for the creation of hydrogenated oils.
Ironically, Paul Sabatier won the 1912
Wilhelm Normann
was awarded a patent in 1903 for the "Process for the Conversion of Unsaturated Fatty Acids or Their Glycerides into Saturated Compounds." Basically, Normann figured out how to turn liquid oils into a thicker, firmer substance through hydrogenation. This solid fat was less likely to spoil and cheaper to produce and transport.
How would you like to be known as the scientist who discovered "fat hardening"?
introduced
Crisco to consumers in 1911 to "provide an economical alternative to animal fats and butter." The vegetable shortening was the first manufactured food product to contain trans fat.
Procter & Gamble
The Kaltman family tries to sell as much butter as possible at their New York dairy store in 1943 before a government deadline to freeze sales. During World War II, the federal government rationed butter in an attempt to control supply and demand while manufacturing plants were being used to support the war effort. As a result, margarine, which contains trans fat, grew in popularity.
In 1957, the American Heart Association started encouraging people to limit fat in their diets in an effort to lower the risk of heart disease.
As the popularity of fast-food restaurants grew, so did Americans' consumption of fat, calories and salt. In 1984, advocacy groups started campaigning to get saturated fat removed from fast-food chains. As a result, more restaurants began using partially hydrogenated oils that contained trans fat.
scientific studies
showed that they increased the risk of coronary heart disease. By this time, Americans' trans fat intake averaged 4% to 7% of calories from fat,
according to the Harvard School of Public Health
.
Advocacy groups switched their focus to banning trans fats in the early 1990s after several
Denmark made it illegal
(PDF) for any food to have more than 2% trans fats. Offenders can face hefty fines or even prison terms. Other countries are also working to reduce trans fat in the food supply. Policies in Brazil, Costa Rica, the Netherlands and South Korea have proved effective over the past two decades, the World Health Organization says. The WHO has called for
eliminating trans fat
from the global food supply.
In 2004,
Under current regulations
, companies can claim that their food has zero grams of trans fat if the it contains less than 0.5 grams of trans fat per serving. Consumers can check the ingredient list for "partially hydrogenated oil" to see whether there is a small amount of trans fat present.
In 2006, the FDA implemented a rule requiring manufacturers to list trans fat on nutrition labels.
five-year follow-up study
showed that the average trans fat content of New York customers' meals dropped from about 3 grams to 0.5 grams. The ban encouraged food companies across the country to remove trans fat from their products.
In 2007, New York became the first city to ban the use of partially hydrogenated vegetable oils and spreads in restaurants. A
state fairs jumped on board
, many asking vendors to cook summer favorites -- like these deep-fried Milky Ways at the Indiana State Fair -- in trans fat-free oils.
Even
announced guidelines
for school lunches that will implement calorie caps and severely limit trans fat. Trans fat intake among American consumers has decreased from 4.6 grams per day in 2003 to about a gram a day in 2012, according to the FDA. However, "current intake remains a significant public health concern," FDA Commissioner Margaret Hamburg said this week in a written statement.
In 2012, first lady Michelle Obama and Agriculture Secretary Tom Vilsack
The history of trans fat
The history of trans fat
The history of trans fat
The history of trans fat
The history of trans fat
The history of trans fat
The history of trans fat
The history of trans fat
The history of trans fat
The history of trans fat
The history of trans fat
The history of trans fat
The history of trans fat
STORY HIGHLIGHTS
The FDA took a first step toward eliminating artificial trans fats in food supply
Aaron Carroll: FDA made the right move, since trans fats are very bad for people
He says evidence shows trans fats increase bad cholesterol and heart disease
Carroll: It's likely food suppliers will comply despite the costs of removing trans fats
Editor's note: Aaron E. Carroll is a professor of pediatrics at the Indiana University School of Medicine and the director of its Center for Health Policy and Professionalism Research. He has supported a single-payer health system during the reform debate. He blogs about health policy at The Incidental Economist and tweets at @aaronecarroll.
(CNN) -- The Food and Drug Administration on Thursday took a step toward essentially a total ban on artificial trans fats in America's food supply.
This is not a trivial change. Not that long ago, trans fats were a part of all kinds of processed foods. Partially hydrogenated oils, as they are otherwise known, tend to improve both the shelf life and flavor of many foods. Trans fats have been around for more than a hundred years. They're used in a wide range of foods, from frozen pizza to microwave popcorn to packaged cookies.
But trans fats are amazingly bad for you. By the 1990s, evidence was building that trans fats carried a significant risk for increasing coronary heart disease. Specifically, they were found not only to increase your level of low-density lipoprotein (LDL, or bad cholesterol) but to decrease your level of high-density lipoprotein (HDL, or good cholesterol). Because of this, the negative effects of trans fats are about double those of saturated fat (which isn't that good for you, either).
It gets worse. Trans fats also increase your level of lipoprotein(a) and triglycerides, both of which are thought to be associated with cardiovascular disease.
These laboratory findings bear out in all kinds of epidemiologic studies showing that a diet containing higher levels of trans fats carried greater health risk than a diet similarly high in saturated fat.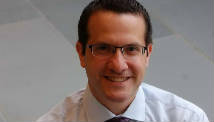 Aaron Carroll
There has been a longstanding argument that we should stop using trans fats. The American Heart Association recommends that people's diets contain 2 grams or less of trans fats a day. That amount is what you might normally get in dairy products and meat. But if you eat processed foods, you'll end up consuming more trans fats.
In 2006, the FDA started mandating that food labels list the amount of trans fats in foods in order to make consumers aware of their hazard.
Some companies have made an effort to stay away from trans fats. McDonalds stopped using them 7 years ago. Burger King has a minimal amount in its foods, and that's from small amounts that are present naturally in meat and cheese. New York banned trans fats in restaurants in 2007. It was a controversial decision at the time, but consumption of trans fats in the city has dropped dramatically because of the ban.
The Centers for Disease Control and Prevention says that removing trans fats from the U.S. food supply could prevent about 20,000 heart attacks a year and 7,000 deaths from cardiovascular disease.
Finally, the FDA issued a Federal Register notice announcing that trans fats are not "generally recognized as safe." Such a notice allows a period of time for people and businesses to comment and offer opinions and evidence if they believe that trans fats should not be banned.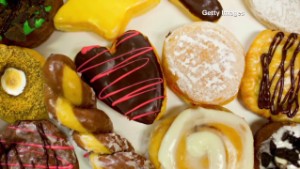 FDA takes aim at trans fats
Of course, there are costs to such a move. The FDA estimates that it will cost about $8 billion initially to remove trans fats from the food supply. It believes the 20-year costs to be between $12 billion and $14 billion.
I think it's likely that processed food producers will comply. There's almost no good evidence -- or argument -- to support the continued use of trans fats. In fact, it's been reported that some manufacturers have voluntarily lowered the use of trans fats by almost 75% in the past eight years. Given these moves, it's not hard to imagine them going the rest of the distance.
There is some irony in this, of course. Trans fats first became more common in our diet because they were believed to be safer than animal fats (think margarine instead of butter). Turns out the opposite is true. The FDA's actions are putting us on the road to correcting that mistake, hopefully sooner rather than later.
Follow us on Twitter @CNNOpinion.
Join us on Facebook/CNNOpinion.
The opinions expressed in this commentary are solely those of Aaron Carroll.