STORY HIGHLIGHTS
NEW: Philippine cabinet secretary fears death toll will grow in eastern area
"It looks as though a tsunami swept through here," CNN journalist says of Tacloban
There are more 100 bodies on the streets of Tacloban, an official says
Major coastal city of Tacloban took brunt of storm with water rising 40 to 50 feet
Are you in the affected area? Send us images and video, but please stay safe.
(CNN) -- More than 100 people were killed in a major Philippine coastal city that took the brunt of Super Typhoon Haiyan, authorities said Saturday.
That death toll in Tacloban was the first significant casualty report in a day when authorities began surveying the devastation of a typhoon that has been described as perhaps the strongest storm ever to make landfall in recorded history.
Capt. John Andrews, deputy director of the Civil Aviation Authority of the Philippines, told CNN that he received a radio report from the Tacloban airport station manager who said there are more than 100 bodies in the street in Tacloban and more than 100 people injured.
Traveling aboard a military cargo plane from Manila, CNN's Paula Hancocks was among the first journalists to see the catastrophe in Tacloban on Saturday.
"It looks as though a tsunami swept through here," she said by satellite phone.
The airport terminal was "completely destroyed," and shell-shocked Filipinos were gathering around the airport with the anticipation that the military was bringing food, water and medicine, Hancocks said.
Officials told her that the water surge reached the second story of structures, she said. There were at least two bodies at the airport, she added.
Every tree was flattened or snapped in half, and the timber landed on roads, blocking transportation, she said.
"You assume as you go inland you'll find more people who are injured or who have lost their lives," Hancocks said.
From the plane, she said, "you could see a lot of groundwater on the land itself, and pretty much every single tree was damaged.
"That showed the sheer force of the surge and the wind," she said. "On the ocean front, you can see the defenses were damaged."
Residents waded through waist-high water in the streets Saturday. Vehicles were turned over or piled on one another. Fallen utility poles were in the middle of roads.
Philippine officials feared the death toll would grow.
"Yes, we are worried about the eastern side, the Tacloban area," said Rene Almendras, secretary to the cabinet.
In a separate report earlier Saturday, as reports began coming in to authorities, the National Disaster Risk Reduction and Management Council indicated at least four people were killed. At least seven people were hurt, and four people were missing, the council also said Saturday.
The destruction is expected to be catastrophic. Storm clouds covered the entire Philippines, stretching 1,120 miles -- equal to a distance between Florida and Canada. The deadly wind field, or tropical storm force winds, covered an area the size of Montana or Germany.
The typhoon first roared onto the country's eastern island of Samar at 4:30 a.m. Friday, flooding streets and knocking out power and communications in many areas of the region of Eastern Visayas, and then continued its march, barreling into five other Philippine islands.
Then, predawn Saturday, it headed toward Vietnam.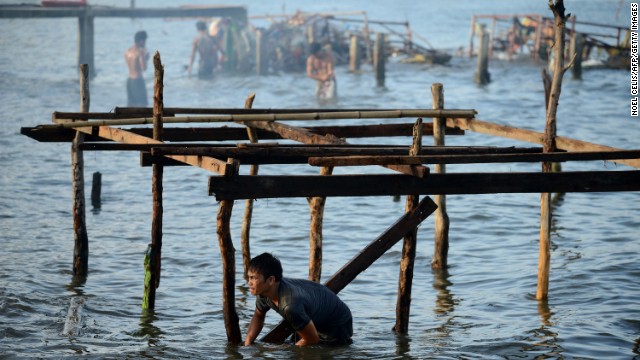 A man reconstructs his house in the bay of Tacloban, Leyte province, Philippines, on Wednesday, November 27, 2013. Typhoon Haiyan, one of the most powerful storms on record, hit the country's eastern seaboard on November 8, leaving a wide swath of destruction, including more than 5,000 deaths.
A man rests on his damaged house along the shore in Tacloban on Monday, November 25.
Road traffic moves past destroyed houses in Palo, Leyte province, on Sunday, November 24, weeks after typhoon Haiyan caused heavy damage to life and property in the Philippines.
A woman rests inside the damaged Our Lady of Guadalupe shrine in Tacloban, Philippines, on Sunday, November 24.
A woman looks over the devastated waterfront in Tacloban on November 24.
Typhoon survivors walk down a road in Palo, Philppines, during a procession for typhoon victims on November 24.
A vehicle lies in the water in Tacloban on Saturday, November 23.
A man searches through the debris in Tacloban on November 23.
A man scavenges piles of wood amid damaged container vessels on November 23 in Tacloban.
Local people begin to help clear debris near the shoreline where several tankers ran aground on November 23 in Leyte. The death toll from the storm stands at more than 5,000, according to a government-run news agency.
A man clears debris from in front of his home near the shoreline on November 23 in Leyte.
Groups of men clear debris near the shoreline on November 23 in Tacloban.
Survivors of Typhoon Haiyan inspect the damage to their houses in Tacloban, Philippines, on Friday, November 22.
Filpinos clear rubble from a hard-hit area in Tacloban on November 22.
An airplane lands in Tacloban as Antonio Lacasa rebuilds his house on Thursday, November 21.
People carry a coffin through an opening in the wall of a public cemetery for burial in Tacloban on November 21.
A member of the Philippine air force drops relief goods for survivors in Tolosa on November 21.
Children blow bubbles in a destroyed market in Tacloban on Wednesday, November 20.
Workers clear mud and debris in Tacloban on November 20.
A boy climbs across debris in Tacloban on November 20.
People at the airport in Tacloban react to a blast of wind from an aircraft on November 20.
A man walks through water in the typhoon-ravaged city of Tacloban, Philippines, on November 20.
A man sleeps on Tuesday, November 19, on a tanker that ran aground during Typhoon Haiyan in Tacloban.
Firemen unload bodies November 19 for forensic experts to register and bury in a mass grave outside of Tacloban.
Firemen unload more victims outside of Tacloban on November 19.
A man fans the flames of a fire in Tanauan, Philippines, on November 19.
Survivors salvage wood next to stranded ships in Tacloban on November 19.
Philippine military personnel carry an injured survivor to an evacuation flight at the Tacloban airport November 19.
People in Tacloban march in the rain November 19 during a procession calling for courage and resilience among survivors.
People play cards by candlelight Monday, November 18, in Tacloban.
A U.S. Navy helicopter delivers relief goods to typhoon victims in Ormoc, Philippines, on November 18.
Men take food back to their families in Leyte on November 18. Countries all over the world have pledged relief aid to those affected by the typhoon, but damage to airports and roads have made moving the aid very difficult.
People are held back as the U.S. Navy delivers aid from a helicopter in San Jose, Philippines, on November 18.
A helicopter flies over a call for help in Ormoc on November 18.
A man cleans up mud inside a church in the hard-hit city of Tacloban on November 18.
A boy bathes November 18 at a Tacloban school turned into a temporary shelter.
Hundreds of typhoon survivors are packed into a U.S. military airplane November 18 for evacuation from Tacloban's airport.
Typhoon survivors run toward a passing U.S. Navy helicopter in San Jose on November 18.
A boy holding a toy machine gun sits Sunday, November 17, on a ship that ran aground in Tacloban.
People gather around a helicopter as it delivers relief supplies November 17 in Guiuan, Philippines.
Filipinos board an HC-130 Hercules airplane as U.S. sailors carry relief supplies November 17 in Guiuan.
Survivors clean mannequins found among the debris in Tacloban on November 17.
A man leans against a statue of the Crucifixion before a Mass at Santo Nino Church in Tacloban on November 17.
A man carries a piece of wood from the debris in Tacloban on November 17.
Survivors wait in line in Tacloban for relief goods on November 17.
A man looks over the devastation from his damaged home in Tacloban on November 17.
A trapped resident braves the dust created by a U.S. Navy helicopter taking off Saturday, November 16, on Manicani Island, Philippines.
Corpses are collected and loaded on trucks to be taken to mass graves in Tacloban on November 16.
A victim's corpse floats on a river in Tanauan on November 16.
A pregnant survivor waits to give birth in a hospital November 16 in Tanauan.
A dead dog lies in front of a house destroyed by the typhoon in Tanauan.
A man carries a bicycle as he walks through the ruins of a Tacloban building November 16.
Survivors of the typhoon stand in a Tanauan street partially blocked by debris November 16.
An elderly survivor walks past toppled cars outside a church in Tacloban on November 16.
A man in Tanauan cleans meat after slaughtering his only cow that survived the typhoon.
Survivors gather in Tacloban to await transport to a neighboring province on November 16.
Men carry a coffin toward a Leyte cemetery on November 16.
A survivor cooks dinner in front of his damaged home in Marabut, Philippines, on Friday, November 15.
Toppled coconut trees dot a mountain in an area devastated by the typhoon in Leyte province.
A typhoon survivor keeps her husband alive by manually pumping air into his lungs after his leg was amputated at a Tacloban hospital November 15. The hospital has been operating without power since the typhoon.
A survivor reacts to the damage at a residential area in Tacloban on November 15.
Typhoon victims are treated in the lobby of a Tacloban hospital on November 15.
Philippine Army soldiers carry the body of a civilian in Tanauan on November 15.
Residents wait to board a Singaporean cargo plane at the Tacloban airport on November 15. Many survivors have converged on the city's airport to wait for flights.
Search and retrieval teams carry a body bag in Tacloban on November 15.
Haiyan survivors carry food that a U.S. military helicopter dropped off in Guiuan on Thursday, November 14.
Dozens of bodies are placed near Tacloban City Hall on November 14 as workers prepare a mass grave on the outskirts of the hard-hit city.
A girl plays inside her house amid the devastation in Tacloban on November 14.
A Filipino soldier hands out bread to survivors in Maraboth, Philippines, on November 14.
A boy takes cover from rain while waiting for an evacuation flight from Tacloban's airport November 14.
Workers arrange bodies at a mass burial site at a Tacloban cemetery November 14.
The weary wait for evacuation from Tacloban on November 14.
A truck lies in the water in Hernani, Philippines, on November 14.
Children play with fallen power lines near a damaged school in Guiuan on November 14.
Teresa Mazeda hangs laundry in the ruins of her Tacloban home on Wednesday, November 13.
Nina Duran searches for belongings at her family's destroyed house in Tacloban on November 13.
Survivors walk through the ruins of their neighborhood outside Tacloban on November 13.
A man sits in front of his destroyed business November 13 in Tacloban.
A family, desperate to charge their mobile phones to search for family and friends, tries to use a ceiling fan to generate electricity November 13 in the Philippine province of Cebu.
An injured man in Tacloban rests beneath a picture of Jesus Christ on November 13.
A man takes a shower amid the rubble in Tacloban on November 13.
A rescue team wades into Tacloban floodwater to retrieve a body on November 13.
Residents take shelter in a Tacloban church on November 13.
Residents make their way through a destroyed neighborhood in Tacloban on November 13.
A boy cycles past a coffin left on a street in Tacloban on November 13.
A man looks at his destroyed home November 13 in Tacloban.
Body bags are lined up in Tacloban on November 13.
Survivors prepare to board a military plane November 13 at the Tacloban airport.
Men walk through smoke as they burn debris from a Tacloban church on November 16.
An aerial view of Tanuan shows signs pleading for help and food November 13.
Soldiers help a woman after she collapsed November 13 while waiting in line to board a military plane at Tacloban's airport.
Survivors wait to be evacuated from Tacloban on November 13.
An injured survivor gets carried on a stretcher before being airlifted from Tacloban's airport November 13.
A survivor begins to rebuild his house in Tacloban on November 13.
Evacuees wait to board a military aircraft in Leyte on Tuesday, November 12.
People walk through damage in Tacloban on November 12.
A young man waits at the airport November 12 in hopes of being evacuated from Tacloban.
A woman comforts a crying relative as a plane leaves the Tacloban airport November 12.
A man sits crying on a packed aircraft in Tacloban on November 12.
Debris lays scattered around a damaged home near the Tacloban airport on November 12.
A girl sits inside a bus as she waits for a ferry in Matnog, Philippines, on November 12.
Police line up bodies for processing in Tacloban on November 12.
People in Tacloban pass debris on November 11.
Survivors in Tacloban board a military plane bound for the Philippine capital of Manila on November 11.
Residents carry bags of rice from a Tacloban warehouse that they stormed November 11 because of a food shortage.
A woman in Tacloban walks amid the debris of destroyed houses on November 11.
People make their way across a flooded street in Shangsi, China, on November 11. Haiyan moved toward Vietnam and south China after devastating the Philippines.
Buildings lie in ruins on Eastern Samar's Victory Island.
Emily Ortega rests on November 11 after giving birth to Bea Joy at an improvised clinic at the Tacloban airport.
U.S. Marine Corps Osprey aircraft arrive at Manila's Villamor Airbase to deliver humanitarian aid on November 11.
People ride past destruction in Tacloban on Sunday, November 10.
A body lies amid the Tacloban devastation on November 10.
People cover their noses to block the smell of bodies in Tacloban on November 10.
Bodies of victims lie along a Tacloban road on November 10.
A large boat sits aground, surrounded by debris in Tacloban on November 10.
People walk past the Tacloban devastation on November 10.
People stand under a shelter in Tacloban.
A girl peeks out from a makeshift shelter in Tacloban.
Typhoon survivors wait to receive relief goods at the Tacloban airport on November 10.
A woman mourns in front of her husband's dead body November 10 in Tacloban.
Fallen trees litter the ground at the Tacloban airport on Saturday, November 9.
A resident passes victims' bodies on a Tacloban street November 9.
People in Tacloban carry a victim of the typhoon November 9.
A vehicle lies amid Tacloban debris on November 9.
People walk past a victim left on the side of a road in Tacloban.
A resident passes an overturned car in Tacloban on November 9.
Rescue workers carry a woman about to give birth November 9 at a makeshift medical center at the Tacloban airport.
An airport lies in ruins in Tacloban.
Astronaut Karen L. Nyberg took a picture of the typhoon from the International Space Station on November 9.
Women walk past fallen trees and destroyed houses in Tacloban on November 9. Residents scoured supermarkets for water and food as they slowly emerged on streets littered with debris.
A soldier pulls a cable inside the devastated airport tower in Tacloban.
Tacloban houses are destroyed by the strong winds caused by the typhoon.
Dark clouds brought by Haiyan loom over Manila skyscrapers on November 8.
A woman carries a baby across a river November 8 at a coastal village in Las Pinas, Philippines.
A resident walks along a fishing village in Bacoor, Philippines, on November 8.
A house in Legazpi, Philippines, is engulfed by storm surge November 8.
A child wraps himself in a blanket inside a makeshift house along a Bacoor fishing village.
A woman and her children head for an evacuation center November 8 amid strong winds in Cebu City, Philippines.
Huge waves from Haiyan hit the shoreline in Legazpi on November 8.
A fisherman lifts a post to reinforce his home at a coastal village in Las Pinas on November 8.
A resident unloads nets off a fishing boat in Bacoor on November 8.
Residents reinforce their homes in Las Pinas on November 8.
The storm approaches the Philippines in this satellite image taken Thursday, November 7, by the National Oceanic and Atmospheric Administration.
Workers bring down a billboard in Makati, Philippines, on November 7 before Haiyan makes landfall.
Philippine Coast Guard personnel stand in formation beside newly acquired rubber boats after a blessing ceremony in Manila on Wednesday, November 6. The boats were to be deployed to the central Philippines in preparation for Haiyan.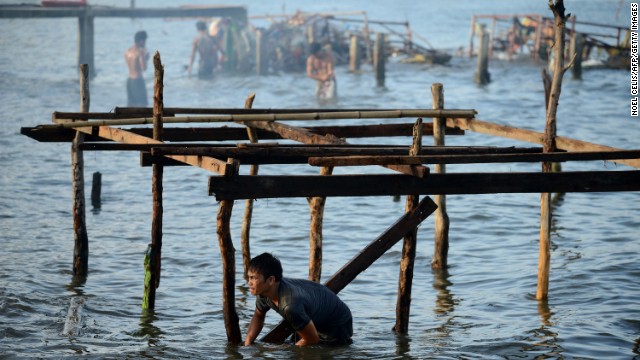 Photos: Typhoon Haiyan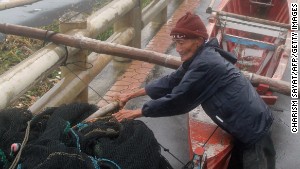 High death count feared in Philippines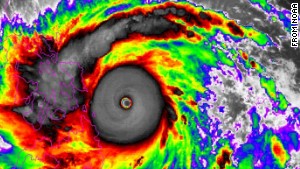 Typhoon Haiyan one of the biggest ever

Super typhoon's financial impact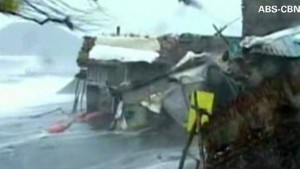 Super typhoon to leave areas uninhabited
Haiyan weakened Saturday and was no longer a super typhoon, rather a typhoon with sustained winds of 130 mph. But the storm could return to super typhoon status Saturday. The center of Haiyan will land again Sunday morning near the Vietnamese cities of Da Nang and Hue.
Philippine military helicopters were scheduled to take aerial surveys of the damage Saturday. Relief agencies in Manila were expected to begin traveling as long as 18 hours to reach the worst hit isles. Meanwhile, Haiyan was over the South China Sea on Saturday.
While delivering 195 mph winds with gusts reaching even 235 mph, Haiyan first landed near Dulag and Tacloban, flooding those coastal communities with a surge of water rising 40 to 50 feet, said CNN's Chad Myers.
Tacloban is the largest city in the Eastern Visayan Islands and was an important Allied logistical base during World War II, even serving as a temporary capital of the Philippines. But on Saturday, Tacloban was considered as among the areas worst hit by Haiyan, and authorities and relief agencies had no immediate information about its condition.
For purposes of comparison, Super Typhoon Haiyan packed a wallop on Philippine structures 3.5 times more forceful than the United States's Hurricane Katrina in 2005, which directly or indirectly killed 1,833 people and was the costliest hurricane in U.S. history at $108 billion, Myers said.
U.S. Secretary of State John Kerry said America stood ready to help the Asian nation.
"Having so recently had my own visit to the Philippines prevented by another powerful storm, I know that these horrific acts of nature are a burden that you have wrestled with and courageously surmounted before. Your spirit is strong," Kerry said.
The Philippine Coast Guard reported 3,398 people were stranded on multiple watercraft early Saturday morning.
Winds unlike any other
After the storm passed over his family's home in Cebu City, Chris Ducker told CNN by phone Saturday that his family was safe, but "it's been quite a harrowing day to say the least." Part of his roof was ripped off, leaking water, he said.
When Haiyan hit Cebu City on Friday morning, it awakened Ducker.
"The first thing I noticed straightaway as soon as my eyes opened was the howling of the winds around the house," said Ducker, whose home is in the mountains with a 360-degree view.
"I've never experienced winds like this in my entire existence. I've lived in this country for 13 years and I've been through a few earthquakes, I've been through plenty of these storms. We get hit quite regularly with storms, as you probably already know. But, yes, this was something else. The rain, when I looked out of the window, the rain wasn't falling. The rain was being pushed almost at, you know, a 100-degree angle right in front of our house. It was pretty incredible," he added.
Most of the Cebu province couldn't be contacted by landlines, cell phones or radio Saturday, said Dennis Chiong, operations officer for the province's disaster risk and emergency management.
Among the early reports is how one inaccessible town, Daanbantayan, has more than 3,000 residents who "badly need food, water and shelter because most of the houses there are damaged due to the storm," Chiong said.
The town of Santa Fe in Cebu saw 20% to 30% of its residents losing their houses, but officials weren't able to determine fatalities because roads were washed out and phone service was down, information officer Marvin Camay said on the province's Facebook page.
Defenseless against the storm's might
On Bohol Island, power was still out Saturday, but cell phone coverage was restored and damaged roads were being reopened, said one relief worker.
But the big concern was how did the typhoon impact the island's 350,000 people living in tents and temporary shelters since last month's earthquake, said Joe Curry of Catholic Relief Services on Bohol.
"This one was incredibly intense and big," Curry told CNN. "The strength of this typhoon is phenomenal and the way it moved across the Philippines is something of serious concern."
He feared that the hardest hit islands will experience the most fatalities.
"Those are the ones that will have the most loss," Curry said. "There are a lot of rural areas, a lot of small islands that are affected. We don't know how they can protect themselves from a typhoon of this strength."
Clarson Fruelda, of Cebu City, said residents were cleaning up dirt, leaves, coconuts, and tree branches from their homes Friday afternoon, when the storm had passed. A CNN iReporter, she described the Filipino spirit as "waterproof."
"The winds were the strongest that I felt in more than 20 years," Fruelda told CNN. "These past few weeks were really tough for my wife and I and probably for Cebuanos as well since it was just a few weeks ago when we were hit by a 7.2 magnitude earthquake.
"We would proudly say we survived 2013 and bring it on 2014," Fruelda added.
Photos: Major storms of the last 10 years
The state-run Philippines News Agency, citing unconfirmed TV reports, said "around 20" people drowned after a storm surge struck Friday morning in Palo, a town on the island of Leyte, which abuts Samar.
"Most of the fatalities sustained massive injuries in the head and upper part of the body, indicative that strong waves dashed them against hard objects," it reported, adding that nine of the dead were minors.
Experts predicted the casualty toll would soar once aid workers get to the hardest-hit areas, many of which were totally isolated -- no phone service, no electricity.
About 125,000 people took refuge in evacuation centers, and hundreds of flights were canceled.
With sustained winds of 195 mph (315 kph) and gusts as strong as 235 mph (380 kph), Haiyan may be the strongest tropical cyclone to hit land anywhere in recorded history. It will take further analysis after the storm passes to establish whether it is a record.
The Saffir-Simpson Hurricane Wind Scale describes winds of 157 mph (252 kph) or higher as capable of causing catastrophic damage. "A high percentage of framed homes will be destroyed, with total roof failure and wall collapse. Fallen trees and power poles will isolate residential areas. Power outages will last for weeks to possibly months. Most of the area will be uninhabitable for weeks or months."
Haiyan was on a westward track when it raced into Samar traveling at 25 mph (41 kph), which meant the worst was over quickly. But the damage was severe. "About 90% of the infrastructure and establishments were heavily damaged," Gwendolyn Pang, the secretary general of the Philippine National Red Cross, told CNNI.
By early Saturday, the speed had dropped slightly, to 23 mph (37 kph).
Category 5 strength
About 25 areas in the Philippines were hit, Pang said, adding that assessment teams were prepared to enter the stricken areas as soon as conditions allowed.
But they cannot do it alone, she said: "We will be definitely needing more support for this one."
Floodwater was as high as 10 feet in some areas.
Maryann Zamora, a field communications specialist for the charity World Vision, said her organization "has been working through so many disasters, so many typhoons -- but this is quite different."
"This is the strongest I ever felt so far," she said by phone from the island of Cebu.
Haiyan, known in the Philippines as Yolanda, retained much of its force as it moved westward Friday with sustained winds of 295 kph (183 mph), which put it well above the 252 kph threshold for a Category 5 hurricane, the highest category on the Saffir-Simpson scale.
Video showed streets flooded with debris and sheets of metal flying through the air.
Gov. Roger Mercado of Southern Leyte, a province in Eastern Visayas near the storm's path, said Friday morning that fallen trees had made all roads impassable. "We don't know the extent of the damage," he said. "We are trying to estimate this. We are prepared, but this is really a wallop."
With sea travel suspended in many areas, more than 3,000 travelers were stranded in ports, the council said.
Meteorologists said it maintained super-typhoon intensity throughout its passage over the Philippines. A super typhoon has surface winds that sustain speeds of more than 149 mph (240 kph) for at least a minute, according to the U.S. National Oceanic and Atmospheric Administration.
iReport: Heavy rains as Philippines braces for typhoon
CNN's Aliza Kassim, Karen Smith, Elwyn Lopez, Judy Kwon, Taylor Ward, Brandon Miller, Ivan Cabrera and Mari Ramos contributed to this report. Paula Hancocks in Manila also contributed.