Jimmy Stewart: A war hero comes home
November 9, 2013 -- Updated 1627 GMT (0027 HKT)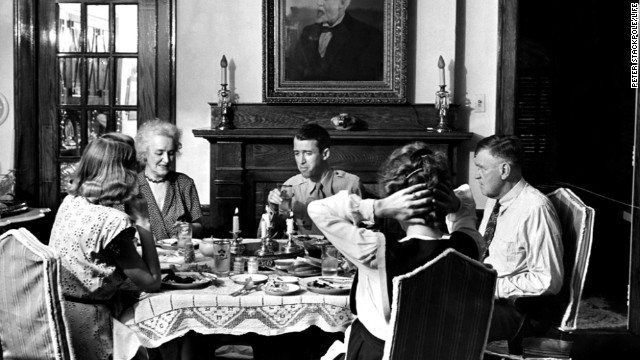 Thirty-seven-year-old Jimmy Stewart sits down at the table with his family after returning home from World War II. Stewart enrolled in the Army Air Corps in 1941 after being turned down for being too skinny. He flew dozens of combat missions, some as command pilot, and returned home to Indiana, Pennsylvania, a decorated colonel.
The movie star and war vet signs autographs for local girls in his hometown of Indiana, Pennsylvania.
Stewart entertains some local children at his father's hardware store with puppets he made when he was 7 years old.
Stewart goes fishing with his old friend Clyde "Woodie" Woodward.
Stewart reads in bed at his parents' house.
Welcome home, Jimmy Stewart
Welcome home, Jimmy Stewart
Welcome home, Jimmy Stewart
Welcome home, Jimmy Stewart
Welcome home, Jimmy Stewart
STORY HIGHLIGHTS
Jimmy Stewart put his career on hold to join the Army Air Corps
The actor was well into his 30s and had already been rejected for being too skinny
He was one of few Americans ever to rise from private to colonel in four years
(CNN) -- William Holden, Alec Guinness, George C. Scott, Denzel Washington: They all won Academy Awards for roles as heroic military men. But when James Maitland Stewart enlisted in the U.S. Army in 1941, he already had a Best Actor Oscar to his name, for his indelible performance as reporter Mike Connor in "The Philadelphia Story."
Based in England during much of his service, Jimmy Stewart flew dozens of combat missions -- more than a few as command pilot -- on sorties deep into Nazi-occupied Europe and returned from the war with honors that included the Distinguished Flying Cross and Distinguished Service Medal.
In September 1945, LIFE photographer Peter Stackpole accompanied Stewart around his Indiana, Pennsylvania, hometown, chronicling the goings-on when the movie star returned home a hero.
Read the full story and see the entire gallery on Life.com.