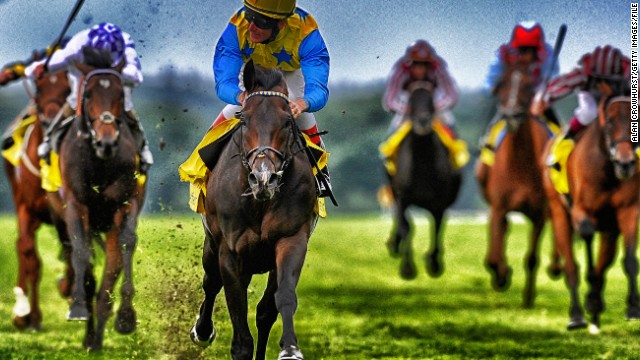 Horse flesh prices are going through the roof. And there is no sign of the bubble being burst...
Business is buoyant at the sales ring at Tattersalls in Newmarket. Millions of guineas were offered for some of the world's finest thoroughbreds at its annual yearling sale in October.
Each horse in question is given a lot number and potential purchasers can view the horse in question to make up their minds over its caliber before joining the bidding process.
Sheikh Mohammed bin Rashid Al Maktoum is among those regularly at Tattersalls eyeing up potential new additions for his already impressive stable.
Bidding can get to a frenzy as the highly skilled auctioneers whip up the crowds.
As much as $8.4 million went under the hammer and was exchanged for a single horse in a sale at Tattersalls in October, and conjecture is that price could be broken in December.
Arguably the most high-profile pregnant mare in the December sale, which starts on November 25, is Dancing Rain -- winner of the Oaks and its German equivalent -- and the fee for her is likely to run high pre-Christmas.
The famous Frankel -- the greatest horse of his generation -- will make his first mark on the sales with the mares he has sired since going to stud in retirement.
Another to have been impregnated by Frankel is Immortal Verse, the price for whom is also likely to run into the millions when she goes under the hammer in December.
Tattersalls takes a 5% cut from each sale at its auction.
Horse flesh
Theatre of sales
That's your lot
Middle East interest
Going, going....
Gone
Dancing Rain
Priceless Frankel
Immortal Verse
Bottom line
STORY HIGHLIGHTS
A look inside Tattersalls, the oldest bloodstock auction house in the world and biggest in Europe
Scene of the richest horse sale in European history in October valued at £5.25million
Record in danger of being broken with mare in foal to Frankel up for sale
Some 10,000 horses are sold there each year with a plus-£200m turnover annually
(CNN) -- If the global economy remains sluggish, a small corner of the British horse racing hub of Newmarket is very much bucking the trend.
It is nearly quarter of a millennium since Richard Tattersall founded his eponymous bloodstock auctioneers and, in 2013, Tattersalls' business is booming.
Back in October behind the gates of Tattersalls Park Paddocks, a record was set for the most ever spent on a horse in Europe -- $8.4 million (£5.25 million) -- for the Galileo filly by Alluring Park.
In a nod to its old roots, all sales are still priced in guineas (effectively a pound and a shilling) so Qatari Sheikh Joann al Thani parted with five million guineas for the honor of buying this prestigious filly.
Excitement, though, is building at Tattersalls once more with the first offering from Frankel having retired and gone to stud with the pregnant Dancing Rain undoubtedly the most mouth-watering prospect going under the hammer at the two-week December sale, which starts on November 25.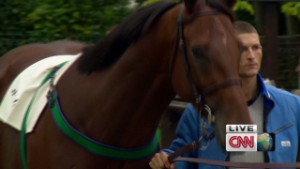 European horses winning in Australia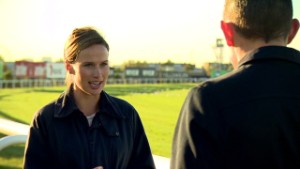 Trainer a rising star in horse racing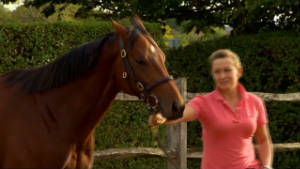 Yearlings going once, going twice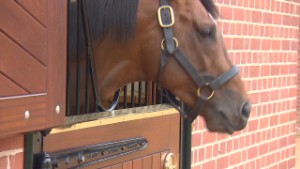 Frankel: Super freak to super stud?
Read: Galileo's daughter brings record
Dancing Rain won both the Oaks and its German equivalent and it is more than 50 years since an Oaks winner carrying her first foal has been sold in public auction.
The fact the foal she is carrying is the offspring of Frankel, with 14 wins from as many races and undoubtedly the most acclaimed horse of its generation, makes the prospect all the more exciting.
Jimmy George, the marketing director at Tattersalls, is loathe to say he expects the record to be broken but big money will undoubtedly change hands.
"We never expect to break records; records by their nature are unexpected," says George.
"We've got some huge excitement to come at the December sale with mares carrying the first Frankel foals,-- in all there are 10 mares in foal to Frankel -- of which Dancing Rain is the pick. That will be huge.
"This is the very best mated to the very best. Combining those two, you're narrowing the angles and quite possibly producing the ultimate racehorse. She's a very valuable mare particularly as it's very rare to find a mare of that calibre on the market."
Another horse set to test the spending power of horse racing's power brokers is Immortal Verse, winner of the Group 1 Coronation Stakes at Royal Ascot and the Prix Jacques Le Marois at Deauville, in foal for the first time to Dansili, whose wins included Priex Messidor, Prix Edmond Blanc and Prix du Muguet, and with an already impressive breeding record.
"Along with Dancing Rain, Immortal Verse promises to be the highlight of our December sale," adds George. "That said, there's plenty others in there too."
Read: The inside track on a day at the races
In some ways, Tattersalls, which employs 45 full-time staff in Newmarket and another 20 at their Irish base in Fairyhouse, is like a different world.
While much of the rest of the world is still feeling the economic pinch, it can at times act like a playground for global millionaires.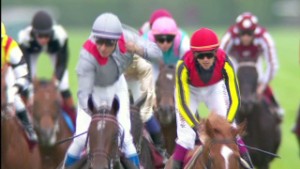 Inside the Prix de l'Arc de Triomphe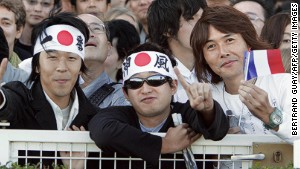 Japan's love affair with horse racing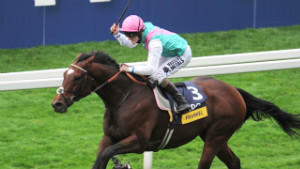 Frankel ends career in dramatic style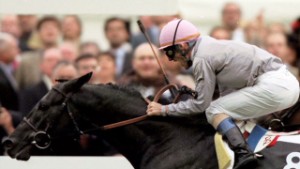 The paintballing jockey
In all, some 40 countries are expected to be represented at the December sale but there is no solitary powerbroker.
British and Irish buyers, notably JP McMcManus and John Magnier, remain major players with an increasing number of established and emerging figures from the Middle East as well as an increasing number from the Far East.
For all the money exchanged, there is a remarkably simple process to the Tattersalls sales.
The horses come to Tattersalls pre-sale in one of the 850 stables on a 47-acre site and are there to be viewed by prospective buyers before being led into the sales ring. Once there, the auction begins.
As the prices go up and up, George explains it is "great theatre."
But he also admits: "It's not quite like there are gasps. You have some people attending hoping to see drama and excitement unfold but the vast majority are there in a professional capacity.
"But there wasn't one person not caught up in the moment when that filly went for five million guineas."
With some 10,000 horses sold each year, the turnover of horses is rapid so, as such, almost as soon as the horses are bought, they are off to their new homes, once the necessary veterinary checks are carried out.
Can a horse, though, ever truly be worth as much as five million guineas?
No one at Tattersalls, which takes a 5% cut from each sale, is about to say so. But while there are the auction highlights, there are also immense bargains to be had.
Treve, the French horse and winner of the Prix de l'Arc de Triomphe, was snapped up at another auctioneers for a mere £50,000, a bargain considering its worth now after winning the $6.25 million Longchamp classic.
Read: Treve thrashes colts at l'Arc
By the same token, horses do not necessarily go on to live up to their high price tag, making such bidding a risky business, a type of high-risk poker.
"You get superstars whose first appearance in public is quite underwhelming," says George. "That's one of the beauties of it. No one can predict the future so hence you get some surprises."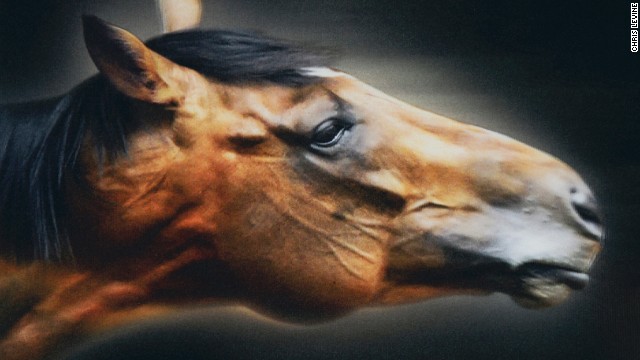 Chris Levine's "Frankel the Great," is a portrait of arguably the world's finest racehorse which will be officially unveiled at Ascot Racecourse this weekend. The stallion finished its career undefeated, winning all 14 of its races.
Levine produced this 3D image of Queen Elizabeth II in 2004. The portrait was commissioned to celebrate 800 years of the island of Jersey's association with the British monarchy.
Her majesty isn't the only iconic woman Levine has trained his lens on. He shot supermodel Kate Moss for this portrait called "She's Light (Pure)."
Model turned pop diva Grace Jones has also posed for Levine, with this piece called "Stillness at the Speed of Light."
Jones and Levine first met in 2008 and have enjoyed a successful collaboration. Levine created original laser displays for Jones' tour, while also publishing a number of photographs, including "Superstar" which is displayed here.
Frankel's energy and effervescence made him a difficult subject, with Levine eventually having to shoot the horse inside the stables. He used multiple cameras to capture a complete image of the super stallion.
Levine wanted to shoot Frankel in direct sunlight to show off the gleam of his coat. But predictable cloudy British weather meant he had to wait six days in order to shoot the horse.
Levine isn't the first artist to draw inspiration from Frankel. Michael Kirkbride's painting, "Armchair Ride," was inspired by a poem about Frankel demolishing the field in last year's 2000 Guineas race.
Champion thoroughbred Black Caviar appeared on the December issue of Vogue Australia. It was the first time in the 53-year history of the magazine that a horse had featured on the front.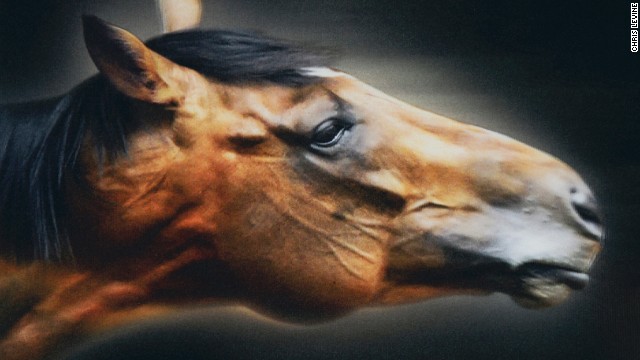 Frankel and Queen Elizabeth II: Capturing greatness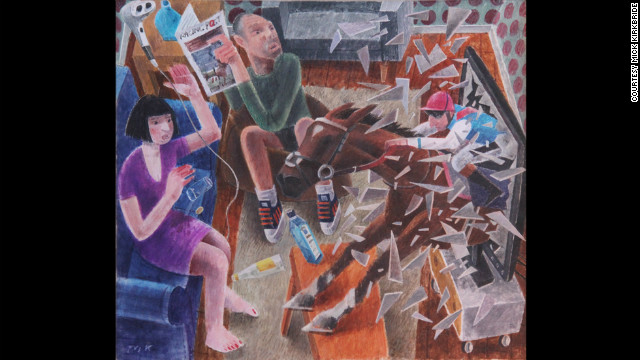 Artist Michael Kirkbride's painting, "Armchair Ride," was inspired by a poem about Frankel demolishing the field in last year's 2000 Guineas race.
Kirkbride painted the piece in egg tempura; a mixture of colored pigment and egg yolk which dates back to the 1st Century.
The British artist is perhaps best known for his paintings of English football scenes, including "Bar Kick," a surrealist look at sporting revelry in a pub.
British thoroughbred Frankel remained unbeaten in 14 consecutive races. The colt won his last ever race in the Champions Stakes at Ascot.
Leonardo da Vinci's 16th Century masterpiece "Mona Lisa," on display in Paris's Musee du Louvre, is one of the most visited artworks in the world. The famous portrait is thought to be of Lisa Gherardini, the wife of Francesco del Giocondo.
Pablo Picasso's 1937 painting "Weeping Woman" depicted long-time mistress Dora Maar. Their notoriously tempestuous relationship lasted nine years.
Frida Kahlo was the wife and muse of Mexican artist Diego Rivera. An acclaimed artist in her own right, today Frida is the more renowned of the pair, with actress Salma Hayek playing her in the 2002 biographical film "Frida."
Spanish artist Salvador Dali's wife Gala featured in many of his works, including 1949 painting "The Madonna of Port Lligat". She was also the muse of first husband, French poet Paul Eluard.
Andy Warhol catapulted model and actress Edie Sedgwick to "It Girl" status in his avant-garde films of the 1960s.
British artist Lucien Freud caused a stir with his 1995 painting of Job Centre supervisor Sue Tilley, called "Benefits Supervisor Sleeping." The naked woman weighed around 127kg at the time.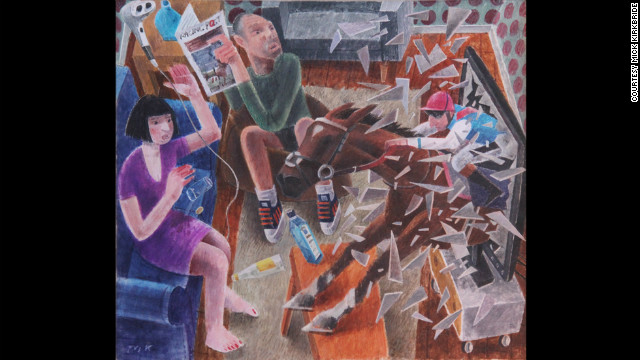 My muse: A race horse called Frankel
Once those horses are sold, though, Tattersalls work is not done and they continue to follow their progress for future potential worth and future potential sales.
Tattersalls remains the name when it comes to bloodstock auctions but, as George points out, they still have to work at it.
"We're the world's first and Europe's largest but we have to work hard to keep the company in that position," he says. "There's competition out there and the day we think there isn't, is the day we're in trouble.
"So we need to keep working hard, to build on our history and make sure we cover as many bases as we possibly can."
Last year, the company turnover was $355.4 million but still some way shy of the firm's record year in 2007 $411.4 million.
Should the December sale be a success, Tattersalls are on course to match, possibly exceed that figure. With those sorts of numbers, the company looks likely to stay at the forefront of the industry for some time hence.