Ryan Ferguson freed from prison after murder conviction overturned
November 13, 2013 -- Updated 1336 GMT (2136 HKT)
STORY HIGHLIGHTS
Lawyer's two words told him his fate: "It's over"
Ryan Ferguson has been in prison since 2004
He is freed Tuesday night days after court overturns his murder conviction
The Missouri attorney general says he won't retry Ferguson
Editor's note: The dramatic exoneration of falsely accused murderer Michael Morton is the subject of CNN Films' "An Unreal Dream, The Michael Morton Story," airing Sunday, December 8, at 9 p.m. ET/PT on CNN TV.
(CNN) -- Ryan Ferguson was just a teenager when he was arrested in Missouri in 2004, accused of killing Columbia Tribune sports editor Kent Heitholt three years earlier.
Implicated by a former friend who said he had dream-like memories of committing the crime, Ferguson was convicted in 2005 for Heitholt's murder and given a 40-year sentence.
Last year, the same friend admitted in court that he lied, as did a janitor who originally placed Ferguson at the crime scene.
For 10 years, Ferguson has sat in prison for a crime he always said he did not commit.
Woman sentenced to death walks free, thanks to victim's grandson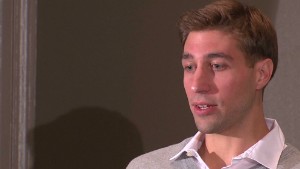 Missouri murder conviction overturned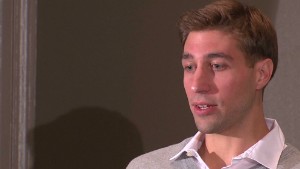 Missouri murder conviction overturned
Tuesday night, he walked free, less than a week after an appeals court overturned his conviction, ruling prosecutors withheld evidence in the trial. His release came hours after Missouri Attorney General Chris Koster announced he would not retry Ferguson.
He found out about the decision when his lawyer appeared at the prison, holding up a piece of paper behind protective glass. On it she had quickly scrawled two words: "It's over."
"I feel like Jay Leno or something," a beaming Ferguson joked to cheering supporters after his release.
Military court overturns Marine's Iraq murder conviction
Now 29, he faces a new world.
"He has no college education and has never sent a text, posted a Facebook update or used a smartphone," according to the Free Ryan Ferguson website, set up by his family and supporters.
He acknowledged after his release that while in prison, he never allowed himself to "look too far into the future." But he has been reading, studying, taking care of himself and "preparing for my life."
His first stop after leaving the courthouse?
"I kind of want some Dairy Queen."
Freedom after murder conviction tossed well over a decade later

Today's five most popular stories
Part of complete coverage on

Michael Morton was wrongly imprisoned for nearly 25 years for his wife's murder. Learn more about his struggle to win back his freedom.
December 4, 2013 -- Updated 0607 GMT (1407 HKT)

The Innocence Project has compiled fascinating stats about wrongly convicted Americans who were cleared by DNA tests.
December 5, 2013 -- Updated 2028 GMT (0428 HKT)

Here are five inspiring stories of men who were wrongly sent to prison and then freed years later.
December 4, 2013 -- Updated 1953 GMT (0353 HKT)

Jurors didn't believe Michael Morton when he said he didn't kill his wife. By the time DNA tests proved his innocence, he had lost 25 years in prison.
December 5, 2013 -- Updated 2054 GMT (0454 HKT)

Prosecutors yield enormous power over liberty, says Barry Scheck, and there must be systems to make them accountable.
April 4, 2013 -- Updated 1755 GMT (0155 HKT)

Wrongly convicted, Brian Banks served five years in prison before a shocking development opened the door to freedom and his NFL dream.
November 13, 2013 -- Updated 1336 GMT (2136 HKT)

Ryan Ferguson was just a teenager when he was arrested in in the killing of a newspaper sports editor.
October 26, 2012 -- Updated 1454 GMT (2254 HKT)

Texas executed Cameron Willingham for the deaths of his three daughters in a house fire. Now his family wants to clear his name.
May 15, 2013 -- Updated 2356 GMT (0756 HKT)

Seth Penalver and Herman Lindsey are no longer on Florida's death row, but they are fighting for those who still are.
September 29, 2012 -- Updated 1555 GMT (2355 HKT)

A Louisiana man who spent 15 years on death row for a murder he did not commit gains his freedom.
January 30, 2013 -- Updated 0905 GMT (1705 HKT)

A former Ohio police captain who was convicted of murdering his wife, has been exonerated after 14 years in prison.