Exercise, alcohol and Viagra -- best cures for jet lag?
November 13, 2013 -- Updated 0048 GMT (0848 HKT)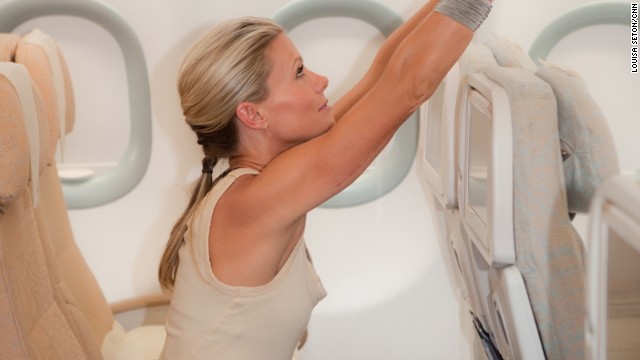 Stretching and doing some light exercise in flight is recommended for avoiding muscle cramps and deep-vein thrombosis, but 61% of the Singaporean fliers polled by Skyscanner also claimed to do it to avoid jetlag. Some 51% of people who tried this cure said it worked, making it the most successful jetlag cure on the list.
In 48% of cases popping a sleeping pill is a quick and easy way to ensure you don't fall asleep in that 4 p.m. meeting once at your destination. Sleeping pills were the second most successful remedy on the list.
Eating well and not too much is good advice whether you're flying long distance or not, and in 46% of cases it also helps jetlag, according to those surveyed.
46% also said setting your watch to the new time zone before you got there helped you get over jetlag quicker.
"No no sweetheart, it's for the jetlag, honest." Viagra started as a treatment for high blood pressure and angina, became popular as a cure for erectile dysfunction and now, it seems, is good for jetlag, at least in 45% of cases, making it the fifth-equal most successful cure mentioned.
Getting some exercise and fresh air pre-flight was tied with Viagra as a jetlag cure in fifth place. Incheon Airport's spacious golf driving range could help there.
In 42% of reported cases, avoiding alcohol completely was the key to adapting to a new destination's hours quickly.
With a 42% success rate for jetlag, herbal cures were surprisingly successful. The survey unfortunately didn't detail which remedies were chosen.
We don't think you need this much booze to keep the jetlag devil at bay, but several people -- 41% -- said it helped them get over their travel fatigue quicker.
Staying awake in flight isn't a choice for the light sleepers among us, even with a sumptuous cabin like this. Some 40% said it helped cure their jetlag.
1. Stretch/light exercise on flight
2. Sleeping tablets
3.= Light and healthy diet
3.= Set watch to new time zone
5.= Viagra
5.= Exercise/fresh air before flight
7.= Avoid alcohol completely
7.= Herbal remedies
9. Drink alcohol
10. Stay awake for duration of the flight
STORY HIGHLIGHTS
A thousand people are asked what jet lag remedies they use
Exercising and light exercise deemed most popular
Other "cures" include drinking, not drinking and Viagra
(CNN) -- If you've ever been stuck for a jet lag cure, consider the experience of Singaporeans.
A new survey reveals a dozen ways Singaporean travelers try to avoid the 5 p.m. shuteye, along with their success rates.
Among them: Viagra, drinking alcohol and not drinking alcohol.
"Our survey has shown that people will often try various methods in order to beat jet lag -- but they may not work for everyone," said Singapore marketing manager Ira Noviani at travel search site Skyscanner, which conducted the poll of 1,000 travelers.
The most surprising choice was taking Viagra, which 11% of those surveyed said they'd tried.
Nearly half of those who said they'd tried the Viagra remedy claimed it works.
According to research conducted a few years ago, jet-lagged hamsters might agree.
More mundane methods of beating jet lag include taking melatonin, taking sleeping pills, staying awake during the flight and doing light exercise.
Jetlag "cure" and success rate, as reported by travelers
1. Stretch/light exercise on flight: 51% (51% of people who tried this cure, reported that it worked)
2. Sleeping tablets: 48%
3.= Set watch to new time zone: 46%
3.= Light and healthy diet: 46%
5.= Viagra: 45%
5.= Exercise/fresh air before flight: 45%
7.= Avoid alcohol completely: 42%
7.= Herbal remedies: 42%
9. Consume alcohol: 41%
10. Stay awake for duration of the flight: 40%
11. Anti-jet lag pills: 39%
12. Melatonin: 36%
What remedies have you discovered for minimizing jet lag? Share them in the comments.
More: The world's best city is ...

Today's five most popular stories
Part of complete coverage on
October 28, 2014 -- Updated 0149 GMT (0949 HKT)

Luxury Action will turn your travel scripts into reality and film them. As long as you're willing to travel to this country ...
October 27, 2014 -- Updated 0913 GMT (1713 HKT)

As entertainment capital of the world, Los Angeles draws some of the best comic talent on the planet. Here's where to see it live.
October 27, 2014 -- Updated 0342 GMT (1142 HKT)

Not many people choose flights based on the quality of an airline's catering -- but those who do should check out Saveur's Culinary Travel Awards.
October 27, 2014 -- Updated 0251 GMT (1051 HKT)

On the island of rice, curry, tropical fruit and fresh seafood, eating is an honor to the taste buds.
October 23, 2014 -- Updated 1558 GMT (2358 HKT)

Sparsely populated (by humans at least), this East Africa country offers so much more than just Mt. Kilimanjaro.
October 24, 2014 -- Updated 1432 GMT (2232 HKT)

It's crowded and outdated, but Berlin's hexagon-shaped Tegel air hub has won a place in the city's heart.
October 23, 2014 -- Updated 0847 GMT (1647 HKT)

Shrine to a dead cat and a homage to fromage among Dutch capital's eccentric exhibitions.
October 22, 2014 -- Updated 0603 GMT (1403 HKT)

Slovenian Kickstarter project encourages travelers to hop on their suitcase and cruise through terminals to connecting gates.
October 20, 2014 -- Updated 1808 GMT (0208 HKT)

The guidebook asked staff, contributors and authors for well-known and lesser-known recommendations.
October 20, 2014 -- Updated 1607 GMT (0007 HKT)

An airport in Asia has stolen the crown from Manila's Ninoy Aquino, voted 'world's worst' three years in a row.