Exercise, alcohol and Viagra -- best cures for jet lag?
November 13, 2013 -- Updated 0048 GMT (0848 HKT)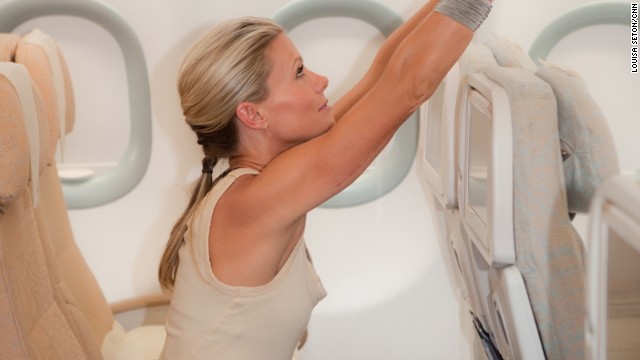 Stretching and doing some light exercise in flight is recommended for avoiding muscle cramps and deep-vein thrombosis, but 61% of the Singaporean fliers polled by Skyscanner also claimed to do it to avoid jetlag. Some 51% of people who tried this cure said it worked, making it the most successful jetlag cure on the list.
In 48% of cases popping a sleeping pill is a quick and easy way to ensure you don't fall asleep in that 4 p.m. meeting once at your destination. Sleeping pills were the second most successful remedy on the list.
Eating well and not too much is good advice whether you're flying long distance or not, and in 46% of cases it also helps jetlag, according to those surveyed.
46% also said setting your watch to the new time zone before you got there helped you get over jetlag quicker.
"No no sweetheart, it's for the jetlag, honest." Viagra started as a treatment for high blood pressure and angina, became popular as a cure for erectile dysfunction and now, it seems, is good for jetlag, at least in 45% of cases, making it the fifth-equal most successful cure mentioned.
Getting some exercise and fresh air pre-flight was tied with Viagra as a jetlag cure in fifth place. Incheon Airport's spacious golf driving range could help there.
In 42% of reported cases, avoiding alcohol completely was the key to adapting to a new destination's hours quickly.
With a 42% success rate for jetlag, herbal cures were surprisingly successful. The survey unfortunately didn't detail which remedies were chosen.
We don't think you need this much booze to keep the jetlag devil at bay, but several people -- 41% -- said it helped them get over their travel fatigue quicker.
Staying awake in flight isn't a choice for the light sleepers among us, even with a sumptuous cabin like this. Some 40% said it helped cure their jetlag.
1. Stretch/light exercise on flight
2. Sleeping tablets
3.= Light and healthy diet
3.= Set watch to new time zone
5.= Viagra
5.= Exercise/fresh air before flight
7.= Avoid alcohol completely
7.= Herbal remedies
9. Drink alcohol
10. Stay awake for duration of the flight
STORY HIGHLIGHTS
A thousand people are asked what jet lag remedies they use
Exercising and light exercise deemed most popular
Other "cures" include drinking, not drinking and Viagra
(CNN) -- If you've ever been stuck for a jet lag cure, consider the experience of Singaporeans.
A new survey reveals a dozen ways Singaporean travelers try to avoid the 5 p.m. shuteye, along with their success rates.
Among them: Viagra, drinking alcohol and not drinking alcohol.
"Our survey has shown that people will often try various methods in order to beat jet lag -- but they may not work for everyone," said Singapore marketing manager Ira Noviani at travel search site Skyscanner, which conducted the poll of 1,000 travelers.
The most surprising choice was taking Viagra, which 11% of those surveyed said they'd tried.
Nearly half of those who said they'd tried the Viagra remedy claimed it works.
According to research conducted a few years ago, jet-lagged hamsters might agree.
More mundane methods of beating jet lag include taking melatonin, taking sleeping pills, staying awake during the flight and doing light exercise.
Jetlag "cure" and success rate, as reported by travelers
1. Stretch/light exercise on flight: 51% (51% of people who tried this cure, reported that it worked)
2. Sleeping tablets: 48%
3.= Set watch to new time zone: 46%
3.= Light and healthy diet: 46%
5.= Viagra: 45%
5.= Exercise/fresh air before flight: 45%
7.= Avoid alcohol completely: 42%
7.= Herbal remedies: 42%
9. Consume alcohol: 41%
10. Stay awake for duration of the flight: 40%
11. Anti-jet lag pills: 39%
12. Melatonin: 36%
What remedies have you discovered for minimizing jet lag? Share them in the comments.
More: The world's best city is ...

Today's five most popular stories
Part of complete coverage on
October 20, 2014 -- Updated 1808 GMT (0208 HKT)

The guidebook asked staff, contributors and authors for well-known and lesser-known recommendations.
October 20, 2014 -- Updated 1607 GMT (0007 HKT)

An airport in Asia has stolen the crown from Manila's Ninoy Aquino, voted 'world's worst' three years in a row.
October 21, 2014 -- Updated 1620 GMT (0020 HKT)

It's time for a beef break, veal vacation, hog holiday or sinew sabbatical in a T-bone a-fide U.S. meatopolis.
October 20, 2014 -- Updated 1319 GMT (2119 HKT)

With so many awesome new attractions on the way, the next few years are going to be a roller coaster ride.
October 17, 2014 -- Updated 0107 GMT (0907 HKT)

Scientists are busy surveying Southeast Asia's Coral Triangle, home to 75 percent of all known coral species.
October 16, 2014 -- Updated 1350 GMT (2150 HKT)

Bounce Below transforms an abandoned slate mine into a surreal, springy world of fear and fun,
October 14, 2014 -- Updated 2316 GMT (0716 HKT)

With chopsticks or fingers? Wasabi or no? A double Michelin-starred Tokyo chef sets the record straight and shows us the sushi way.
October 13, 2014 -- Updated 2224 GMT (0624 HKT)

It may look like a gateway across time and space crafted with alien technology, but in reality it's a fruit and vegetable market.
October 13, 2014 -- Updated 0925 GMT (1725 HKT)

Based on the votes of over 330 industry experts, the 2014 winners include bars from 27 cities in 14 countries.
October 12, 2014 -- Updated 2231 GMT (0631 HKT)

Careening down an active volcano at 95 kph on a thin board? It happens only at Cerro Negro in Nicaragua.